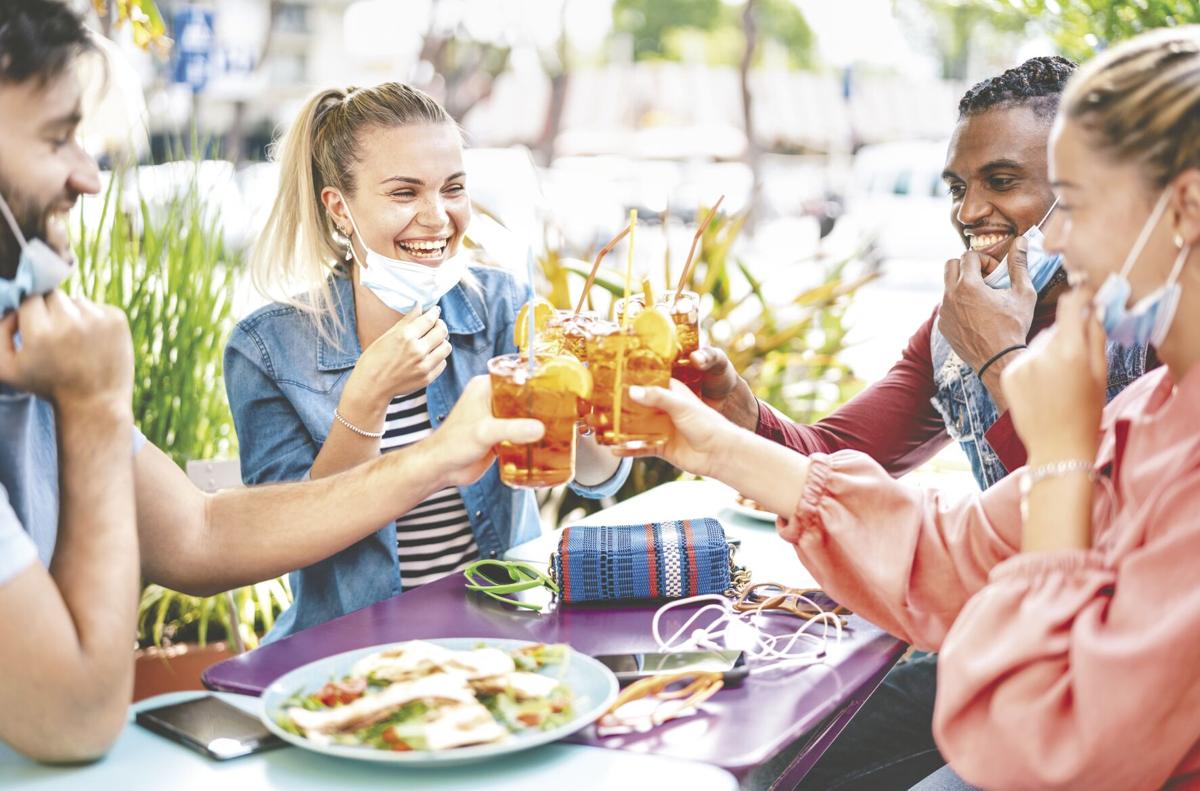 We all want to "get back to normal," but let's take a minute and redefine what normal means in the COVID-19 era. In a post-pandemic world, things may always be different. We know more than we did before about how to keep ourselves and our loved ones safe from potentially life-threatening viruses, and we can never go back to blithely ignoring the risks.
"Let's not go 'back' to anything," says Dr. Steven Lawrence, Washington University in St. Louis infectious disease physician at Barnes-Jewish Hospital and professor of medicine. "Let's think about a new normal. In the new normal, during a particularly bad cold and flu season, we might decide, 'Hey, let's not get together with a bunch of people indoors,' or, 'Hey, if I do have to be around a lot of people indoors, maybe if we all wear masks, it's going to reduce the risk of COVID and flu and all those other viruses.'"
Lawrence points out that there were far fewer flu cases this season than in the past, almost certainly due to the precautions taken to avoid COVID-19. Wearing masks when around others indoors, practicing some degree of physical distancing and frequently washing hands are behaviors that, particularly during outbreaks, could continue to stem the spread of current and new viruses in the future.
Don't let this discourage you, however. We are making strides toward safer interactions and a return to many of the activities we missed in the past year. "We're certainly reaching a point where we're seeing the impacts of vaccination," Lawrence says. "Every day is looking a little better as our supply of vaccine is increasing and our ability to deliver it to the population is increasing. These are all really good signs, but we still have a way to go. We can't declare victory yet."
In fact, there will not be a single "V-C Day" when people can embrace in the streets, as in Alfred Eisenstaedt's famed V-J Day in Times Square photograph. "Instead, we'll see a slow, deliberate relaxation of some of the measures we have in place," Lawrence notes. These decisions will be based on how community transmission rates change in the coming weeks.
The U.S. Centers for Disease Control and Prevention created an online COVID Data Tracker that provides current statistics and offers information about transmission by county. The tracker rates community transmission from low to high. Knowing where your county's transmission rate falls on the scale is important when deciding what activities are safe. While transmission remains moderate, substantial or high, ongoing safety measures will help decrease the spread.
Decisions about what's safe have another component, too. Individuals who have been fully vaccinated have a risk of infection of about 70 to 95 percent lower than those who are unvaccinated. That is, while vaccinated individuals still run a small risk of catching COVID-19, the risk of hospitalization and death from the disease is basically nil.
"We've seen that borne out not just in clinical trials," Lawrence says. "With tens of millions of doses given out, we're seeing that people who are vaccinated have almost eliminated the chance of becoming so sick they have to be hospitalized or would die from COVID." However, even "mild" COVID-19 can create significant symptoms.
Given the shifting situation on community spread and personal risk, Lawrence admits that it's "tough to thread the needle" when it comes to deciding what's safe. Activities that were relatively low-risk prior to vaccination will be even safer, reflecting the CDC's recent guidelines around vaccinated people from more than one household safely gathering in small groups inside homes.
High-risk activities, such as indoor dining or large group gatherings, remain somewhat risky, even after vaccination, though the CDC has loosened travel restrictions for vaccinated individuals.
"We're trying to walk the line between confidence and optimism that these vaccines work and they do reduce risk, and saying there are some things where the risk is so low that we're okay with that, but also to not give the impression that just because you've been vaccinated, you can go back to 2019," he says.
Lawrence sums up by admitting that the next few months will be "awkward" as we navigate the waning pandemic and remain vigilant, even after being vaccinated. Continuous study of disease transmission and vaccination effectiveness means that new information on what is and is not safe comes out weekly. So, he recommends everyone continue to follow CDC and local health department guidance and remember that people are still being hospitalized and dying from COVID-19.
"Just hang in there for a few more months," Lawrence says. "We're working on getting more and more people vaccinated. The sooner we can, the sooner we can live in our new normal."