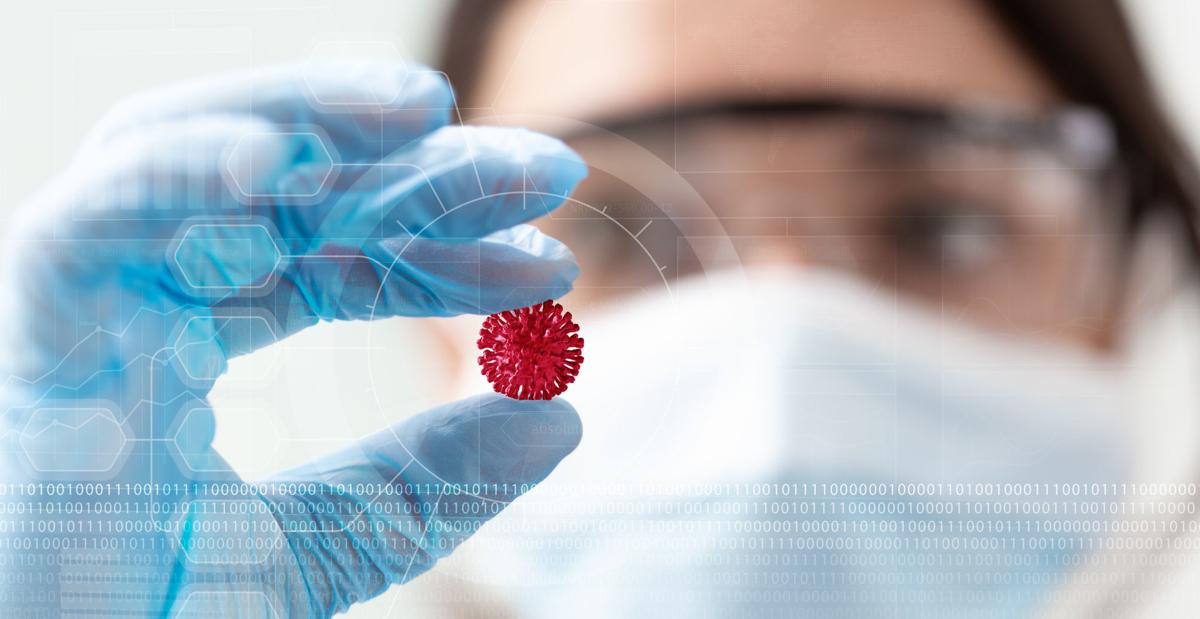 Headlines about the novel coronavirus and COVID-19, the disease it causes, dominate the media. Statistics, possible treatments, potential vaccines and economic consequences flood our news feeds every day. Yet in St. Louis, some of the scientists behind the stories continue to work at a breakneck pace, keeping their heads down and their focus firmly on their labs.
The speed and scope of researchers at both Washington University in St. Louis and Saint Louis University as they pivoted from prior projects to COVID-19 studies are unprecedented. At Washington University alone, more than 30 different labs transitioned National Institutes of Health-funded studies to focus their expertise to the worldwide effort to treat and prevent COVID-19.
"We already had an overarching infrastructure that allowed us to scale up in an unprecedented way, and the NIH encouraged us by allowing our funding to be transitioned to support the work," says Dr. William Powderly, director of the Institute for Clinical and Translational Sciences and co-director of the Division of Infectious Diseases at Washington University.
"The work we're doing on COVID-19 is a perfect example of translational science," Powderly continues. The approach sometimes is referred to as "bench to bedside."
"It's the journey of science from taking samples from patients with the disease and testing those samples in the laboratory so we better understand the disease, to taking those findings back to patients for use in diagnosis and possible interventions, to participating in huge clinical trials to see how these approaches apply to the general population," Powderly says.
Nearby, at Saint Louis University, Dr. Sarah George, a specialist in infectious diseases, is a principal investigator of just that kind of large clinical trial. George's group participated in a nationwide study of the drug remdesivir, an intravenous antiviral medication. At the end of April during a meeting with President Donald Trump that was attended by reporters, Dr. Anthony Fauci, the White House health advisor on infectious diseases, said remdesivir "has a clear-cut, significant, positive effect in diminishing the time to recovery."
"We all had to turn on a dime," says George of her research colleagues. "I was looking at the human immune response to other pathogens like Zika and dengue, which are very different viruses, with the goal of developing vaccines, and we began testing remdesivir during the third week of March as one of 75 sites around the world participating in the study."
With the initial study complete, George turned her attention to a subsequent study examining remdesivir and a second drug. "This will explore whether remdesivir works better in combination with an immune modulator," she explains. Patients will receive remdesivir alone or a combination of remdesivir and the immune modulator in the NIH-funded double-blind study.
Powderly notes that, like George, many researchers at Washington University already studied a range of pathogens and infectious diseases, so many labs quickly retooled for COVID-19 studies. For example, Dr. Sean Whelan, head of the Department of Molecular Microbiology, converted a biosafety level 3 (BSL-3) laboratory – an enclosed area for work involving microbes that can spread easily and cause severe disease – so researchers would be protected as they work with the virus. Whelan previously had worked on Ebola, where he identified a critical protein that the virus exploits to cause deadly infections.
"With the NIH allowing funding transitions and additional philanthropic support for this work, we put together a group of basic scientists very early on to meet weekly and share information and progress," Powderly says. "We also brought in our clinical colleagues to further collaborate."
Powderly also meets regularly via videoconference with fellow directors of the 61 other translational science institutes across the country. "We're identifying opportunities to share information, data and samples and are participating in studies with many of these centers," he says.
Both Powderly and George are reassuring in their optimism regarding treatments and a vaccine for COVID-19. Yet they both ask for patience as the research community does its work. "We can't just press a button and have an answer," Powderly says. "We're working extraordinarily hard, but scientific progress doesn't happen overnight."
George agrees. "I think we will have a vaccine within a year or so," she says. "But until then, people need to remember that social distancing, wearing masks in public and consistent hand-washing continue to be the best defense."
Despite their requests for forbearance, both George and Powderly exude confidence that the research community will beat COVID-19 in the long term. "When we all get out of this – and we will – I hope we'll think again about how to prepare for this kind of situation in the future," Powderly says. "In addition to a treatment and vaccine, a renewed investment in public health could be a very positive outcome."
Be the first to know
Get local news delivered to your inbox!