At The Collective STL yoga and wellness space in the Old North St. Louis neighborhood, every class ends with ubuntu, a Bantu word referencing the South African philosophy of unity, and with the instructor affirming, "I am because you are; you are because I am."
"We end every class to let people know that we're connected," Collective STL co-founder Terry Harris explains. "We literally started The Collective because we have love for Black people in St. Louis, and the reason that these individuals are coming to The Collective is because they have love for us. That is ubuntu personified."
The Collective STL was founded in 2018 by four St. Louisans who had recently graduated from a local yoga training program and saw a need in the Black community. Harris; his wife, Ericka; Alonzo Nelson Jr.; and Melinda Oliver understood the holistic benefits of yoga and sought to make it more accessible.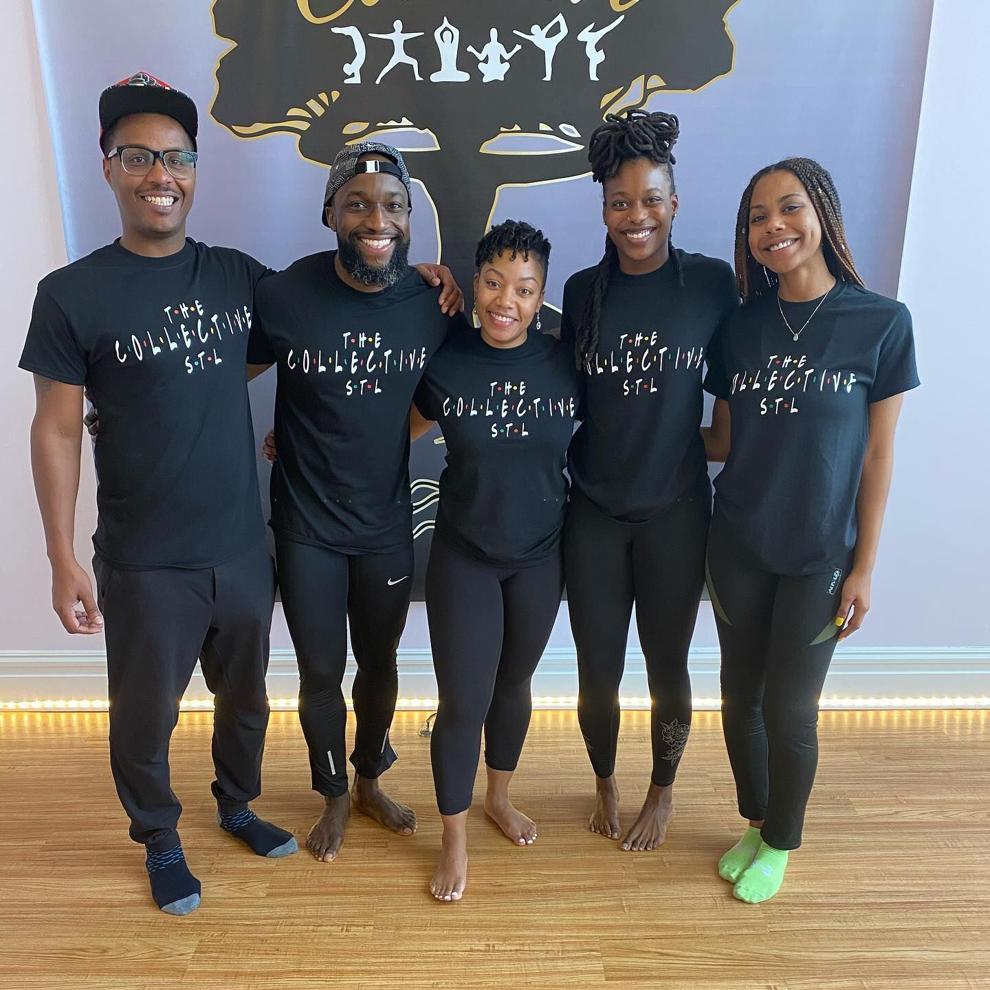 Before establishing The Collective STL, Harris had practiced yoga in various settings and didn't encounter the community aspect he envisioned. At the end of practice, people around him often picked up their mats and left without a word.
"There are times when each and every one of us will go to a yoga studio and feel like we were complete outsiders," Harris says. "You know, a person wouldn't look at you, or if they did look at you, it was like, 'Why are you here?' You felt like 'the other.' What we wanted to do is create a space where individuals – where Black people – don't feel 'othered.'"
Yoga studios in the U.S. are typically majority-white spaces, according to Yoga International.
"As a Black person, just entering a majority-white yoga class alone can be uncomfortable because of systemic trauma and individual experiences with discrimination," reads an article from Yoga International, describing the ways in which yoga helps heal trauma. "In order for yoga to be healing for the Black community, it's imperative that the teachers leading yoga classes have an understanding of the challenges Black people face."
From the words the instructors speak to the music that plays in the studio, The Collective STL's space "centers Blackness," Harris says. And unlike most yoga studios, The Collective STL operates as a nonprofit to remove the financial barrier. Students may "pay what they can – when they can," according to the website.
Children sometimes practice yoga here, too. The Collective STL provides child care services for parents while they're practicing, and children who are old enough may participate in classes.
The space isn't a moneymaker, but that was never the point, Harris says. The instructors work day jobs and teach in the evenings or on weekends because they believe in the mission. Financial support comes through donations, grants and partnerships.
"We rely on our community to take care of the brick and mortar, if you will," Harris adds.
The Collective STL aims to address various aspects of well-being and has used partnerships to provide nutritious food to those in need. When reflecting on how the COVID-19 pandemic has affected this community, Harris expresses frustration yet perseverance in looking out for the health of others. A space once filled with 40-plus people has had to pare down class attendance, social distance and mask up.
In the same year that COVID-19 took a disproportionate number of Black lives, systemic racism and the oppression of Black people came to the forefront of news and public conversation. Harris says that, while 2020 forced many to confront racial injustices in society, these conversations are all too familiar in the Black community.
"Racial injustice has been around forever – Black people have talked about these things forever," Harris says. "For four years, we have been able to create a space where these individuals can just be and be in community and not have to think. So if someone is angry or mad about a situation that is race-related, they don't have to explain that to us."
Harris describes the space as one where people can feel safe to talk about their trauma or silently breathe through it.
"We take an inhale together, and on an exhale, we all understand what they're talking about," Harris details. "That's what The Collective is."
The Collective STL, 1400 N. Market St., St. Louis, 314-200-5796, thecollectivestl.org