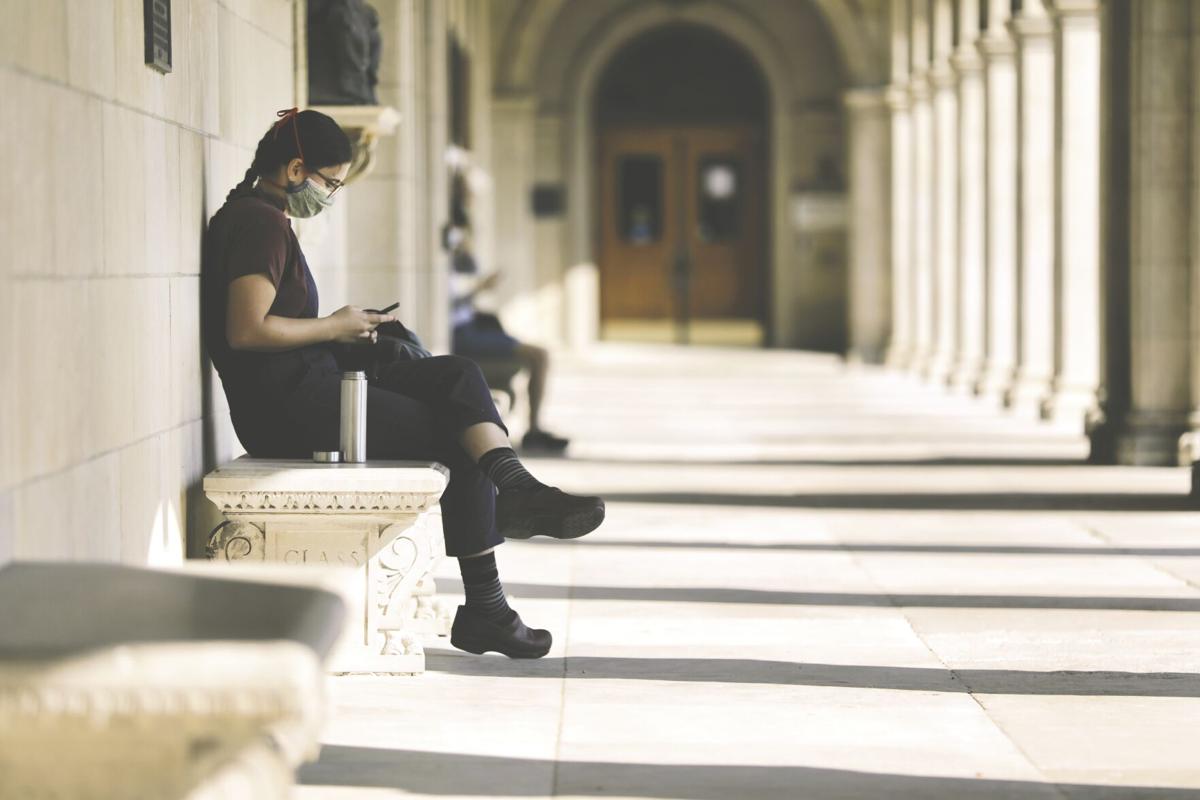 With the COVID-19 pandemic not just lingering but resurging, metro area schools across the spectrum remain vigilant in efforts to protect their students, as well as faculty and staff members, as a survey of three local postsecondary learning institutions establishes.
Saint Louis University's Terri Rebmann, Ph.D., RN, CIC, FAPIC, serves as special assistant to the president, as the director of the Institute for Biosecurity and as a professor in the Department of Epidemiology & Biostatistics in the College for Public Health & Social Justice. Despite what threatens to be "COVID-19, V. 2," she sounds a hopeful note.
"I am cautiously optimistic about the fall semester," Rebmann states. "Our vaccine requirement policy resulted in our community members having a very high vaccination rate, and we are now a fully vaccinated population. We have reached herd immunity on campus. That provides a great deal of protection to our community, especially in the prevention of severe illness."
Echoing Rebmann about their university's vaccine requirement protocol are Andrew D. Martin, Washington University in St. Louis chancellor, and Beverly Wendland, Wash U provost and executive vice chancellor for academic affairs: "We're optimistic that we will be able to resume many of our cherished traditions this fall and, most importantly, that we can return to being the close, supportive and collaborative community that we always have been."
Given the explosive impact nationwide of COVID-19's delta variant, Steve Walentik, UMSL's director of public relations/content in marketing and communications, discusses his own university's contingency plans for further complications.
"Since the beginning of the pandemic, the university has utilized [Centers for Disease Control and Prevention] guidance, as well as state and local guidance, to inform its policies related to health and safety, including a current mandate to wear masks inside campus buildings," Walentik states. "Our unified command team continues to meet regularly to review conditions and guidance and recommend policy changes when necessary."
Wash U's Martin and Wendland promise similar vigilance. "Our COVID Monitoring Team continues to keep a close eye on conditions in the St. Louis region," they state. "As expected, due to such factors as the delta variant of COVID-19 and regional vaccination rates, we will need to continue to implement, at least in part, some of our public health requirements, such as masking and self-screening, in order to protect our community."
Martin and Wendland add: "As we have since the start of the COVID-19 pandemic, we will continue to monitor developments closely and make any adjustments to our plans as the circumstances require, with the health and safety of our community as our highest priority."
Rebmann describes SLU's COVID-19 response plan as "evidence-based, flexible and scalable. If we detect disease transmission on our campus, we can pivot quickly to add safeguards to identify issues and limit spread. For example, we are prepared to do cluster testing, surveillance testing on a small or large scale, or add restrictions, such as limiting visitors to the campus or on-campus housing if needed."
Thus far, SLU's Rebmann and UMSL's Walentik both report a favorable response from students, families and educators to their respective institutions' plans and protocols.
"Our students and employees have been respectful throughout in adhering to those policies, which is a big reason the university has been so successful in its efforts to protect the campus community," Walentik states. "We expect that to continue going into the fall semester."
Rebmann comments similarly: "Our community members have expressed strong support for our COVID-19 plans for this upcoming year. Many have expressed gratitude for our successful 2020-21 academic year. We were able to stay open and safe the entire year, when many other colleges and universities remained online. Our success last year provides many community members confidence in our ability to respond effectively to the pandemic."
Walentik promises that UMSL remains "prepared to continue to make adjustments as needed in the year ahead," and both SLU's Rebmann and Wash U's Martin and Wendland add final caveats that seem salient, given COVID-19's vicious adaptability.
"These plans are based on what we know now," Martin and Wendland state. "It's important to keep in mind that some details may continue to evolve as conditions change regionally and nationally."
Rebmann, for her part, states that "the epidemiology of COVID-19 is changing very rapidly, and multiple new variants of concern have been identified. We have to be nimble and ready to pivot to meet whatever challenges may arise."