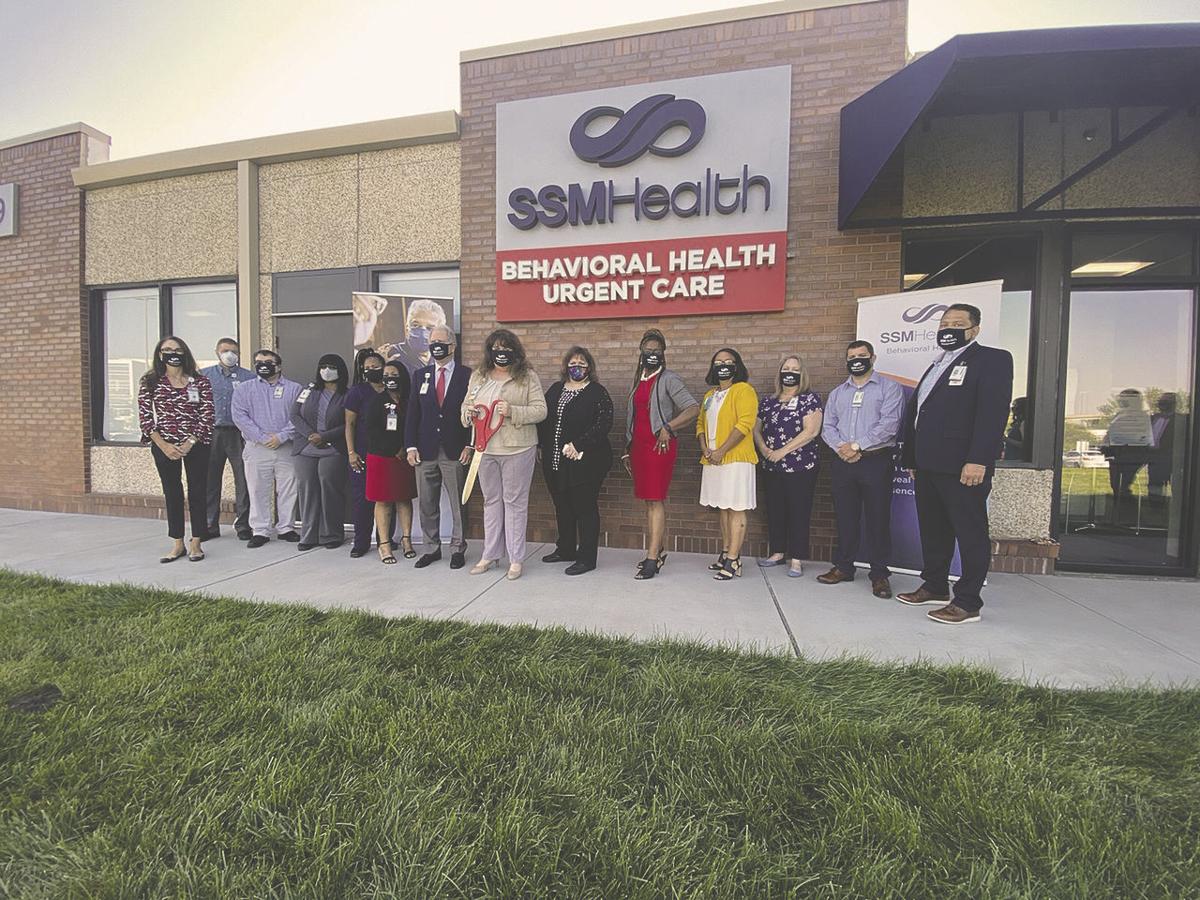 A partnership among local health systems and various metro area organizations came to fruition this fall with the opening of the SSM Health Behavioral Health Urgent Care. While working with the state on funding for community partner agencies, SSM Health aims to offer the center as a model that can be replicated across the community, with other health systems also participating.
In late August, the clinic opened its doors to area residents seeking treatment for anxiety, bipolar disorder and other mental illnesses, providing accessible and affordable care during a time when good mental health is especially difficult to maintain. SSM Health officials say this walk-in clinic on the SSM Health DePaul Hospital Campus in Bridgeton is the first of its kind in all of Missouri, due to alliances with community partners that will ensure a wellness path and ongoing access to care for patients served.
"It's on SSM's campus, but this is a very large collaboration between community mental health centers and other providers and SSM to provide an entirely new model of care for the community," says Michelle Schafer, SSM Health's regional vice president of behavioral health. "The key is all of our community partners have stepped up to the plate and have committed that they will give us immediate access for patients once they're done in urgent care and they need ongoing care."
When patients arrive at the urgent care center, they first meet with a nurse for triage assessment and, depending on their reason for visiting, might meet with a therapist, nurse practitioner, psychiatrist, peer navigator or other behavioral health staff. After addressing critical concerns, the staff connects patients with follow-up appointments and resources, including telehealth options, to help them "continue on a wellness path," Schafer explains.
Staff treated more than 300 patients within two months of the center's opening, with anxiety and depression being the most common health issues.
People experiencing a mental health crisis sometimes seek immediate care from emergency rooms, but Schafer says that's not ideal for numerous reasons. According to a recent regional report, the number of people here who visited emergency rooms for this reason increased by more than 40 percent between 2010 and 2016.
"When a patient goes into an emergency room, they're going there because they don't feel like they have any other alternative for care," Schafer says. "We have built a center that is a calming, very quiet, very serene place for patients to go, first of all, and then it's staffed with people who specialize in behavioral health."
Schafer commends emergency department workers for everything they do and does recommend that people with physical health emergencies – in addition to mental illnesses – first seek care in such departments. However, those experiencing only a mental health crisis may find more timely relief at the urgent care clinic and get connected to partners able to prevent detrimental incidents or illnesses in the future.
"[The COVID-19 pandemic] has created an inordinate amount of stress in everybody, and when you don't have relief from that stress for months on end, you can often then have accompanying anxiety disorders or depression," Schafer adds. "In those situations, the urgent care is absolutely the appropriate place to come."
In addition to potentially crowded emergency rooms and waiting for appointments elsewhere, barriers to mental health treatment might include a lack of transportation or an inability to cover the cost. Thanks to partners like the Behavioral Health Network of Greater St. Louis, the clinic is able to provide transportation and cover the cost of care for those unable to afford it. Schafer says no one will be turned away for inability to pay – that's the power of the collaborative model.
"The whole goal of this collaboration and this team that came together is not only raising the health and wellness of our particular community here in St. Louis, but also to share how we did it and how we did it differently," Schafer conveys. "If we can help other communities do the same thing, we absolutely want to do that."
SSM Health Behavioral Health Urgent Care, 12349 DePaul Drive, Bridgeton, 314-344-7200, ssmhealth.com