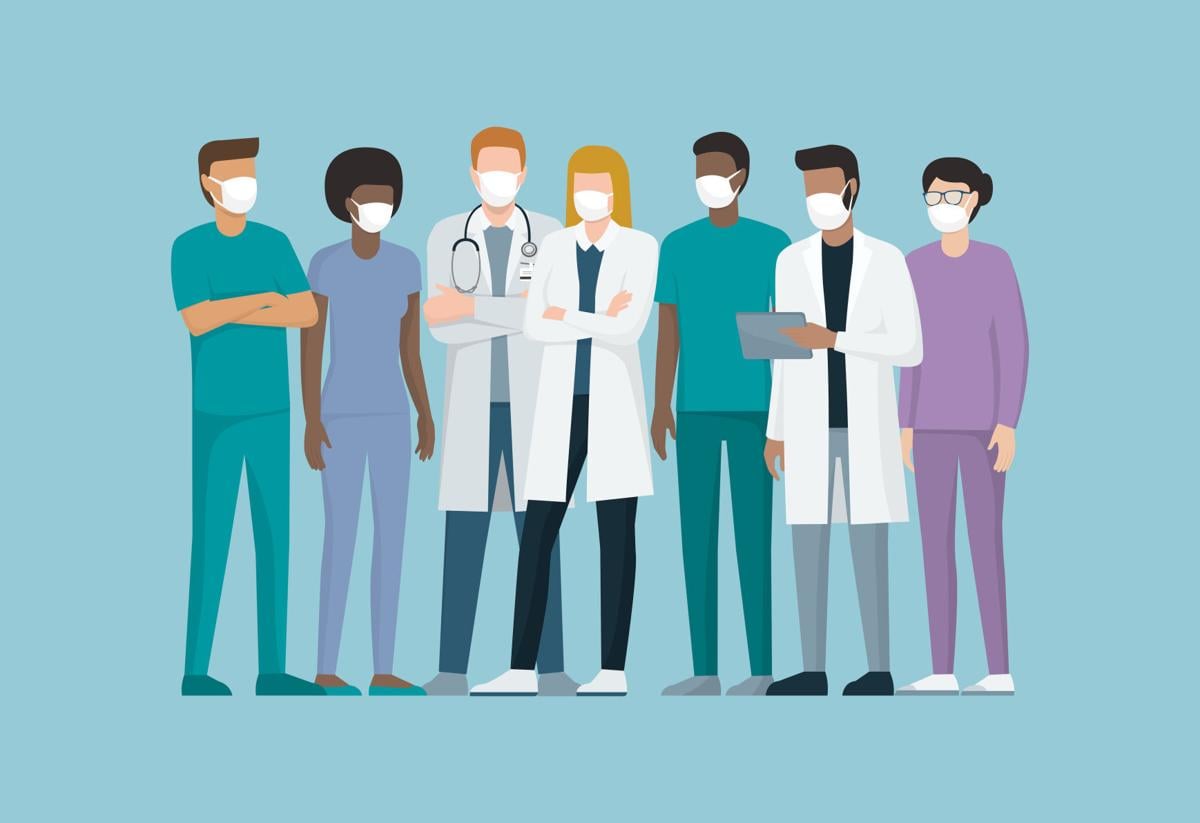 When the novel coronavirus first appeared in the U.S. and the nation largely closed its doors, many people put everything on hold – including their own health care. Routine visits and screening tests were not worth the risk of venturing into a potentially germ-laden doctor's office. However, as the pandemic continues, more and more people must return to their doctor for chronic care management, routine checkups and acute care needs.
Dr. Matthew Breeden, a SLUCare family physician, is seeing more patients in his office after weeks of mostly telemedicine visits. "People need to come in for physicals, follow-up visits for chronic conditions and the usual types of illnesses that send people to the doctor," he says. "However, we're being careful in screening our patients for any signs of possible COVID-19 infection and are working hard to limit the possibility of disease spread."
Going to the doctor no longer means simply walking into a waiting room, checking in and sitting in rows of chairs until a nurse calls you into an exam room. These days, most practices are checking temperatures and reviewing a COVID-19 symptoms checklist before a patient even enters the waiting area. Masks are required, and many seats have been removed or repositioned to ensure at least 6 feet of distance between people. Some offices require patients to wait in their cars until called to enter the building.
"The overall goal is to limit the number of people in the waiting area and offices at any one time," Breeden says. "If a patient is able to come alone, we ask that they do, so that we don't have additional visitors in the building."
Despite the new protocols for getting into an exam room, once a patient is ready to be seen, the interaction remains much the same as before the pandemic. There are some subtle differences, though.
"We always used to initiate a visit with a handshake," Breeden says. "We're not doing that anymore." Doctors and other health professionals also will be masked and wearing other protective gear, such as gloves and possibly gowns. Breeden notes, however, that these protective measures are not uncommon during flu season, and many of the practices now in place are good standards in preventing a variety of infectious illnesses.
"We're cleaning all surfaces in the rooms between visits and being careful to clean our equipment, like stethoscopes, between each patient," he adds. "This is actually good long-term protocol to help curb illnesses in general."
COVID-19 testing continues to be offered at specific testing sites and is not done at a doctor's office, in part because the test itself causes most people to cough, which increases the risk of viral transmission. "We're giving people referrals for the nasal swab test or the antibody test," Breeden says. "But people need to remember than the antibody tests are no guarantee that you're immune to COVID-19. Depending on the population tested, there may be a significant number of false positives or false negatives, making the results difficult to interpret. Additionally, the antibody tests are very new and have not gone through the typical validation process that is required of other lab tests."
"And even in cases of a true positive, we don't know yet if that confers immunity," Breeden continues. "This is not to say that testing should not be done, but it must be done with an understanding that the results may not be as clear as we'd like them to be. There's still a lot we need to determine about the tests and what the results mean for the average person."
The federal Centers for Disease Control and Prevention continue to advise people to consider telemedicine visits when possible, and advise washing your hands for at least 20 seconds as soon as you get home.
Breeden agrees and urges everyone to continue taking precautions: "Keep washing your hands often, distance from others and be careful about daily interactions. And remember, wearing a mask is a sign that you care about protecting others as well as yourself. We all want to get back to normal, and remaining vigilant is the best thing we can do right now." 
SLUCare Physician Group, slucare.edu