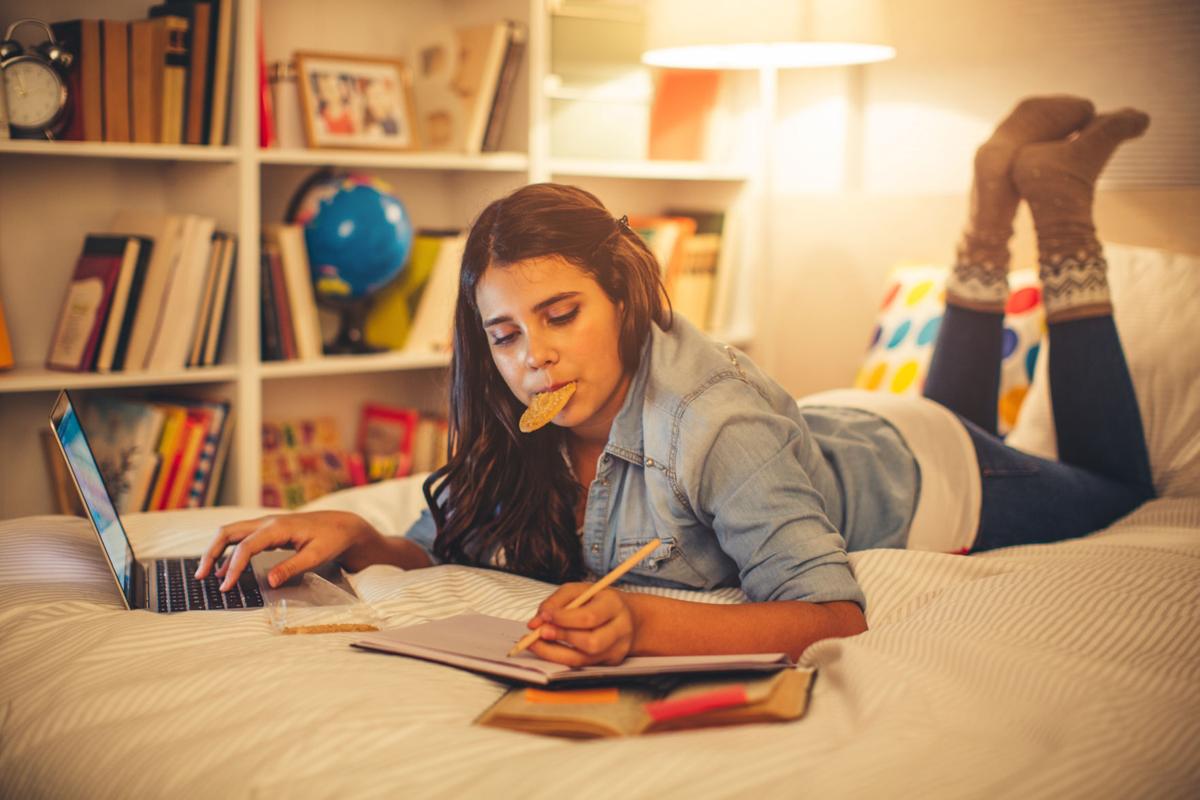 When COVID-19 hit the metro area, mealtimes were a bright spot in an otherwise uncomfortable existence for my household. As much as we tried to occupy our time with exercise, movies and working from home, our family quickly became antsy. Dinner was the day's highlight. We all – our boys included – took turns prepping food and trying to outdo one another. We posted our dishes on social media and talked about what was on tomorrow night's menu.
As the pandemic progressed, however, our attitude started to shift. We still enjoyed our time around the kitchen table, but we also noticed that we were getting bored, and our eating habits were changing. Between meals, small bites escalated and snacking became a way to pass the time.
Adolescents, in general, are more prone to eating disorders than any other age group. During these unique circumstances, teenagers are also more anxious than ever. Many kids are turning to social media to combat their distressed feelings and fill the void of being physically distanced from their friends. Unfortunately, some viral social media postings are sending unhealthy messages about how to use quarantine time to create the "perfect body."
The internet is full of tips on how to diet, and many individuals are restricting their food to avoid the "COVID-19 weight gain." Others are just not eating because life stressors are negatively affecting their appetite. No matter the cause, food is fuel, and we all need to eat. Coach your teen to focus on a proper diet versus calorie-counting.
As parents, we can structure our household to assist our adolescents to live a healthy lifestyle. Encourage your family to eat well-balanced snacks or meals every three to four hours. This will provide consistent nutrition that will leave both you and them feeling energized all day long. Also suggest to your kids, no matter their age, to go to bed and wake up at the same time each day, as a regular sleep schedule helps with mood regulation. And lastly, as much as possible, encourage teens to spend more time outside and less time on their devices.
In times of isolation and fear, food can be very comforting. When we eat, dopamine, also known as the "happy" hormone, is released to the brain. This creates a sensation of good feelings, something everyone is craving during these difficult days. As a result, many overindulge, which is then often followed by guilt and lethargy, causing some to engage in bulimic or binge-eating disorder behaviors.
For people who struggle with mental health issues, self-quarantine has created a perfect storm of environmental stress to exacerbate personal concerns. Stay-at-home orders have shifted the way we live. As a therapeutic professional, I am observing an escalation in disordered eating that is directly correlated to pandemic behaviors.
If you fear a loved one is suffering, it might be time to seek professional assistance. The quicker you confront the problem, the sooner you can start down the path to recovery. The novel coronavirus continues to cause a lot of distress. Make sure to nourish yourself with healthy habits while we navigate these troubling times.
Prior to going into private practice as a psychotherapist and learning-disabilities specialist, Russell Hyken, Ph.D., Ed.S., M.A., LPC, NCC, worked for more than 15 years as an English teacher, school counselor and school administrator. Visit him online at ed-psy.com.
Be the first to know
Get local news delivered to your inbox!