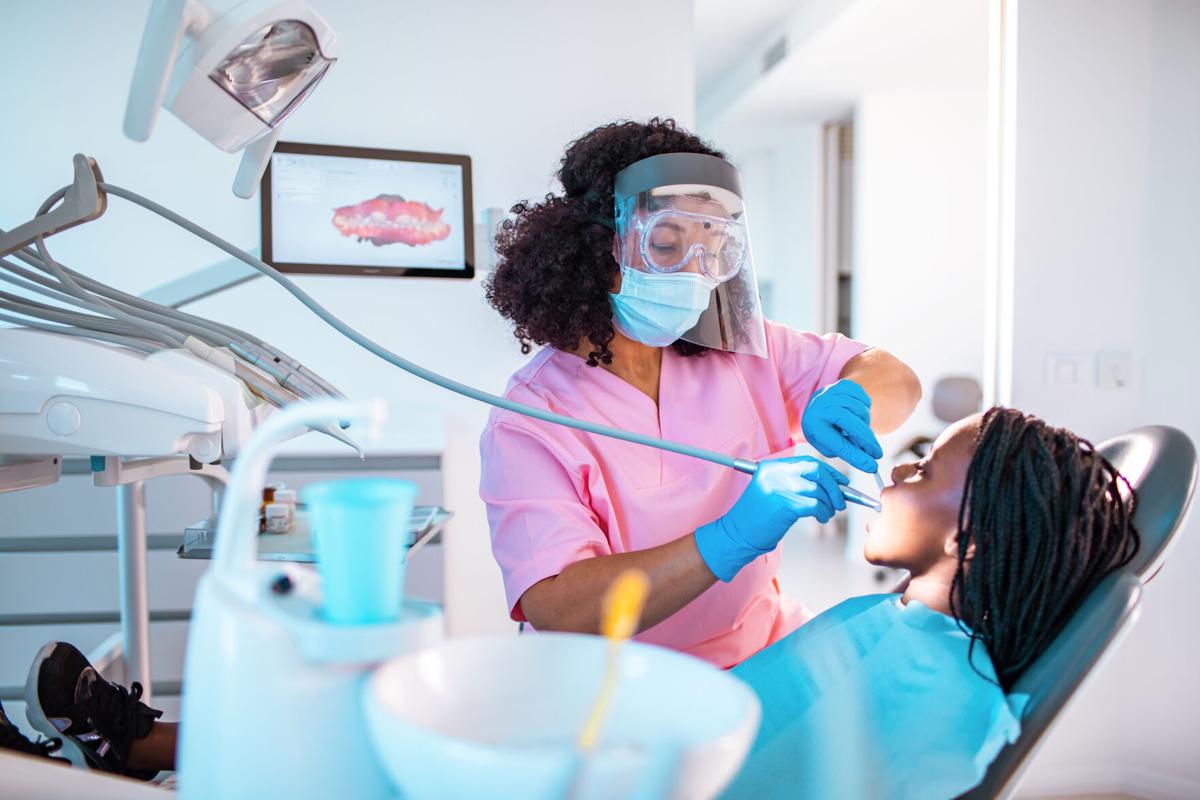 The past year and a half was enough to cause anyone to figuratively grind his or her teeth, but plenty of people have been doing so literally. All of that combined clenching and grinding is just one manifestation of stress that affects dental health.
Dr. Elizabeth Binz, a board-certified periodontist who associates with Dr. Stephen Snitzer in Chesterfield, notes that though she hasn't seen a large increase in stress-related issues among her patients, "certain habits that can be exacerbated by stress, such as clenching or grinding teeth, either throughout the day or while asleep, can be damaging to teeth, restorations such as crowns or fillings, and dental implants."
Of more concern to Binz are issues created when people defer regular dental checkups. "Patients who postponed dental care due to the pandemic may now require more treatment than originally recommended," she says. "For example, the tooth which had a small chip in it now has a large fracture, and suddenly it cannot be predictably restored with a simple filling or a new crown. Now we have to start talking about tooth removal and replacement, possibly with a dental implant."
Chronic stress also affects dental health in more stealthy ways. Binz notes that stress can reduce the body's ability to combat pathogens. "Chronic stress can alter the bacteria in our mouths to make them more destructive," she says. "Patients with chronic stress typically have markers of elevated inflammation in their systemic circulation, and inflammation is associated with many chronic conditions, including periodontitis."
Other potential stress-related dental issues stem from poor dietary choices. Stress-eating sweets and pastries leads to more cavity-causing bacteria, and chewing ice, which is sometimes a stress-related habit, can crack and damage tooth enamel and structure.
Regardless of the cause, symptoms including pain in the teeth or jaw, sores or abscesses on the gums, loose or broken teeth, or gums that bleed easily with regular brushing are all reason to see a dentist.
Prevention is the best tactic when it comes to avoiding dental problems. "Go see the dentist for exams and professional cleanings at least twice a year," Binz advises. "If something hurts, make an appointment right away. If a tooth was hurting, and then it stopped hurting, that's a bad sign – not an indication that it got better."
She adds that if gum health is a concern, a periodontist can provide a comprehensive exam and offer strategies for maintaining or improving the gums.
The key message, says Binz, is to be proactive: "We have many patients that feel ashamed that they let their oral health get so out of hand. Many of these patients were afraid of hearing bad news, so they postponed seeking care, sometimes for several years. We also see patients with extreme dental fear, and the prospect of coming in, even for a brief exam, is terrifying for them. I make every effort to help these patients feel comfortable and cared for."
Dr. Snitzer & Dr. Binz Periodontics and Dental Implants, 14377 Woodlake Drive, Suite 214, Chesterfield, 314-434-2101, stlouisperiodontist.com