Veterinary care is changing. More and more, pet parents are spending time, energy and resources to ensure their pets live longer, healthier and happier lives.
The new Integrated Veterinary Pain Management Center in St. Louis helps make that vision a reality by taking a full spectrum approach to treating animal companions that combines traditional medications and rehabilitation technology. As a result, the staff is completely redefining the veterinary experience for pets and owners alike.
"What we're looking to do is extend the pet's quality of life and comfort of that life," says Dr. Travis Arndt, medical director at the Animal Medical Center of Mid-America, which operates the facility as part of the Humane Society of Missouri.
Located on Macklind Avenue, the new pain management center announced its opening in June. It is HSMO's second such facility in the area and the first in St. Louis. The organization, which is celebrating its 150th birthday this year, opened the Best Buddy Pet Center (the metro area's first pain management facility) in Maryland Heights in 2017. Each offers state-of-the-art treatment to its patients.
"We've really tried bringing together a lot of different technologies," Arndt says. "There are a lot of places that have maybe one or two pieces of equipment, and that's really it. What we're constantly doing is working on ways to incorporate these technologies together, and by utilizing them together, we can get better results."
Pain management services include everything from an underwater treadmill to improve mobility, to rehabilitation services to help pets adjust to new states of mobility, to laser therapy that relieves pain, to ultrasound therapy that helps heal ligament and tendon injuries, and beyond. Each service is designed to address specific conditions for specific patients – a customized approach that, ultimately, should improve the quality of life for pets.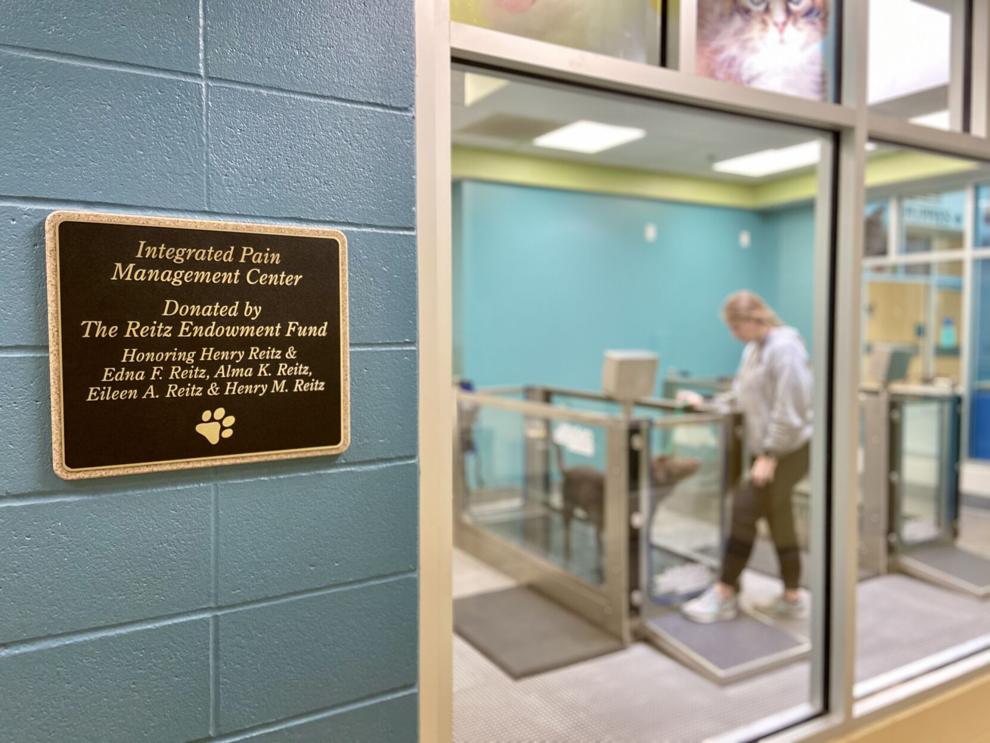 The center also provides extensive client education. Dogs begin to show signs of osteoarthritis as they age, with many already experiencing joint pain by ages 5 to 7, according to Arndt. Owners don't always expect these symptoms so early in a dog's life, but the impact shouldn't be overlooked.
"Pain from joints can affect their outlook on life, their enjoyment of life," Arndt says. "Sources of pain oftentimes feed off one another. On top of that, if you don't address pain and help prevent that from happening, you set up a situation called maladaptive pain, where patients are in a state where they're always hyper reactive to physical touch. The lightest touch can be perceived by these patients as painful."
Not every patient is treated for joint pain at the center. Take Suzy Q, for example. The 5-month-old pit bull mix puppy was surrendered to a rescue in Texas and transferred to HSMO with paralyzed hind legs. The specific cause of her injuries is unknown, but the staff at the Integrated Veterinary Pain Management Center took Suzy Q in for rehabilitation anyway.
Her treatment includes underwater treadmill use, laser therapy, chiropractic therapy and a custom-fitted dog wheelchair – an integrative approach designed to teach the pup how to walk independently. Her timeline to full rehabilitation is still uncertain, but the ultimate goal is that she'll be able to be adopted into her forever home.
These kinds of services and this level of care – plus the fact that proceeds from the AMCMA benefit the animals rescued and treated at HSMO shelters in St. Louis and Maryland Heights – highlight the organization's belief in taking a comprehensive approach to treating animals. And with the new pain management center, pets with injuries actually receive rehabilitation services prior to adoption, thereby shortening the amount of time they spend in shelters.
"Our shelters and our animal cruelty task force are always busy with animals that are coming into shelters," Arndt says. "By having our veterinary clinics attached, we're able to provide surgeries that some of these animals aren't able to get and at affordable prices."
Combined, it's clear that Ardnt and his team are committed to one simple mission: to help pets live longer – and more comfortable – lives.
Ardnt confirms: "We're trying to elevate the standard of care."
Humane Society of Missouri, 1201 Macklind Ave., St. Louis, 314-647-8800, hsmo.org