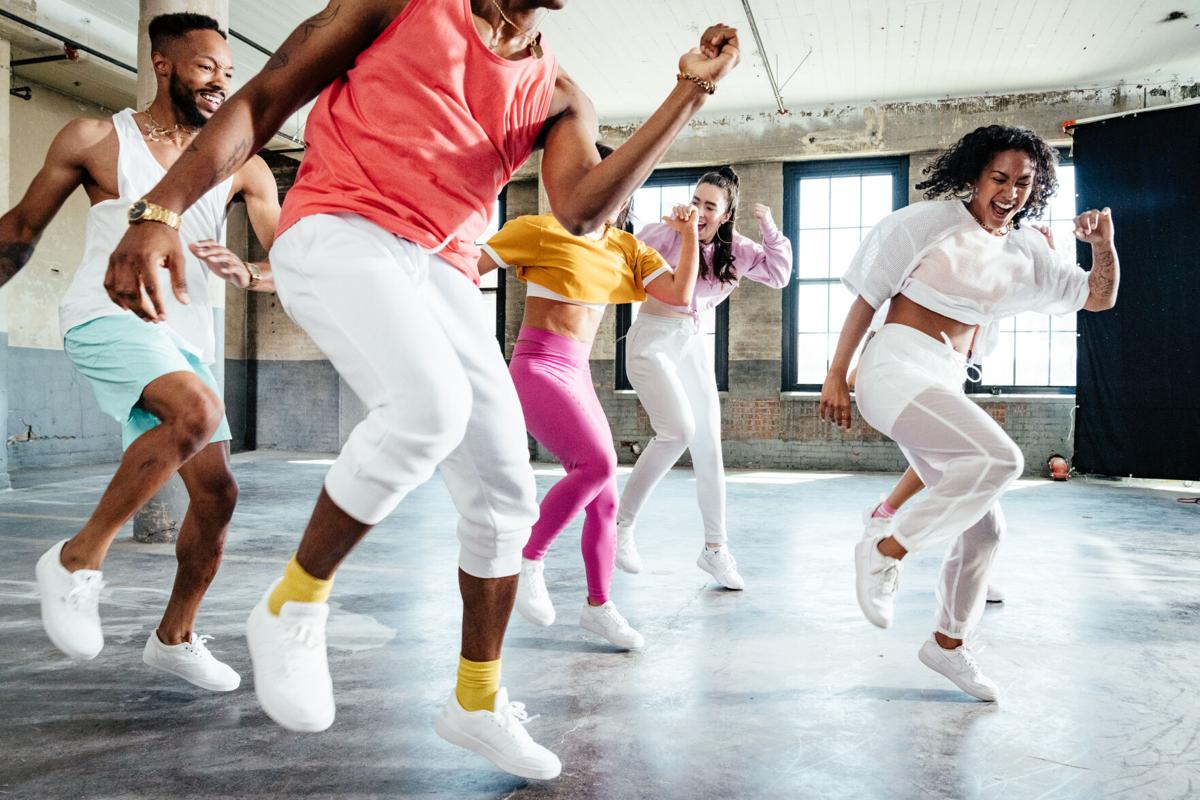 At Yes Honey Studio, you won't hear the fitness instructors motivating their "honeys" (studio members) with reminders that "Summer is just around the corner!" or "You're one step closer to a slim, bikini bod!"
This light-filled, coral-pink dance fitness studio in St. Louis' Forest Park Southeast neighborhood embraces body positivity and strives to make cardio workouts feel like a dance party with friends. Weight loss or muscle toning may happen in the process, but that's not the main objective.
"It's already intimidating because it's dance fitness, and we're aware of that, but we want this to be an inclusive, expressive space," Yes Honey owner Jenny Hill says. "We really think that every single person should be moving their body, regardless of what their goals are."
Hill hails from Chicago and has a professional background in fitness. "I have no dance background at all," she says. "I lived in LA for a while and was a personal trainer in Hollywood, and I saw so many opportunities to dance as a form of workout."
After moving to St. Louis, she took Zumba classes and dance classes at local studios but didn't find exactly what she wanted. She imagined her ideal studio would offer a mix of cardio and strength training, but it would feel "more like a dance party," with less focus on learning choreography and performing.
"I saw there was sort of a gap in the market for that," Hill reflects. So in late 2020, when saying "no" became the norm, Hill said "yes" to opening Yes Honey Studio. A mom to three kids ages 4 and under, Hill courageously yet cautiously persevered with plans she had made before COVID-19 barraged the metro area and officially opened in December with numerous safety precautions in place. The studio has slowly shed restrictions on class size this spring and plans to make masks optional, starting June 1.
The Yes Honey "squad" of instructors includes dancers with diverse backgrounds, including Broadway performance and NFL cheerleading.
"I really am wanting [instructors] who are current, active performers – I think that keeps it really fresh and authentic," Hill says. "I hire dancers who I love their personality, and I love their style and their energy. But within that, we're encouraging them to bring what they want to teach."
Yes Move classes often involve hip-hop-inspired choreography taught in short, repetitive sections similar to how Zumba classes are taught. However, instructors tend to mix things up with themed classes – like classes featuring Latin music and moves, choreography made popular through the social media platform TikTok or "throwback" songs reminiscent of pre-pandemic times.
BollyX, a newer Yes Move class introduced in late April, features Bollywood-inspired choreography and combines high-intensity interval training with low-impact moves. The instructor, Amar Shere, is a Cardiovascular Disease Fellow at Saint Louis University School of Medicine, so he knows a thing or two about getting heart rates up. Hill also added an Afrobeats class, taught by Ashreale McDowell, to the schedule this month.
Every Yes Move class includes a warmup, follow-the-leader-style aerobic dance session, about 10 minutes of strength training and a cooldown. Yes Strength classes include a warmup and strength training focused on a specific muscle group. Yes Honey also offers private events, such as bachelorette dance parties, which can be tailored to the style of dance or type of workout the host envisions.
"All the classes are formatted to be beginner-friendly," Hill says, "but at this point, there are certain instructors that are better for those who have no dance experience."
Hill endorses Favour Mumin, Doc Riley, Anneka Shaw and Tiala Taylor's classes as ones especially welcoming to all levels. Taylor says she usually opts for music by well-known singers, such as "music that people listen to every day in their car, with their friends or at a party. We bring the party to the workout … It's a come-as-you-are kind of vibe."
Hill is happy to help match people with the class that best suits them – just e-mail ahead for insights. Following the Yes Honey Instagram is another way to get a peek at what's happening inside the studio.
First-timers pay $10 for class, then rates vary after that. Membership options, rates and the class schedule are posted online at yeshoneystudio.com.
Yes Honey Studio, 1519 Tower Grove Ave., St. Louis, 314-448-1217, yeshoneystudio.com
Get an inside look at Yes Honey Studio and Taylor's class by checking out LN's Yes Honey Instagram highlight at Instagram.com/laduenews.