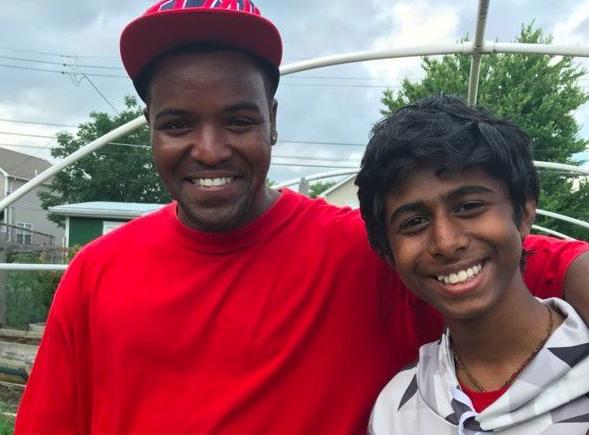 Sri Jaladi spent his time during the coronaviral pandemic making a difference. Now, as light appears at the end of the health-crisis tunnel, he's helping unhoused people in the metro area learn the latest information about COVID-19 vaccines.
His heroic pandemic-era efforts are not surprising to the people who know Jaladi. The senior at Chesterfield's Parkway West High School has dedicated the better part of the past three years to serving the area's unhoused population through his nonprofit organization, NANO-Lending (with the first four letters being an acronym for "Navigating Access to New Opportunities," not the trendy prefix nano-). But this mission escalated profoundly in March 2020.
"Initially, before lockdown happened, I was at some shelters through NANO and doing some workshops and incubators," says Jaladi, whose organization empowers unhoused people by providing mentorship and resources that help them become entrepreneurs. "Very quickly, I was able to see they were separating beds by 6 feet and implementing safety measures."
It also became clear to Jaladi that regular pandemic safety measures weren't always possible for people living in shelters. As a result, he shifted gears and launched COVID-19 Relief for the Unhoused. The initiative was a joint community effort that sewed and donated more than 1,600 masks to individuals living in shelters and encampments last April.
When, the federal Centers for Disease Control and Prevention issued emergency-use authorization for two vaccines this past winter, Jaladi saw once again that something was missing among the unhoused community.
"Many of these individuals weren't receiving up-to-date information about vaccines," Jaladi says.
Thus, through NANO-Lending, Jaladi launched another initiative: COVIDVaccineNotify.net. The statewide program alerts unhoused and uninsured people when new vaccine information becomes available near them.
It takes only about 15 to 30 seconds to sign up and requires no personal information aside from the registrant's ZIP code and a contact method, which can involve a person's email address, phone number or even Instagram account for younger people. By the end of last month, more than 1,900 people had signed up for notifications.
The initiative isn't exclusive, either. Anyone who wants up-to-date vaccine information can register. Jaladi's effort continues to remain vital to keeping many of the most vulnerable metro area citizens healthy as the pandemic subsides and, hopefully, ends.
"I think that my experience in these communities has been impacted by the people I've had the chance to talk to," Jaladi says. "Listening to their stories, what they think they need, and what they'd like to see. Through those stories and those experiences, what I try to do, I base it off it that."
NANO-Lending, 314-813-7877, NANOlending.org