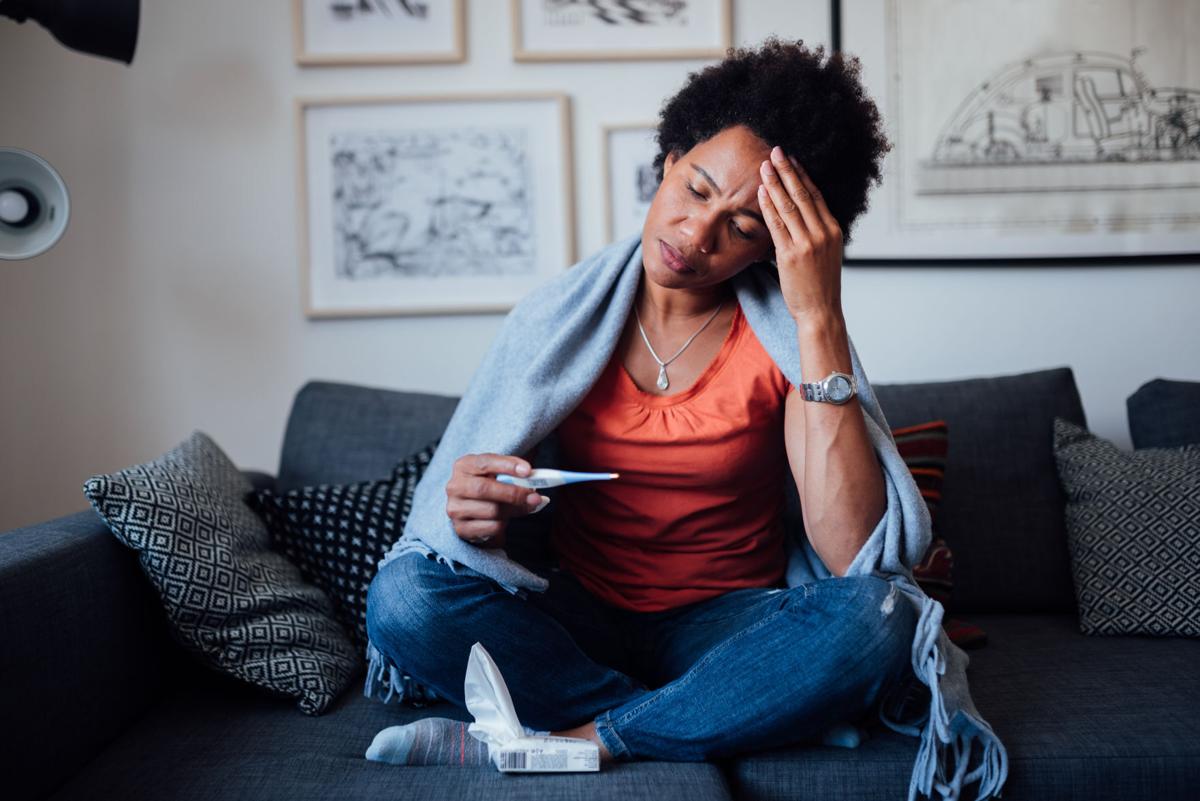 Although it's officially cold and flu season, the coronaviral pandemic has eclipsed the usual concerns about all the other bugs that typically affect people at this time of year. Luckily, our efforts to quash COVID-19 are also helping to lessen the spread of normal seasonal illnesses.
"Flu cases are down this year, similar to what was seen in the Southern Hemisphere during their flu season this year," says Dr. Matthew Breeden, a SLUCare family physician. "This is presumed to be due to social distancing and mask-wearing. Also, flu vaccination rates appear to be higher this year than in prior years, and that's one of the most reliable ways to prevent the flu. We don't track rates of colds as closely as flu, so it is difficult to say if those rates are down."
Despite this good news, Breeden notes that symptoms of COVID-19, colds and the flu mimic one another, making it hard to know whether you have a simple winter cold or something more concerning.
"Fever, cough, fatigue, body aches, headache, sore throat, nasal congestion and runny nose can occur with all three conditions," he says. "These symptoms will be milder in a cold, but typically more severe in COVID-19 and flu. A sudden loss in taste or smell appears to be a differentiating factor for COVID-19. We don't see that symptom as often in cold and flu, but not all patients with COVID-19 will lose taste and smell."
COVID-19 patients also sometimes have nausea and diarrhea. These symptoms may also occur in flu, but tend not to occur in a common cold, Breeden says. "In more severe cases, patients with COVID-19 will develop chest tightness and/or difficulty breathing," he continues. "These symptoms are not common in cold and flu. Any patient with these symptoms should seek prompt medical attention."
Considering the similarities among COVID-19, colds and the flu, it can be difficult to know whether or not to get a COVID-19 test. But with tests more available now than they were early in the pandemic, it can be beneficial to be tested if symptoms appear in order to determine whether it's necessary to isolate.
Breeden also urges everyone to get a flu shot to protect both themselves and others. "The only patients who should not get a flu vaccine are those who are younger than 6 months of age or those who have a history of a severe or life-threatening allergy to the flu vaccine or some ingredient in the flu vaccine," he says. "This is very rare, so the vast majority of patients should really be getting the flu shot."
As COVID-19 vaccines become more widely available, Breeden recommends this shot as well. "Common side effects of the COVID-19 vaccine include pain and swelling at the injection site," he says. "Some patients will experience fever, chills, fatigue and headache. These symptoms are common in other vaccines but may be more significant for the COVID-19 vaccine. But in the grand scheme of things, the symptoms are milder than a case of COVID-19."
He adds: "One common myth about vaccines is that they can cause the disease they are intended to prevent. I would like to point out that neither the flu vaccine nor the COVID-19 vaccine can cause flu or COVID-19. It's simply not possible."
Although most people will feel safer once vaccinated, Breeden notes that it's not yet time to toss those ubiquitous masks. "We will not have enough vaccine to protect the entire population for several months to come," he says. "The best way to protect yourself and those around you is to continue following [federal Centers for Disease Control and Prevention] guidelines. The better job we do following these guidelines, the sooner we'll be through this and the fewer people we'll lose to this pandemic."
Visit health.mo.gov for information on COVID-19 testing sites near you.
SLUCare Physician Group, 3545 Lafayette Ave., St. Louis, 314-977-4440, slucare.edu