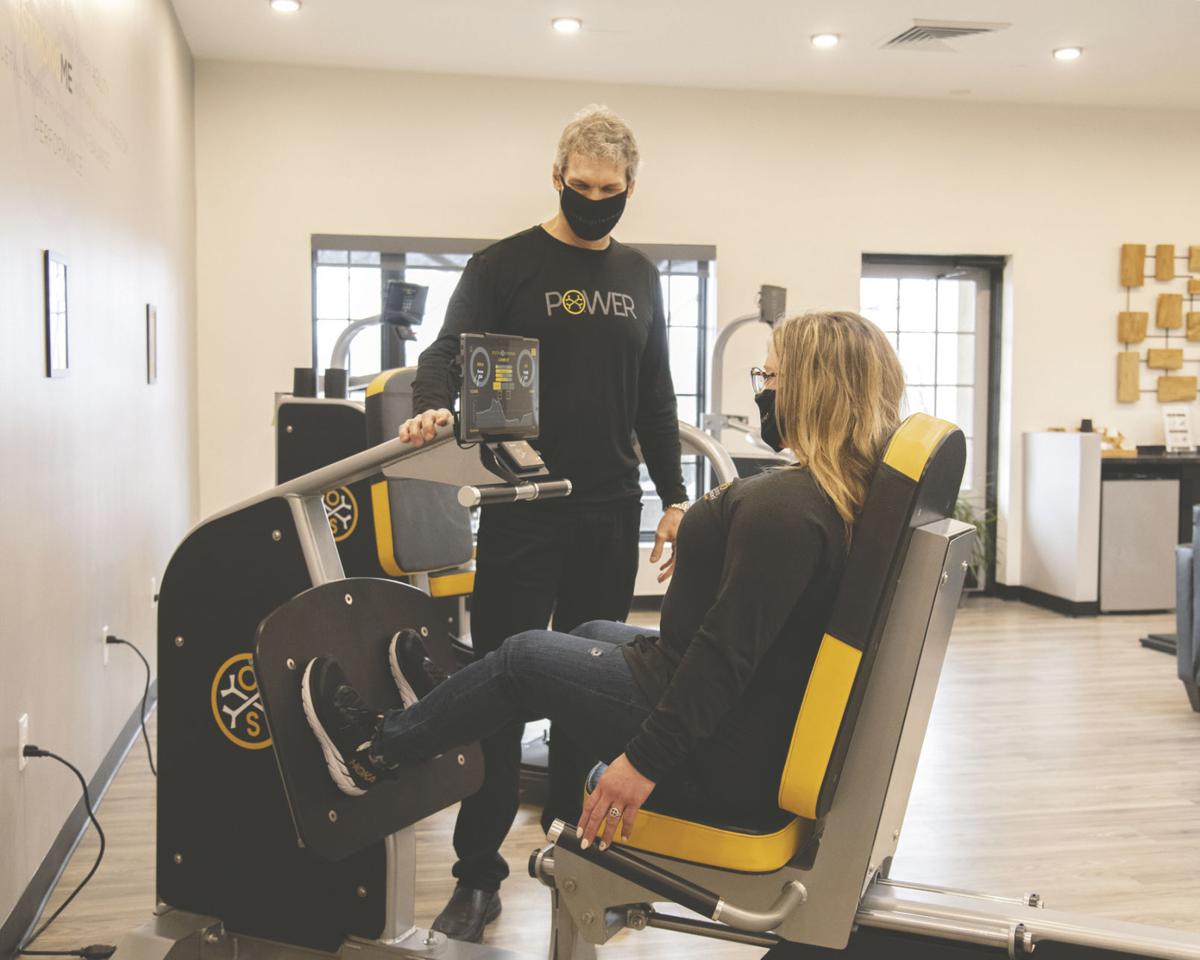 After watching his mother suffer with osteoporosis, Dr. John Jaquish knew there had to be something he could do to strengthen her bones – and others' – to alleviate pain and increase bone health. His research into power lifters and gymnasts led him to create OsteoStrong, and completely reverse his mother's osteoporosis in a year and a half.
OsteoStrong is a place where you can improve your health with the assistance of Jaquish's patented Spectrum equipment, four machines specifically designed to allow you to apply enough pressure to your bones to improve strength and bone density.
"The machines allow you to safely achieve the necessary threshold," explains Steve Tschudy, owner of the OsteoStrong Ladue franchise. "Members then apply as much force as they can comfortably produce. It surprises people; no one comes out exhausted."
Tschudy learned about OsteoStrong from his sister. Already interested in health fields and dealing with his mother's osteoporosis, he was inspired to open the Ladue franchise to help her and so many others like her.
The four machines used target different areas of the body. Together, they have been proven to improve bone density, posture, strength and balance, as well as alleviate joint and back pain. In less than 10 minutes in total, OsteoStrong's glowing results come with no soreness or fatigue.
OsteoStrong Ladue opened in early 2020, and was open only a few months before the COVID-19 pandemic caused most businesses to be put on hold for a few months. Now, Tschudy is seeing an influx of customers. "We usually only have one member going through a session at a time and are able to safely sanitize," he says. "I think with more people being vaccinated, people are beginning to feel comfortable about coming in and seeing what we can do for them."
Tschudy adds that he wants to make the OsteoStrong experience different from what people might expect from a gym, offering other health techniques including hydromassage. "We love our members and want to make this enjoyable for them," he says.
OsteoStrong Ladue, 9733 Clayton Road, Ladue, 314-502-3402, osteostrongladue.com
---
FAST FACTS
• Approximately one in two women over age 50 will break a bone because of osteoporosis.
• The force threshold for creating new bone growth – known as an osteoblast – is 4.2 times a person's body weight applied to his or her hipbone.
• Immune cells grow from bone marrow. Improving skeletal health offers additional protection for your immune system and keeps you healthy.
• Bones gain density until age 30. Exercise, as well as calcium and vitamin D intake, can help maintain healthy bones as you age.