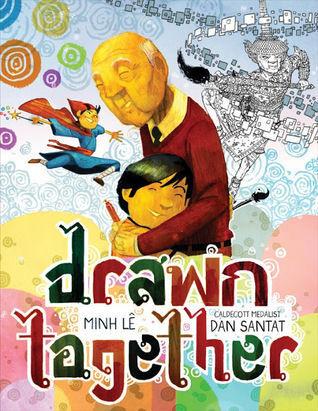 Ready Readers recommends a meaningful story to celebrate Grandparents Day, the first Sunday after Labor Day – Sept. 12 this year.
Drawn Together, a nearly wordless book from writer Minh Lê that features illustrations by Caldecott Award artist Dan Santat, tells the tale of a young American boy and his Vietnamese grandfather separated by age, language and culture.
The story starts when a visibly unhappy boy arrives at his smiling grandfather's house. They silently bow to each other in greeting as the mother drives away. Their differences become apparent at lunchtime, as the grandfather enjoys a bowl of the hearty Vietnamese soup pho, while the boy eats a hot dog and fries. The divide widens as they watch television together – an old black-and-white movie. The boy tries to engage his grandpa in conversation by asking a question in English, but the grandfather's Vietnamese reply leaves both feeling frustrated.
Taking out paper and markers, the child draws himself as a colorful wizard armed with a wand. Struck by an idea, the grandfather brings out his own art materials – a sketchbook, black ink and a long-bristled brush – and paints himself as an ancient warrior armed with a paintbrush. Their artistic styles perfectly convey their viewpoints; the boy's illustrations are modern, simple and colorful, while the grandfather's creations are highly detailed and intricate, and depict ancient Asian motifs.
The boy describes their artistic connection: "Right when I gave up on talking, my grandfather surprised me by revealing a world beyond words." They continue creating together, styles interspersed, building a new world filled with action, adventure and ferocious creatures. Their gifts naturally complement each other. That is, the elder's art adds depth and fullness to the boy's work, while the boy's lavish colors illuminate his grandfather's monochromatic depictions.
Unfortunately, a chasm opens within their illustrated world, jeopardizing the newfound connection between young and old. Readers likely will root for a happy resolution to this intriguing, tender story.
Visit readyreaders.org for more book recommendations, and join us in bringing a lifetime of literacy, learning and love to our community's most vulnerable children.