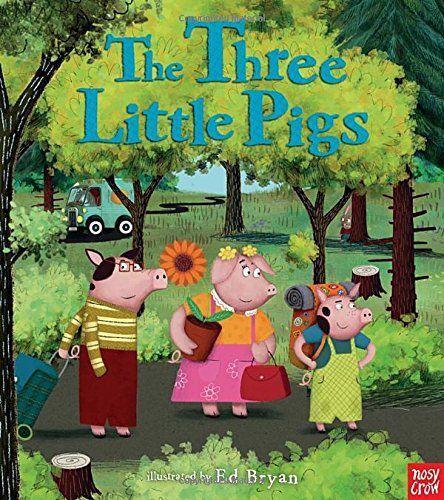 Although traditional tales, once a mainstay in children's home libraries, have waned in popularity lately, Ready Readers recommends The Three Little Pigs, an update of that 19th-century fable, retold and digitally illustrated by Ed Bryan.
Children should relate to the trio of sibling swine on the front cover, each dressed and accessorized to portray their personalities. Oldest brother, wearing square, wire-rimmed glasses and staid clothing, pulls a wheeled suitcase behind him. Middle sister sports a pink-and-orange ensemble, complete with daisy bows and a sensible purse. Youngest brother, seemingly most suited for exploring the woods nearby, totes a knapsack and bedroll.
The story begins with the family gathered in a midcentury-mod living room, with the father reading as the mother tidies up, while the children have packed and prepared to "make their way in the world." Unbeknown to the porcine pack, though, a gray, furry, sharp-toothed someone is peering in one of their windows!
The action unfolds as one might expect, but this version feels fresh through Bryan's atmospheric art. The tone, depth and juxtaposition of colors make each page uniquely interesting. Bryan uses light and texture masterfully to engage both children and their parents.
Youngest siblings should thrill to learn the identity of the tale's hero: the littlest pig. Just as he was prepared when leaving home, he took time to draw schematics for erecting a structurally sound – and quite hip – two-story brick charmer. As in most modern retellings, the wolf learns his lesson, and the pigs live happily ever after – which, in this case, delightfully means a trio of identical but cheerful brick abodes! 
Ready Readers is sharing this book with thousands of preschoolers in the metro area. Please visit readyreaders.org and join our efforts to share the magic of books with our community's most vulnerable children.