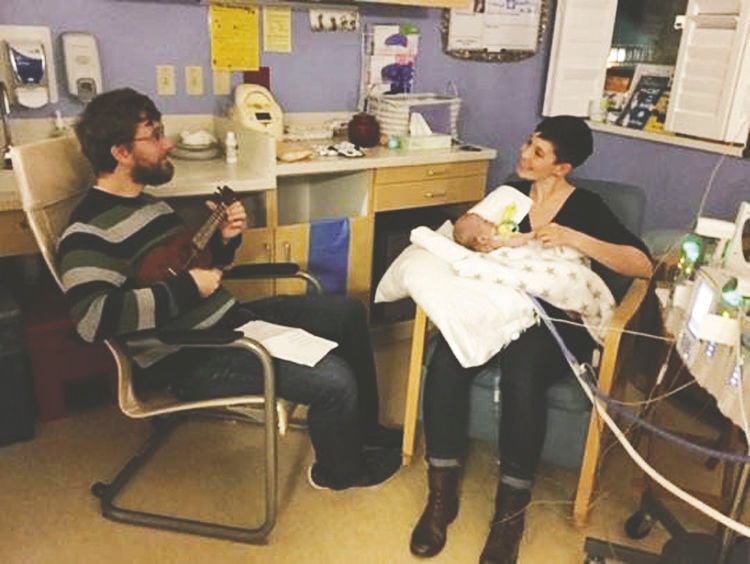 When Aaron Dohogne started learning to play the ukulele as part of the neonatal intensive care unit's ukulele dads music therapy program at SSM Health Cardinal Glennon Children's Hospital in St. Louis, little did he know that strumming those strings would keep him and his son connected during the initial incline of COVID-19.
"I couldn't come to visit from mid-March to mid-May," says Dohogne, whose son, John, was born on July 3, 2019, with a diaphragmatic hernia.
"So my wife would come, and she would be here by herself, and of course, John wouldn't be hearing my voice anymore. Multiple times, I just put my phone on my computer and recorded myself playing a song, and I would send it to my wife, and she would play it for John. She said he would look at the phone and pay attention and that he would understand something was happening there so he could kind of continue on with some sort of bonding experience."
Dohogne, alongside approximately 20 other NICU dads, started taking part in the ukulele music therapy program in fall 2019 thanks to Kelli McKee, founder of SSM Health's music therapy program.
"We offer a lot of support for parents, but sometimes some of the group offerings for parents are more things moms would be interested in," McKee says. "We wanted to do something just for the dads because sometimes the dads get left out of the equation a little bit because the primary focus is the baby, and secondary to that, the mom – but dads are on this journey, too. They are also stuck in the unit or the one room for weeks or months at a time feeling all sorts of stressors on their own, too."
The Cardinal Glennon Foundation donors agreed with this mission, which allowed the hospital to purchase 50 ukuleles from national nonprofit Ukulele Kids Club for the dads.
"What started to happen [in the group] was really beautiful," McKee says. "Dads would come in, and they would be taught a couple chords, and then they'd get to know each other, and inevitably, they'd start talking about what is going on with their babies, how long they've been here, where they are from and kind of facilitated friendships and relationships with dads."
Although they've pressed pause on ukulele group gatherings because of COVID-19 concerns, that doesn't mean the ukuleles are going unused.
"I was just playing ukulele for John before this phone call," Dohogne says. "When I play for him, he kind of calms down, and he watches my fingers, and he seems to listen."
"His eyesight isn't the greatest, but it seems to make his eyes sharpen up as he watches my fingers hit different notes," he continues. "So I can even tell developmentally for him that it seems to be affecting him, and that's reassuring. When you are in a hospital, you get huge moments of bad news, so any time you can see and have those moments where you can feel the baby's brain just growing, thinking, it's reassuring. … It just kind of brings a different, joyful spirit and lightens the air a bit." 
Be the first to know
Get local news delivered to your inbox!