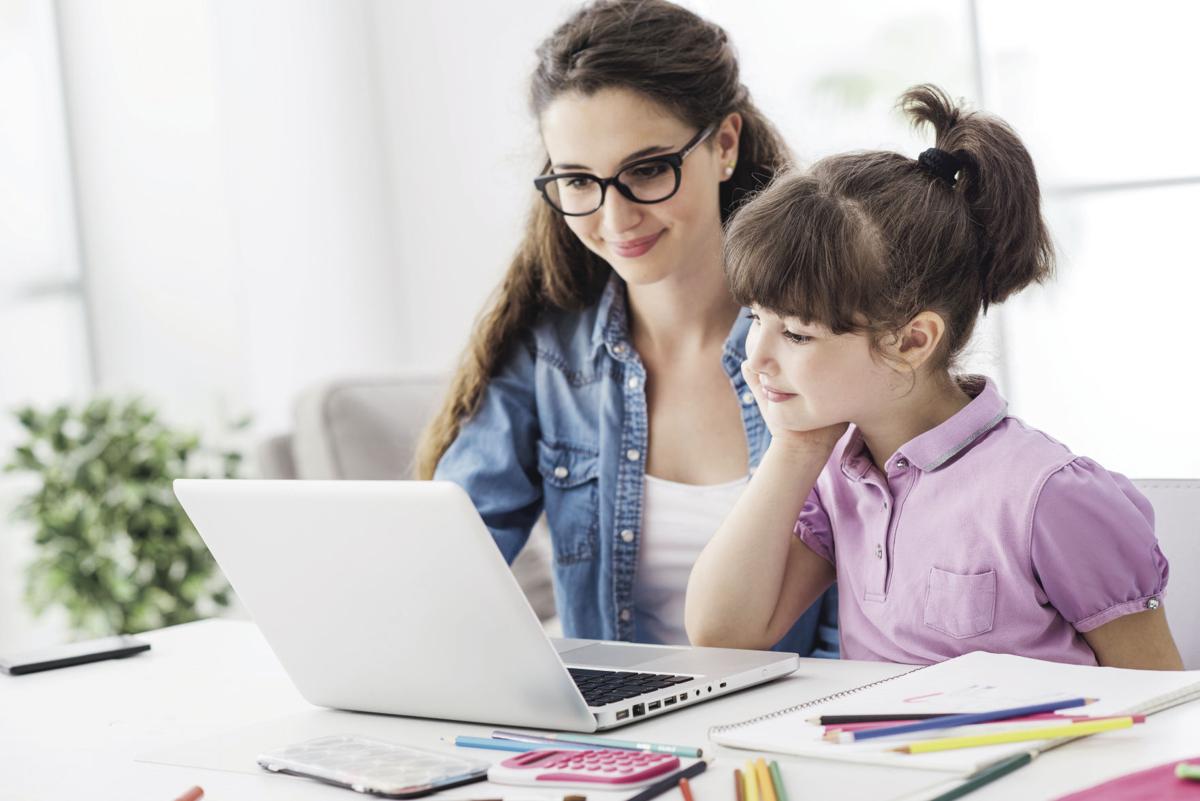 As both a parent and a teacher, Jennifer Sievers knows the importance of kids growing academically, socially and emotionally.
So as school makes a very different return this year, with educational institutions across the metro area turning to full- or part-time e-learning amid the coronaviral pandemic, the eighth grade English language arts teacher at Nipher Middle School in the Kirkwood School District – as well as the parent of three elementary-aged children – has advice for handling virtual education.
For local schools incorporating e-learning, students and staff are connecting through virtual instruction on web platforms like Zoom and Google Classroom, and parents are monitoring their children's progress through online learning management systems like Schoology and Infinite Campus.
But with this distance education model comes challenges, and Sievers says the first vital step is bridging the gap between home and school. "Communication is key to success for your child," says Sievers, who has taught for 21 years. "This can be tricky in a normal school year, but virtually, it becomes much more difficult. Likely your child's teacher will reach out at the beginning of the year, but in order to foster a strong, trusting relationship, you should reach out as well."
Letting educators know about your child, your concerns and needs, and any other pertinent information will ease the transition into the school year, she explains: "Think of yourself as a team, and let your child know that you and the teacher are communicating to support their learning."
At Ursuline Academy in Oakland, where school days are rotating between in-person and virtual instruction, learning consultant Jen Caton says keeping students engaged in e-learning starts with each child's well-being. "It's important the child has their social and emotional needs met first," she says. "They should get eight hours of sleep [a night], exercise, eat healthy and stay connected with friends. Without these being established first, their ability to learn will be negatively affected."
Sievers and Caton also agree it's crucial to develop a family schedule to maintain students' daily morning, daytime and bedtime routines like any other school year. "Create a working schedule for your family," Sievers says. "Teachers realize all families are different, and not everyone can fit into one mold. Make sure you develop the best plan for your family and communicate that with the teachers if need be. Planners or monthly calendar boards are helpful. A set wake-up time and morning routine will help with the transition to learning time. The more predictable the day, the less stressed your family will be."
Further, it's imperative to delineate school time from home time, Sievers says. "Make sure that these two areas do not seep into each other," she says. "This will help children stay focused and organized."
To ensure students stay focused at home, Caton recommends creating a quiet, distraction-free workstation for remote school days, "so they have a mindset [of] 'This is my time to complete schoolwork.'"
Parents also can support students who struggle with large projects or struggle with procrastination by reminding their child to break down large projects with incremental due dates, Caton says.
Most importantly, parents should keep tabs on their children's progress. "Some students are more autonomous than others, so it's important to do daily check-ins," Caton says. "Communicate with the school if you notice a child is really struggling with e-learning; classroom teachers and counselors are available to help."
In addition, students and parents can rely on a plethora of online resources, such as the artificial intelligence-based "paraphraser" QuillBot, Sievers says. "Teachers will post beneficial resources for students, such as EDpuzzle, Khan Academy, PBS LearningMedia and Discovery Education," Caton adds.
Your local library is another resource for virtual learning and e-tutoring services, Sievers says, adding that there are parent support groups for further assistance.
Finally, Sievers advises taking a deep breath. "This is not an ideal setting for the start of the 2020-21 school year for anyone," she says. "Parents, teachers and especially students are struggling. Remember to take deep breaths and realize that with any abrupt change, there come challenges."
Keep in mind that learning is built on mistakes, she adds. "As you navigate virtual learning for your family, you may hit road bumps – potholes even – along the way, but that is OK. We all want our children [and] students to grow academically, socially and emotionally. And with strong communication and support, we can do this together, even in the most unusual of circumstances."
Kirkwood School District, 11289 Manchester Road, Kirkwood, 314-213-6100, kirkwoodschools.org
Ursuline Academy, 341 S. Sappington Road, St. Louis, 314-984-2800, ursulinestl.org