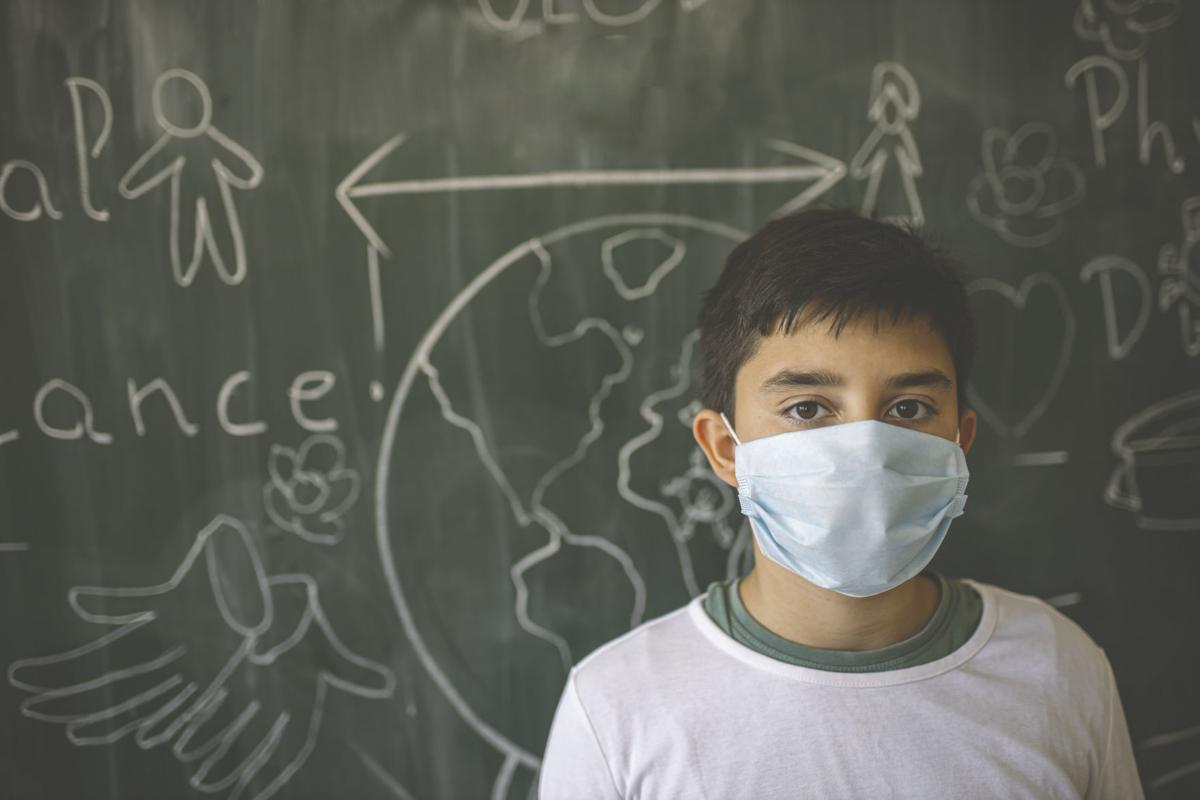 Virtual lessons. Socially distanced classrooms. Face masks. As the new school year kicks off this month, metro area students, staff and parents are facing the new normal sparked by the COVID-19 pandemic, from online learning to in-person instruction – at a safe distance.
To ensure a secure, successful academic year for students, local education leaders are implementing a number of new measures. Mary Institute and Saint Louis Country Day School in Ladue, for example, will offer both on-campus and distance learning to accommodate every student's needs.
"While MICDS was able to pivot successfully to distance learning in the spring, we recognize that connecting with one another, albeit in masks and at a safe distance, is both educationally and developmentally more appropriate and is preferred by most of our students," says Jay Rainey, the head of school.
To accomplish this, MICDS students and staff will begin each school day with a health screening, in accordance with St. Louis County Department of Public Health guidelines. "We will ask parents to administer a temperature check and complete a brief online medical questionnaire for each student as a condition of attendance," Rainey says.
The school's facilities also have been adapted for social distancing. "We will avoid large-group gatherings and provide lunch service in classrooms to further reduce the likelihood of coronavirus contagion," Rainey says.
Following health department guidelines, all staff and students will be required to wear face masks except when eating or drinking, or for instances with young children when the risks of mishandling the mask do not outweigh the benefits of the mask, Rainey says, adding that frequent handwashing will be encouraged, hand sanitizer stations have been installed throughout the campus, and all buildings will be thoroughly disinfected at the end of each school day.
At Chaminade College Preparatory School, all students will be welcomed back for in-person learning beginning Aug. 18, with an option to participate in online learning.
For a safe school environment, students and staff will be required to pass an online health screening to start each day and must wear masks on campus, says the Rev. Ralph A. Siefert, S.M., the school's president. "Students will be assigned entry times and specific entry points to the buildings," he says. "Only students and staff will be allowed in buildings on campus during the school day."
In addition, social distancing will be enforced, and student movement throughout the building will be more intentional and controlled, Siefert says. "To prevent students from gathering in close proximity to one another, lockers will not be available for use," he explains, adding that students will eat lunch in a classroom setting to minimize exposure to large groups.
A strong emphasis will be placed on hand hygiene throughout the day for both students and staff, while campus facility high-touch surfaces will be cleaned and disinfected regularly, Siefert says. "We anticipate reminders about mask wearing and social distancing will be necessary and have a plan to provide extra supervision and a robust signage program to assist," he says. "We recognize that we must be nimble and able to adjust our plan as directed by local officials."
Following the results of a survey taken by more than 11,000 parents and staff, Parkway Schools across western St. Louis County initially planned to provide both virtual learning and in-school instruction. "Our plans are designed to be flexible, so we can quickly adjust as needed," says Dr. Keith Marty, the district superintendent. As it turns out, just a few weeks after this announcement, that flexibility was key.
"In order to help contain the spread of the virus, we simply cannot engage in face-to-face learning in a high quality way under these updated health guidelines," said Dr. Marty in a letter to families. "Additionally, current CDC guidelines state that schools should make decisions based on the level of virus transmission in the local community, which is currently at an all-time high. So per our Return to Learn plan, we need to switch to Distance Learning for all students."
The district plans to re-evaluate this plan prior to the end of the nine-week quarter on October 23.
Amid the pandemic, every school across the metro area has been facing the challenge of how to educate students safely and effectively, Rainey says. For many educational institutions, that means expanding learning – from socially distanced campuses to the homes of students and staff.
"Thankfully, our large campus and expansive physical plant, as well as our proven technology infrastructure – including a one-to-one laptop program for students in Grades 5 through 12 – allows us to continue our academic program regardless of where our students are learning," Rainey says. "We like to say that our 100-acre campus grew … to include desks at home, kitchen counters, dining room tables, couches and easy chairs!"
This information is accurate as of the publication date. Please check your local school's website for updated information.
Chaminade College Preparatory School, 425 S. Lindbergh Blvd., St. Louis, 314-993-4400, chaminade-stl.org
MICDS, 101 N. Warson Road, St. Louis, 314-993-5100, micds.org
Parkway Schools, 455 N. Woods Mill Road, Chesterfield, 314-415-8100, parkwayschools.net
Be the first to know
Get local news delivered to your inbox!