When Rudi Heider contracted COVID-19 at age 106, he doubted he would survive. But on April 29, he celebrated his recovery on his 107th birthday, making him one of the oldest people in the country to beat the coronavirus.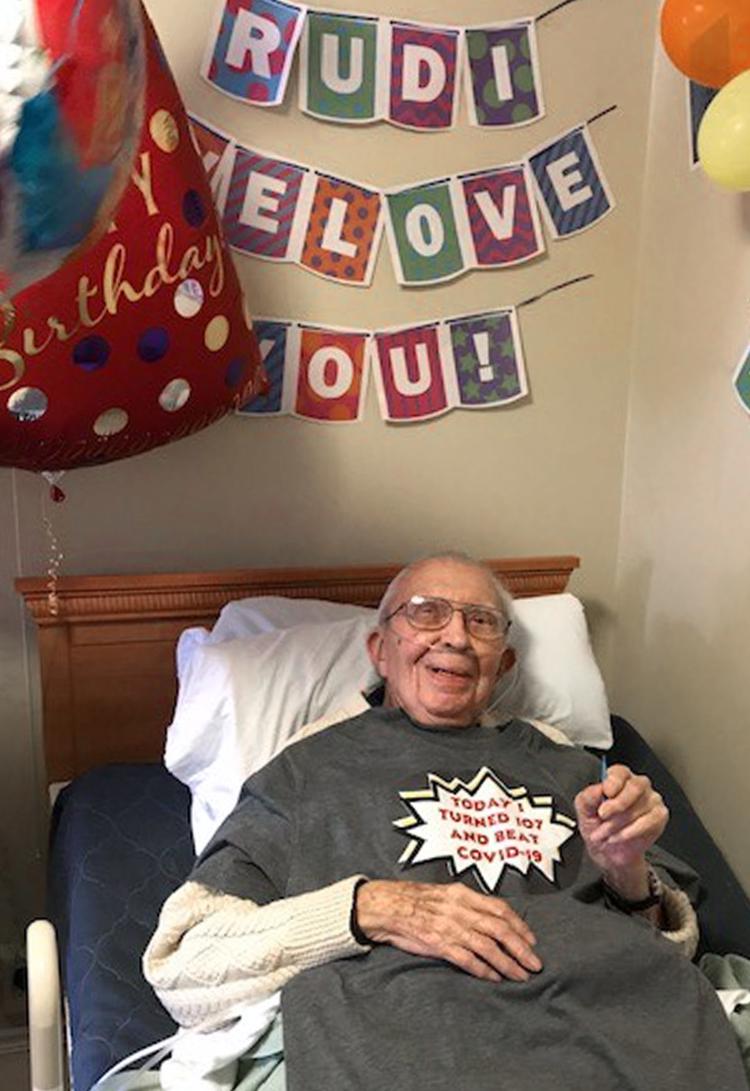 According to a press release from Friendship Village Chesterfield, the senior living community where Heider resides, staff there organized a birthday party with balloons, cards, his favorite pie (lemon meringue) and his family. Through his apartment window, Heider saw and visited with his son and granddaughter for the first time since January.
Friendship Village and other senior facilities have been in the spotlight lately for how they're working to protect a vulnerable population from the rampant virus. No-visitation policies have upset residents and families, but staff are finding innovative and safe ways to allow familial interaction.
Candice Brown, vice president and administrator of Barnes-Jewish Extended Care in Clayton, says daily operation requires "a delicate balance" of upholding strict safety precautions while trying to provide a sense of community and normalcy. Staff have been regularly scheduling Skype video calls and outdoor courtyard visits between residents and their families to help maintain those lines of communication.
"We are blessed to have a courtyard here on our properties where it's actually fenced in, so we've taken advantage of that and used that as an opportunity to have more in-person visits," Brown says.
During these visits, masks are worn and family members stand behind the fence to greet their loved ones on the other side from 6 feet away.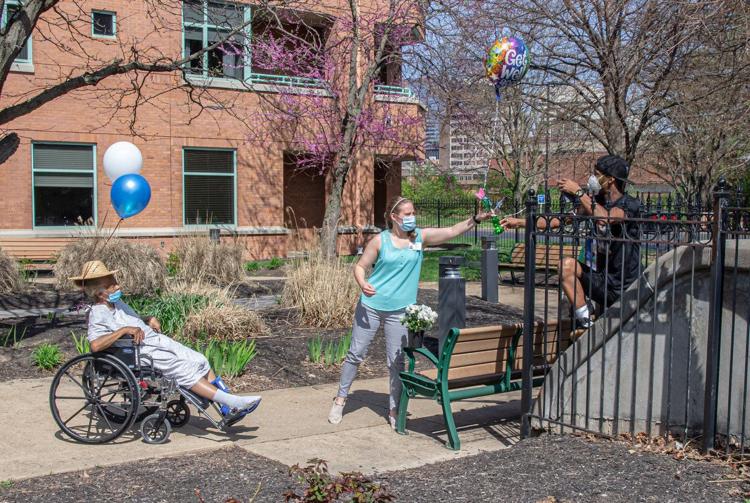 "As with anybody, sometimes you need some extra encouraging, and sometimes that comes best from families," Brown says, "especially when we have folks that are here for rehab, and we're trying to encourage them to get better."
Courtyard visits proved particularly significant for residents celebrating Mother's Day. Brown says many gifts were exchanged and happy tears flowed that day, and she expects a similar outcome on Father's Day.
"One of our long-term care patients – and she's been here for a while – hadn't seen her son in a long time, and when we took her outside to see him … she just yelled his name," Brown recalls. "She was so happy to see him, he was so happy to see her, and it was just one of the most joyous yells I've ever heard."
The day before Mother's Day, residents at Dougherty Ferry Assisted Living & Memory Care peeked out their windows to watch a parade of festive cars meander through. Family members waved from their cars or from the sidewalk. Messages like "I love you" and "We miss you" were scrawled on bright-colored poster boards or on car windows.
At Cedarhurst Senior Living in Des Peres and St. Charles, residents are serenaded by local musicians hired to perform "courtyard concerts." Like the courtyard visits at Barnes-Jewish Extended Care, these concerts require social distancing but allow some face time that doesn't involve a screen. Courtyard concerts are a widespread effort being organized at Cedarhurst communities in multiple states.
"Finding joy in everything we do is one of our goals," Joshua Stevens, Cedarhurst's president, said in a press release. "Hosting live music lifts spirits and can also help our talented local musicians. All genres are welcome, whether music from our residents' youth or songs that get their toes tapping; we hope this will channel the power of music for good."
Before the days of social distancing, Heider's granddaughter would visit him and sing "You Are My Sunshine" before knocking on his door. Heider says he's grateful to have survived the coronavirus and to see his family again, but he still misses being with other people. He calls his granddaughter his "sunshine," and caregivers hope it won't be long before they can let his "light" in again. 
Friendship Village, 15201 Olive Boulevard, Chesterfield, 636-255-8281, friendshipvillagestl.com
Barnes-Jewish Extended Care, 401 Corporate Park Drive, Clayton,
314-725-7447, bethesdahealth.org
Dougherty Ferry Assisted Living & Memory Care, 2929 Dougherty Ferry Road,
St. Louis, 636-517-8092, spectrumretirement.com
Cedarhurst Senior Living, 12826 Daylight Circle, Des Peres, 314-384-3654;
1800 First Capitol Drive, St. Charles, 636-255-8094, cedarhurstliving.com
Be the first to know
Get local news delivered to your inbox!