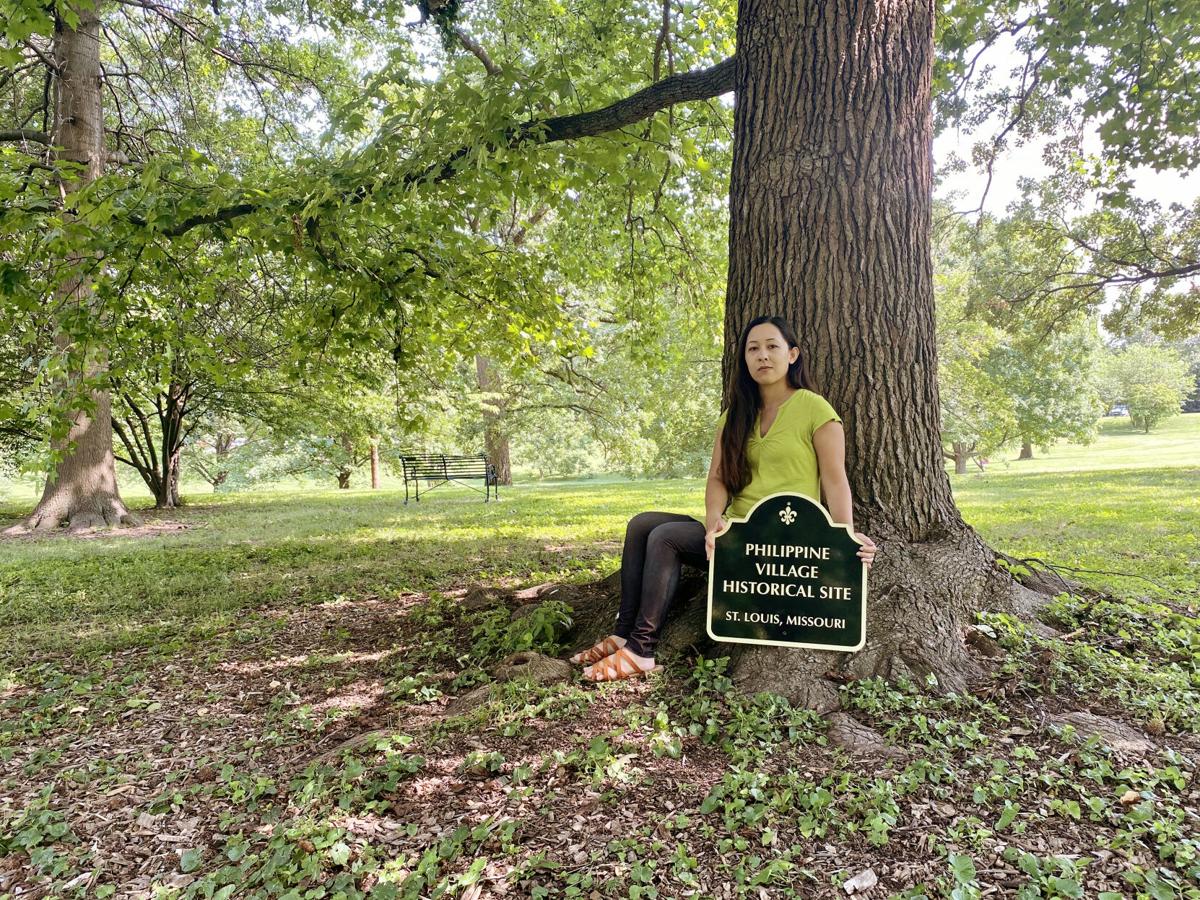 The 1904 World's Fair in St. Louis may be remembered for marvelous inventions such as the X-ray machine and immense palatial exhibition buildings. However, independent researcher and interdisciplinary artist Janna Añonuevo Langholz wants people to remember it another way: as the site of one of the largest human zoos of the time.
"One of the biggest omissions in public understanding is how many preventable deaths there were, due to how poorly people were treated on their trip to and during the fair," Añonuevo Langholz says. "The 1904 World's Fair shouldn't be remembered for its grandeur, but as an event that was particularly harmful to Filipinos and people of color, the legacy of which carries into the present day."
Today, Añonuevo Langholz is the caretaker of the Philippine Village Historical Site, spanning 40 acres in Clayton. She has uncovered all of the unmarked grave sites of Filipinos and indigenous people who were taken from their homelands and exploited at the fair, and aims to commemorate them by ensuring history remembers their names.
"Learning about the number of deaths that occurred in the Philippine Village has made this project personal and emotionally taxing," the Filipino American and native St. Louisan says. "However, knowing that has propelled me forward to do them justice."
Añonuevo Langholz is not alone in this mission. Many other metro area initiatives are also currently examining and addressing the history of racial inequity in St. Louis. For example, Washington University in St. Louis also played a role in the controversial international showcase.
"Wash U was deeply implicated in the racial violence of the World's Fair," says Geoff Ward, professor of African and African-American Studies. "White supremacist ideology was performed, rationalized and given this scientific veneer at the World's Fair."
Ward is a faculty affiliate at Washington University's Center for the Study of Race, Ethnicity & Equity, and is leading Washington University's participation in the Universities Studying Slavery consortium. This multi-institutional collaboration seeks to acknowledge and address legacies of human bondage and racism in institutional histories, in order to advance equity.
Although Washington University co-founder William Greenleaf Eliot Jr. is remembered as an abolitionist, Ward says that not much has been explored about the first 50 years of that institution, which was founded 10 years prior to American emancipation. That time period, he believes, will be key to developing foundational research guiding further development of the initiative.
"I see Washington University entering into partnerships with other organizations and initiatives in our city, our country and around the world to grapple with these issues," Ward says. "The initiative creates a tremendous resource for communities around the country, based in university reckonings, to learn from each other and share best practices of repair."
Saint Louis University, also a consortium member, has committed to a similar process of unearthing its history through the Slavery, History, Memory and Reconciliation Project. Its efforts began in 2016 and have so far uncovered slaveholding and a reliance upon forced labor. Institutions will use this awareness to inform reparative efforts to build equality into higher education and broader community contexts.
Further, as part of the $380 million CityArchRiver project, the Old Courthouse at Gateway Arch National Park is undergoing massive renovations for only the second time in its 150-plus-year history, including adding HVAC throughout, fire suppression enhancements and overall accessibility, as guided by the Universal Design Group, which includes people who have disabilities.
"It is an important building, [as are] the stories within it, to our city, our community and our country," says Ryan McClure, executive director at the Gateway Arch Park Foundation. "The museum at the Gateway Arch, the Courthouse … what they are all doing now tells multiple sides of each story."
Pam Sanfilippo, program manager of Museum Services and Interpretation at Gateway Arch National Park, says the new galleries will house four exhibitions: "Designed for Justice," focusing on the building; "See You in Court," which examines the court system and will provide space for mock trials, with school groups; "Pathways to Freedom," exploring how African Americans lived in the early to mid-19th century; and a newly redesigned Dred and Harriet Scott exhibition that delves deep into the landmark U.S. Supreme Court case of Dred Scott v. Sandford.
The Scotts, who had independently sued for their freedom, were denied it in 1857 by the Supreme Court, which held that Black people cannot be considered citizens and have no rights under the U.S. Constitution.
Dred and Harriet Scott's great-great-granddaughter, Lynne Jackson, says: "[Dred and Harriet] realized that whatever happened to them was going to effect a lot of people – and they still had the courage to pursue it."
Jackson, president and founder of The Dred Scott Heritage Foundation, is a key player in the latest incarnation of the exhibition on her ancestors.
"We're looking at the whole story through the eyes of Dred and Harriet Scott," Sanfilippo says. "We [aim] to make it relevant for people today to understand that this struggle continues, that one person canmake a difference and where can we move forward."
Center for the Study of Race, Ethnicity & Equity at Washington University, One Brookings Drive, St. Louis, cre2.wustl.edu
Philippine Village Historical Site, Clayton, jannalangholz.com/philippine-village-historical-site
Old Courthouse at Gateway Arch National Park, St. Louis, 314-655-1600, nps.gov/jeff/planyourvisit
Slavery, History, Memory and Reconciliation Project at Saint Louis University, 4511 W. Pine Blvd., St. Louis, 314-758-7159, jesuits.org/our-work/shmr