Kayla Schneider, a self-proclaimed "sarcastic, usually awkward mom with dad jokes," infuses her Little Lemon Candles with snarky-themed scents for every one of life's precious – and not-so-precious – moments, from the caramel popcorn "Hot Mess, Polar Express" to the eucalyptus-and-lavender "Girl, You Need to Go Relax" to the coffee-and-cream "I Like Coffee … And Maybe Three People."
"When life hands you lemons, burn a candle," Schneider says. "I try really hard to make each candle unique and something to burn in all situations!"
Schneider's love affair with candles began when she was just a kid. She can still recall the smell of special memories, from power outage family campouts in her candlelit childhood home to the amber candle glow that made her first apartment feel more her own.
As an adult, Schneider continued to set the mood with scented candlelight. But when she became pregnant with her son, Schneider says she started getting headaches from the usual store-bought candles she burned. "After some research, I found out all the nasty chemicals in those candles and decided to make candles to burn in my house with ingredients approved by me and safe for my family," she says.
With that in mind, Schneider launched Little Lemon Candles – hand-poured vegan, nontoxic soy versions of the candles she grew up enjoying. Each Little Lemon $20, 12-ounce candle is "handmade and poured with love" by Schneider in small batches at her St. Louis home. "I use 100 percent soy wax [and] fragrance oils infused with essential oils," she says, also noting each candle is free of phthalates (toxic chemicals) and provides 50-plus hours of "burning bliss."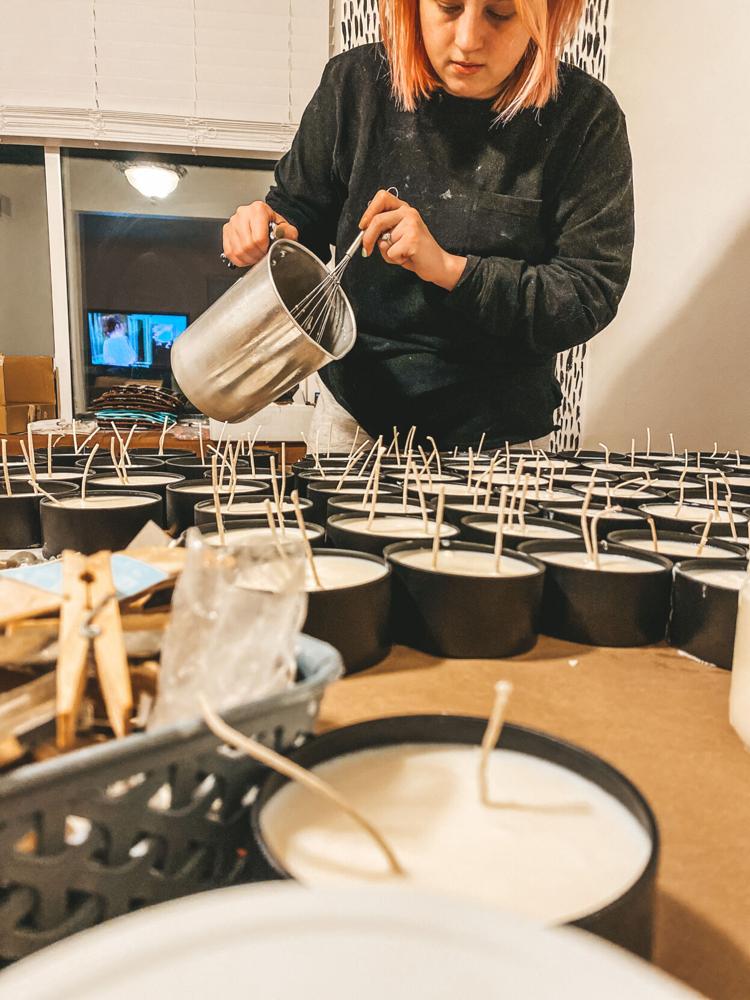 Schneider likewise injects her sarcastic sense of humor into each candle's sassy saying, such as the mulled-wine-scented "Sweater Weather (That You Regret by Noon)," the sweet orange-and-chile pepper "Sorry for What I Said When I Was Hungry," the glazed doughnut "Donut Worry, Be Happy" and the peppermint-and-clove "Smells Like Snow in Stars Hollow" – a clever nod to a show with heavy helpings of her taste in snarkiness: Gilmore Girls. "I make jokes about everything," she says. "I see something and go, 'Hey, I can make this funny.'"
As Schneider built her business, she wanted her candles to be not only safe but also sustainable. Inspired by fellow small-business owner Jordan Blackhurst of Dharma + Dwell, a local sustainable lifestyle brand, Schneider started a recycling program for her candle jars. "I offer 10 percent off your next purchase when you return your jars," she says. "[Customers] can arrange a meetup or drop them off at Dharma + Dwell."
As for what's next, the candle-maker smells a storefront in her small business' future. "I'd love to have a tiny storefront, so customers can come in and smell the candles before purchasing," she says. "I also would love to be able to hire a few employees."
For now, customers can sniff out Little Lemon Candles at Cozy Shop on St. Charles' Main Street. Fans also should keep an eye on littlelemoncandles.com for details on how Schneider will be spreading her love of candles in a new way – with a "mystery candle subscription." "You won't know what the secret smell is until you receive [and] burn your candle!" she says. "I will also include a little envelope with the scent name and details. These will be $24 each month for a 12-ounce candle and a bottle of rainbow wooden matches."
And for the new year, Schneider says she has some sassy new scents to keep you in the mood, whether you're happy or sad, celebrating or mourning, or simply in need of some calm, including a follow-up to last year's gardenia-scented "Um … Can I Please Unsubscribe From 2020?" that will be "a bubbly candle popping with 'Champagne' in celebration of 2020 being over!"
Cheers to that!
Little Lemon Candles, littlelemoncandles.com