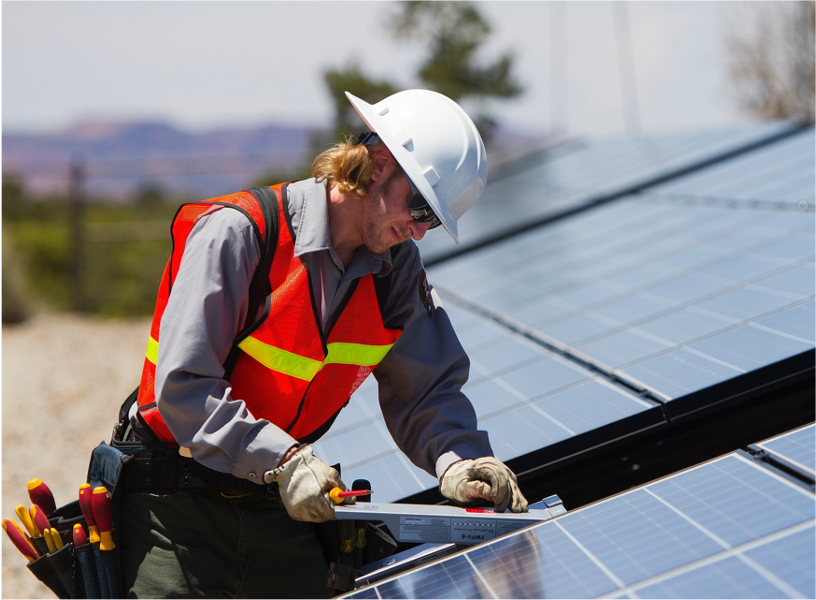 Solar power will soon become more accessible than ever for metro area businesses.
A new group-buy program dubbed Renew STL Solar and spearheaded by Renew Missouri and StraightUp Solar encourages clean energy cost savings and more. It also presents an opportunity to rethink how the metro area's economy runs.
"We don't necessarily have the cheapest electricity anymore," says Andrew Linhares, regional director and senior counsel at Renew Missouri. "We did for a long time, but our rates have been rising very quickly. The cost of solar has dropped down rapidly."
Renew STL Solar helps employers capitalize on these trends. The program, which announced its full-scale launch in January after completing two pilot projects last year, groups similar projects with one another to achieve higher economies of scale on solar equipment. In other words, when more businesses sign up to participate, more costs savings are realized for everyone.
Renew STL Solar also partners with local municipalities and governments to help spread the word and train people to enter the solar industry. Among the notable early participants are Creve Coeur, St. Louis and University City, as well as Washington University in St. Louis.
Businesses first reach out to Linhares and his team to learn more about the program. As leads are qualified, locally acclaimed solar company StraightUp Solar develops an estimate for given projects.
"It's going to be different for every customer," Linhares says. "Our program is available to everybody, [including] manufacturers, churches, retailers, schools."
Linhares stresses that businesses have more to gain from solar power than just reduced savings. The ideal involves delivering a whole suite of features, including tracking progress toward sustainability efforts, such as reducing carbon emissions, securing rebates and other tax-incentive funding, and even generating positive public relations for participating businesses.
Better still? Providing equitable job growth in the area for the future of the economy here – and for the planet.
"Solar installer is a rapidly growing job sector," Linhares says. "And it's something that is capable of training people very quickly. It's a high-quality, unexportable job. It's a growing sector that will be 'us' forever. We're going to be running our societies on wind and solar forever. It would be really great to have St. Louis as a regional hub for that technology." 
Renew STL Solar, 3115 S. Grand Blvd., Suite 600, St. Louis, 314-471-9973, renewstlsolar.org