Travel may be limited because of the COVID-19 pandemic, but that doesn't mean area residents can't experience a fabulous weekend getaway. Virtual gaming, full-service spas and award-winning cuisine are just a taste of the extravagant staycation amenities the metro area's top hotels have to offer that will make you forget you're in your hometown.
The area's luxury resorts are playing host to a large number of locals these days – all while keeping the pandemic in mind, so guests don't have to – incorporating enhanced cleaning protocols and socially distanced amenities for a safe, stress-free stay. "It's healthy to crave a change of scenery," says Alper Oztok, general manager at Four Seasons Hotel St. Louis. "People are looking to get away without having to travel far and still have an all-inclusive experience."
The top-rated property is "a destination in itself," Oztok notes, offering amazing views of the Gateway Arch from lavish guest rooms; a spacious, 12,000-square-foot spa; the Cinder House Restaurant by James Beard Award-winning chef Gerard Craft; full-service in-room dining; an outdoor heated pool; and its latest addition, the new eighth-floor Topgolf Swing Suite, featuring two simulator bays with a variety of virtual games, including the Topgolf target game, Zombie Dodgeball, Hockey Shots, Baseball Pitching and Carnival Classic. "It is truly a terrific amenity for guests of all ages," Oztok says. "We often see couples enjoying it as a date night, families booking it as an indoor activity and business groups meeting after work. Guests can enjoy cocktails, beers, appetizers and more without having to leave the space."
More local guests also are checking into The Ritz-Carlton, St. Louis for a relaxing escape, says the hotel's general manager, Amanda Joiner, who adds that weekend occupancy is up and many people are splurging on extras, such as the hotel's bed and breakfast package for two, featuring complimentary valet parking and the relaxing comforts of room service.
Staycationers also can treat themselves to their choice of luxurious accommodations, which include standard deluxe rooms with sweeping views of Clayton and the St. Louis skyline featuring the Gateway Arch, 11 miles east. Or double the fun with an executive suite, boasting a lovely living area with French doors, a separate bedroom, and a full bath and a half-bath, Joiner says, where "kids can have their own TV area, as well as enjoy time as a family, playing games."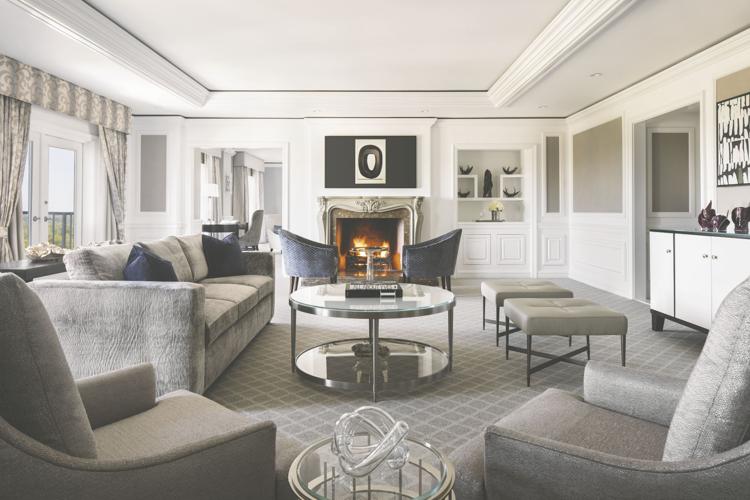 The stunning Ritz-Carlton Suite, complete with a built-in fireplace, five balconies and a separate living area, makes for another "great getaway for three days," Joiner says. "It even has a convection oven where you can bake cookies, and we recently had a mother and daughter do that. People are using the pandemic to make special moments for their families."
Guests also are indulging in room service, Joiner adds. "Everyone loves room service right now," she says. "It's a way to treat yourself and stay safe in a luxury environment." And for guests looking to venture just outside their room, they can access the recently redesigned, members-only Cigar Club to "enjoy a great glass of red wine and a cigar, and take in some fall football," Joiner says, although this experience is delayed with the most recent St. Louis County restrictions.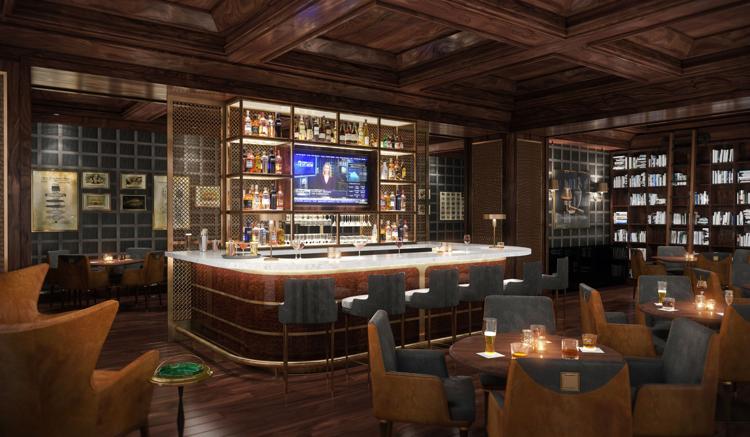 Another local luxury staycation option for the area is The Chase Park Plaza Royal Sonesta, which "has been turned into a city center resort, where guests [can] enjoy the hotel, its pool and the offerings in the Central West End and Forest Park for [an extended] weekend," says Frederik Houben, the hotel's director of sales and marketing.
"The Chase Park Plaza has one primary attribute no other hotel in St. Louis features: Out of 398 guest rooms and suites, only 133 are standard rooms," Houben notes. "This [means] two-thirds of our guests will be staying with us in a suite."
So for locals dreaming of a grand getaway this winter, look no farther than the high-end hotels in your own backyard.
The Chase Park Plaza Royal Sonesta, 212 Kingshighway Blvd., St. Louis, 314-633-3000, sonesta.com/chaseparkplaza
Four Seasons Hotel St. Louis, 999 N. Second St., St. Louis, 314-881-5800, fourseasons.com/stlouis
The Ritz-Carlton, St. Louis, 100 Carondelet Plaza, St. Louis, 314-863-6300, ritzcarlton.com/stlouis