Lise Bernstein vividly remembers the news flash about the toddler in north St. Louis County who accidentally shot himself after finding a loaded handgun in his home. "This tragedy, like many others, could have been prevented," she says.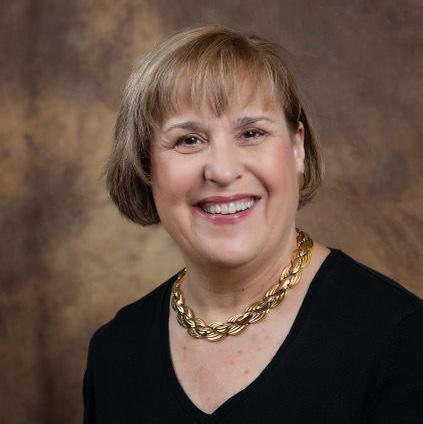 To this end, the now-retired marketing and communications professional devotes much of her time volunteering to prevent the curiosity of children from turning into a tragedy. "Small children are not developmentally capable of knowing the power of an unlocked gun that they may find in their homes," she says.
Honored as a St. Louis Woman of Achievement in 2015, Bernstein is a past president of Women's Voices Raised for Social Justice, a volunteer-driven education and advocacy organization headquartered in University City. She says that gun violence prevention has been a major focus of the organization for the past five years.
"Through our Lock It for Love gun safety education project, we have reached thousands of St. Louis area residents with important information on safe gun storage," Bernstein says. "We have distributed more than 6,000 free locks for guns to families who have children living in or visiting their homes. The organization promotes protection of everyone in the home of a gun owner by storing firearms [in a manner that is] locked, unloaded and kept separate from ammunition." Bernstein says she is proud that FOCUS St. Louis selected the organization for a 2020 What's Right With the Region Award.
"Research shows that when people receive gun safety education and a free device to lock their gun, their compliance with storing the gun increases by 10 percent," she adds.
Bernstein has made an indelible impact on the local community by focusing much of her volunteerism on women, children and families. She has served as president of the National Council of Jewish Women and on the boards of St. Louis' Central Reform Congregation, that city's Legal Advocates for Abused Women and the Creve Coeur location of the National Kidney Foundation of Eastern Missouri.
She was a court-appointed special advocate for children in the foster care system and also volunteered as a mentor with Mentor St. Louis in Saint Louis Public Schools. Her civic work and advocacy for access to public education, health care and civil rights in Missouri legislature are notable.
Bernstein's call to philanthropic work was a natural fit, with encouragement and examples set by relatives who came before her, including an aunt who took her to a gathering in St. Louis to hear famed American activist and journalist Gloria Steinem speak. "This raised my awareness of gender inequity and was the beginning of my commitment to equal rights for women, African Americans and other minorities," Bernstein says.
Bernstein grew up in Creve Coeur and graduated from Ladue Horton Watkins High School in 1973 with classmate Lee Bernstein, whom she didn't date until their junior year at the University of Missouri-Columbia. Now married for 41 years, the University City couple are the parents of two grown children and grandparents of three. Her husband retired last year after a 40-year career as a senior executive at St. Louis' Barnes-Jewish Hospital and SSM Health St. Louis Region.
Bernstein says she hopes that "one of the lasting impacts of sheltering in place during the pandemic is remembering the importance of simple kindness. The value of doing small things like calling people is vital. I hope that we gain an appreciation for slowing down and remember to be patient with family and friends. I also hope that more people take time to think about safety, put locks on their guns and save lives."
An innate storyteller and award-winning photographer and writer, Alice Handelman provides Ladue News readers with a glimpse into lives that enrich St. Louis.
The business news you need
With a weekly newsletter looking back at local history.