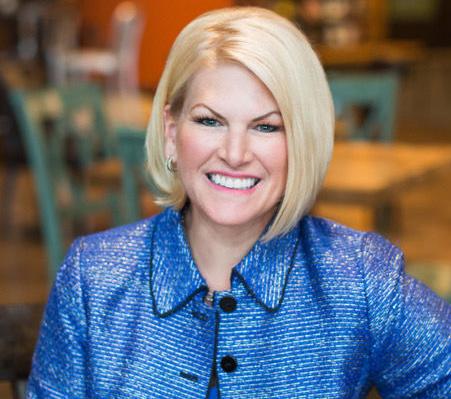 Lisa Nichols, CEO and co-founder of Chesterfield's Technology Partners, was one of only 10 national female business owners to be invited to a 2017 roundtable discussion at the White House to discuss challenges and opportunities facing women entrepreneurs.
"It is a well-known fact that access to capital is the No. 1 challenge for women entrepreneurs, yet women-owned businesses are growing at four times the rate of our male counterparts," Nichols says. "Women-owned businesses contribute $1.6 trillion to the American economy."
Founded 26 years ago by Nichols and her husband, Greg, Technology Partners provides information technology staffing and solutions that help companies augment their tech and digital capabilities. "We are committed to making a global impact by harnessing technology for the greater good," Nichols says.
She credits her husband and her parents, June and Gene Thompson, for instilling in her a positive work ethic. "My parents were some of the hardest-working people I know," she says. "Dad worked until he was 84."
Both Nichols and her husband worked for Fortune 500 companies for the first 10 years of their careers. "During the seven years Greg and I dated, he would always talk about one day owning and running a company so that we could do more good in the world," Nichols says. "It is one of the many reasons I fell in love with him. He knew he was put here to make a difference in the lives of others, and I wanted to be on that train. In May 1994, we decided to hop on the entrepreneurial wagon, and we founded Technology Partners."
Married for almost 36 years, she says, "We didn't start dating until we were in high school, but I secretly had a huge crush on him since sixth grade."
The couple have three children – Jordan, 28, Paige, 27, and Ally, 25 – and one grandchild, Sawyer, whom they call the apple of their eye. The couple lives on 35 acres in Defiance with their children, grandson and two dogs. "It is a ton of fun," Nichols says. "We have 18 raised vegetable beds and an orchard that keeps us busy. Our chickens actually work by producing fresh eggs every day, and our Nigerian dwarf goats are great pets."
Nichols says that she loves to cook and try new recipes. Fond of the outdoors, the couple enjoys biking together and taking family hikes. They also both read voraciously. Prior to COVID-19, they had begun taking ballroom dance lessons with their youngest daughter. As investors in Defiance Ridge Vineyards, Nichols says, "We love to go to the winery on the weekends when there is live music."
As a 2011 Woman of Achievement, she identifies volunteerism as part of her DNA: "I watched my mom while growing up, and she was always volunteering and giving."
Smart and savvy, Nichols serves on the board of Jefferson City's Missouri Technology Corporation, a public-private partnership created by the Missouri General Assembly to promote entrepreneurship and foster the growth of new and emerging high-tech companies. The St. Louis Business Journal recently recognized her as one of the Most Influential Business Women in St. Louis, and she sits on the advisory council for the St. Louis Regional STEM Learning Ecosystem, a collaborative consortium committed to equitable access to high-quality learning in science, technology, engineering and mathematics for all students in the metro area. Nichols formerly chaired the board of Chesterfield's BreakDown STL, a high-energy multimedia program that uses contemporary teen voices to teach positive health behaviors in middle and high schools, youth groups and churches.
A former board member of both STAGES St. Louis and Junior Achievement, Nichols also volunteered on the executive leadership team of Go Red for Women because it raises money for both education about and research into women's heart health. She has helped with special events at Town and Country's Promise Christian Academy and has served on the Women's Leadership Society of the de Tocqueville Society of the United Way.
Moreover, Nichols belongs to YWCA Metro St. Louis' Academy of Leaders, whose annual Leader Lunch for 2020 she is chairing. "I love the YWCA's mission dedicated to eliminating racism, empowering women and promoting peace, justice, freedom and dignity for all," Nichols says.
She also chairs the Christian Fellowship Network, belongs to the Young Presidents Organization and sits on the national board for The CEO Forum.
Nichols calls hosting her Something Extra podcast one of her newest and most fun ventures: "I have had the great privilege of interviewing some of the most amazing leaders and sharing their stories, leadership lessons and 'something extras' with the world."
Inspiration for the podcast, which launched in 2018, came from Ally, who was born with Down syndrome. "Ally clearly has something extra scientifically," Nichols says. "She has an extra 21st chromosome, but she also has lots of something extras, just like we all do. We are coming upon our 100th episode of the podcast on Sept. 10, when my guest will be Albert Pujols. Albert and [his wife] Dee Dee share a common bond with us, as they, too, have a daughter with Down syndrome."
The business news you need
With a weekly newsletter looking back at local history.