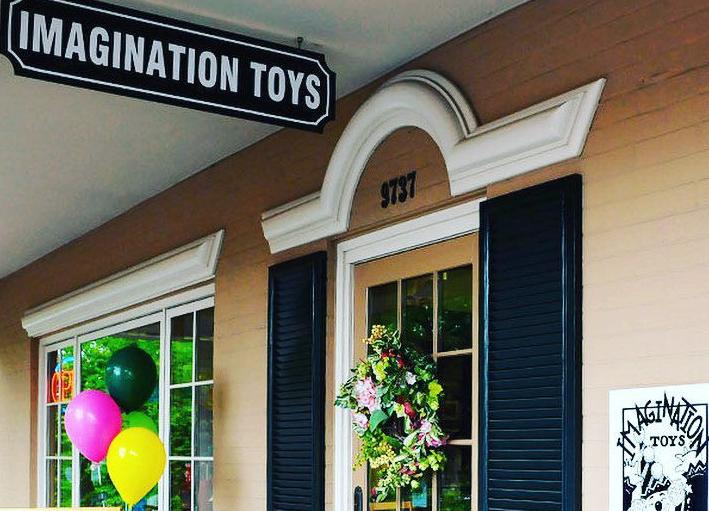 Ask any local family: Imagination Toys is the perfect place for parents to purchase terrific toys in the metro area. The Ladue store has been creating that magic now for 35 years – and counting.
"It feels amazing to celebrate 35 years," owner Polly Lett says. "Imagination Toys is a St. Louis institution, bringing joy to generations of children and convenience to countless parents and grandparents since 1985."
Imagination Toys, located at 9737 Clayton Road within the Granaway Shops in Ladue, was purchased by Lett in January 2012.
"Ladue almost lost Imagination Toys," Lett says. "The founders decided to retire at the end of the 2011 holiday season. Upon learning of the going-out-of-business sale, I expressed my disappointment to my husband and told him the store was a tradition in St. Louis and needed to continue. As someone who buys companies for a living, he asked me what the owners intended to do with the store. I went back in, and the rest, as they say, is history. We continued the tradition."
Although Lett remodeled the 4,000-square-foot storefront and updated its assortment of items, she kept the iconic Mary Engelbreit-designed logo and says the same great customer service similarly had to stay.
"I have a son who is 32, and when he was a child, we would come here all the time," Lett says. "I also have twins who are 21, and I continued that tradition of going to Imagination Toys. I still love the way that you walk in, and they greet you at the front door and ask, 'What can we help you with?'"
Lett's team of knowledgeable toy experts offers not only personal service and consultation while you shop – potentially even taking time to demonstrate a toy – but also complimentary gift-wrapping.
"We truly try to enhance each family's shopping experience as they search for the perfect new addition to playtime," Lett says.
Inventory ranges from classic toys, such as puppets and rocking horses, to award-winning books, games and puzzles, as well as dolls and baby items, and even outdoor sporting items such as scooters and EzyRollers.
"We continuously add new toys that our customers will enjoy," Lett says. "Imagination Toys is special because of what we have in the store. We don't carry the same kind of toys as the big-box stores. We are a specialty toy store offering the highest-quality educational, developmental and creative toys that nurture the imagination and encourage children and adults to think and have fun."
Toys that spark active minds and curiosities are this shop's specialty.
"We carry an amazing selection of Legos and other construction items," Lett says. "We offer arts and crafts and creative play items, as well as science and nature items."
So whether your children are aspiring astronauts, dinosaur devotees or future gardeners, Imagination Toys has what they need to ignite their passion.
"We are always looking to bring in new and exciting things," Lett says. "I go to various shows. For example, I am going to Dallas in June, where I will meet with a number of the reps I work with to buy toys, and we will go through the showrooms and will be planning for the holiday to make it the best ever, like we do every year."
And being the best is something Lett certainly strives for with her store.
"We are perennial winners of the Ladue News Platinum List," Lett says. "We aspire to remain the toy store of choice in the St. Louis metropolitan area. There aren't too many specialty toy stores left in the area. As the current steward of Imagination Toys, I hope to pass the business on at some point so that the tradition will continue for many generations."
Imagination Toys, 9737 Clayton Road, St. Louis, 314-993-6288, imagination-toys.com