Nearly two decades have passed since the tragedy of the 9/11 terrorist attacks. In honor of that dreadful day, members of the Ladue Fire Department shared their stories about how they serve their community and what it means to them.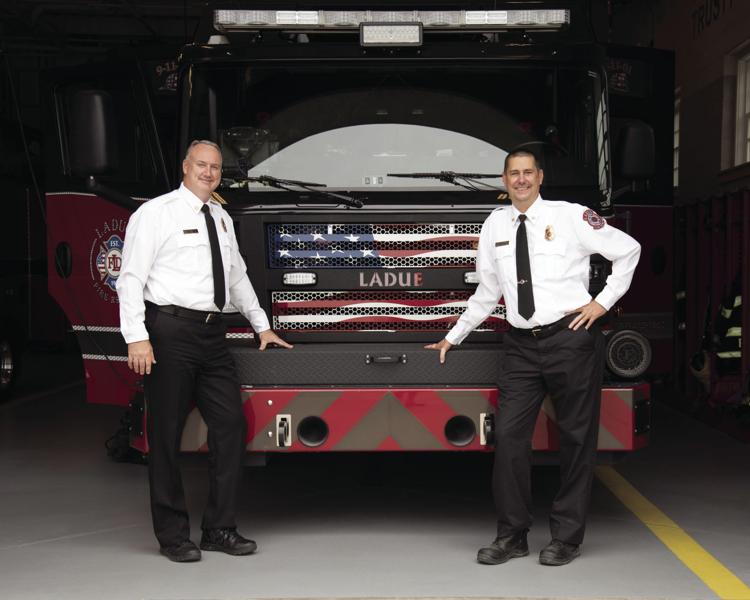 Fire Chief Steven Lynn
Steven Lynn always wanted to help people. This and his father are key inspirations for his life's work.
"We were the family that would drive up to the firehouse and wait for a firetruck to leave so that we [could] follow them to the scene," he says.
The 21-year vet has served as Ladue's fire chief since 2010. He's learned the value of camaraderie – how it sustains people through the profession's life-or-death moments and daily challenges.
That includes the new coronavirus. Lynn worked alongside his department and local leaders to implement and oversee a safety plan as part of an ongoing response to the pandemic, noting: "I believe I had an impact on the safety of all first responders working within St. Louis County."
Assistant Fire Chief Jeff Johnson
Firefighting is Jeff Johnson's family.
Johnson's father and brother both worked as firefighters, his stepson was just recently hired as a firefighter/paramedic in St. Louis County, and his grandfather once served as fire captain with the City of St. Louis. But the connections go back even further than that, to his great-grandfather.
"He drove the firetruck in the old horse-pulled engine days and started his career in 1898," Johnson says.
Although he never imagined himself as assistant fire chief, Johnson's learned to relish the role, which he's held for nine years. He takes particular pride in enforcing building codes and collaborating with residents.
"I strongly feel that this community becomes safer and safer each year," Johnson says.
Lieutenant Clayton Boyd
Self-described "quiet professional" Lieutenant Clayton Boyd became a firefighter after high school, fulfilling a lifelong drive to help others, and Boyd's passion for his hometown continues to inspire him.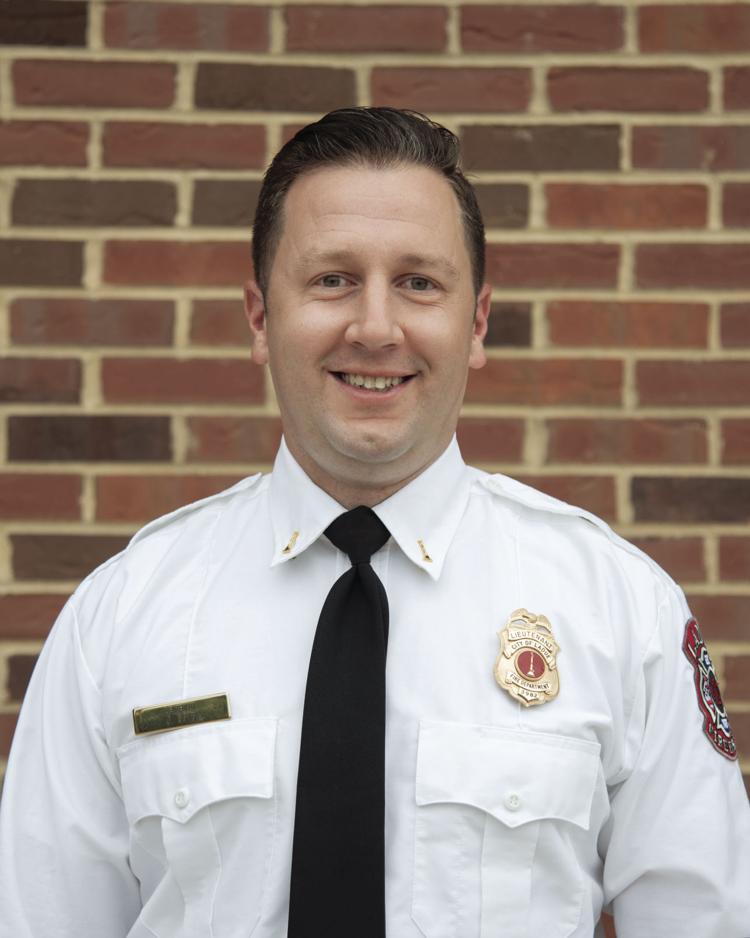 Struggles remain. Boyd acknowledges that tragedy can occur even when his team does everything right.
But it comes back to the people you serve. Boyd lists a number of impactful moments during his tenure, including saving a cardiac arrest victim, facing his first structure fire and even delivering a baby.
However, he's not interested in recognition, Boyd notes, adding: "Taking the skills and knowledge that you have acquired and putting them into practice to produce a great outcome is something that never gets old, even after 16 years."
Lieutenant Larry Pfaff
Lieutenant Larry Pfaff's path changed dramatically in his third decade. The Air Force vet-turned-firefighter responded to a devastating vehicle accident that only got worse when his partner suffered a major heart attack.
"We … used the AED [automated external defibrillator] to shock him three times and continued CPR until the ambulance arrived," says Pfaff, who had limited medical training at the time.
The man survived, and Pfaff's experience compelled him to become an EMT, then a paramedic. Now, he's been with the Ladue Fire Department for nine years.
Pfaff's story suggests the challenges firefighters face – and inspiring commitments they make. "People say we as firefighters are crazy for doing what we do," he notes, "but we do it because we know that we are needed in the worst times of a person's life."
Captain Mike Rose
Firefighting wasn't Mike Rose's first love.
"Growing up, I wanted to fly helicopters or become a veterinarian," he says. "The firefighter avenue just kind of happened. I am so happy that it did."
The 25-year vet has been with the city for nine years, three of which he's spent at his current post. He oversees the day-to-day operations of the engine house – and takes a lot of pride in it.
To him, some of the most rewarding moments on the job come when the team receives praise for something that seems mundane.
"This only happens when you meet and exceed those expectations," Rose says. "This happens often for us, which is a direct reflection on my crew."
Firefighter Paramedic Trevor Woodside
Trevor Woodside knows that firefighters need support systems.
Woodside has served with the department since 2007 and has worked in firefighting since 1992 – a long time serving others.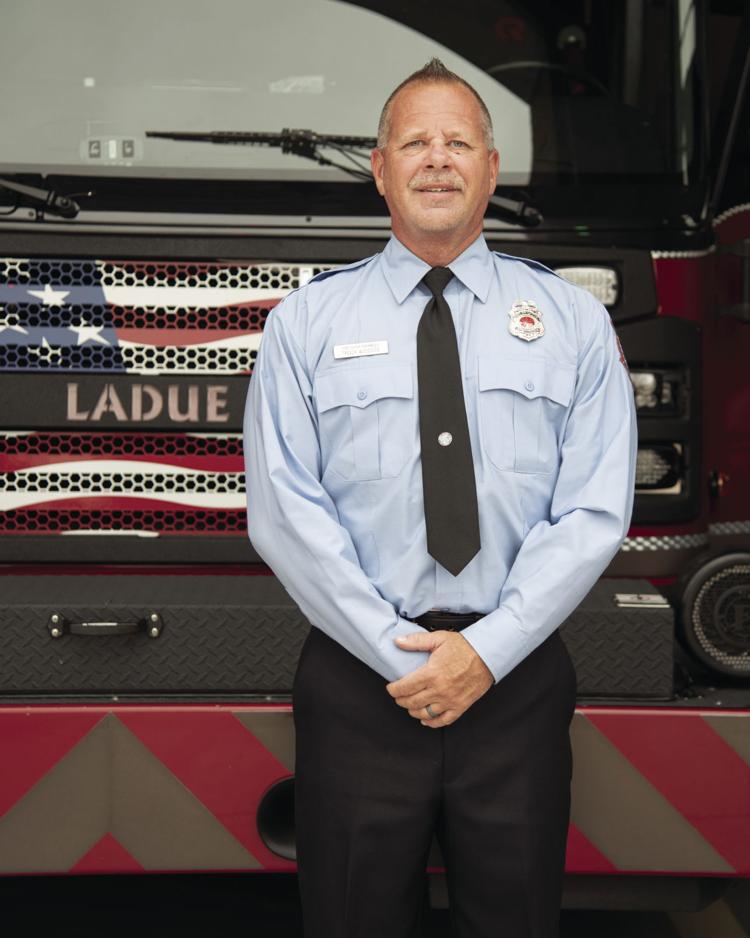 Between 48-hour shifts and on-duty work during anniversaries and holidays, firefighters rely on their families at home and in the firehouse. Woodside counts himself lucky that he represents Ladue.
"We have a great support system with each other, our family at home and the City of Ladue," Woodside says.
He stresses that the department comprises skilled professionals who work together no matter the task at hand – something he cherishes deeply: "This is a 'fire family' that I'm blessed to have and would not trade it for anything."
Firefighter Paramedic Tyler Bone
Tyler Bone's fire family stood by his side when tragedy struck.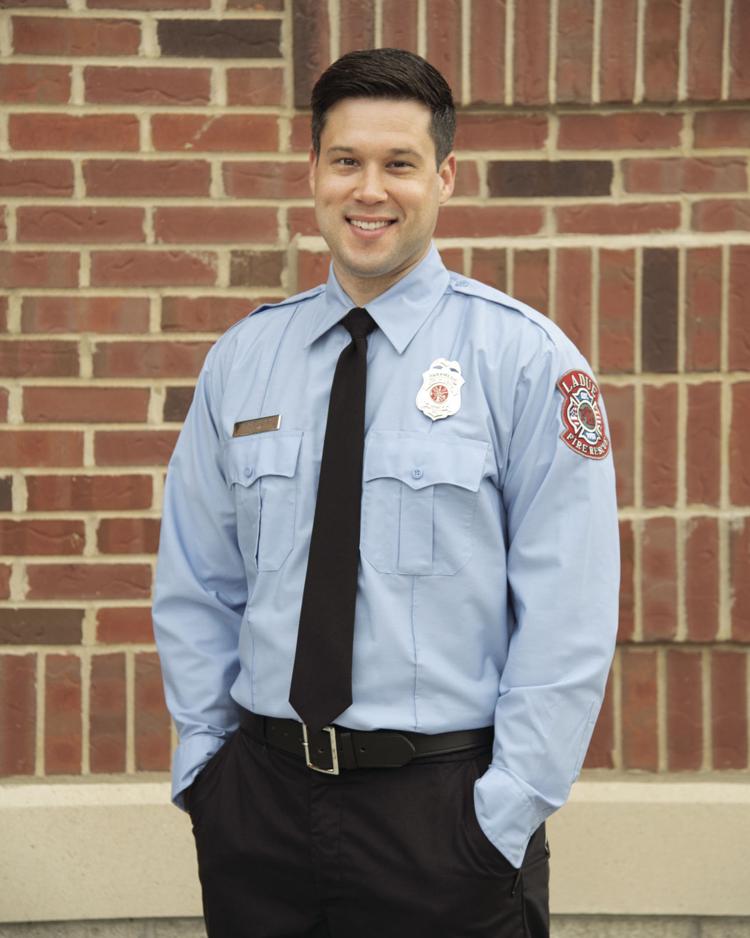 In 2019, Bone's son Barrett passed away unexpectedly. The Ladue fire crew backed him then and still backs him now.
"My brother firefighters came together and helped my family and me tremendously, and for that I will always be extremely humbled and thankful," he says.
While he worked through grief, the Ladue fire team took care of Bone's lawn, bought groceries, raised money for his family and even worked several of Bone's shifts.
"In short, they more than proved to me what this family is all about," he says. "When one of us is in trouble, everyone steps up and takes care of that individual who is down."
Captain Derek Roux
An important lesson about firefighting has stuck with Derek Roux since his career began: Firefighters are advocates for their community.
"We have the opportunity and privilege to be educators for the communities in which we serve," he says.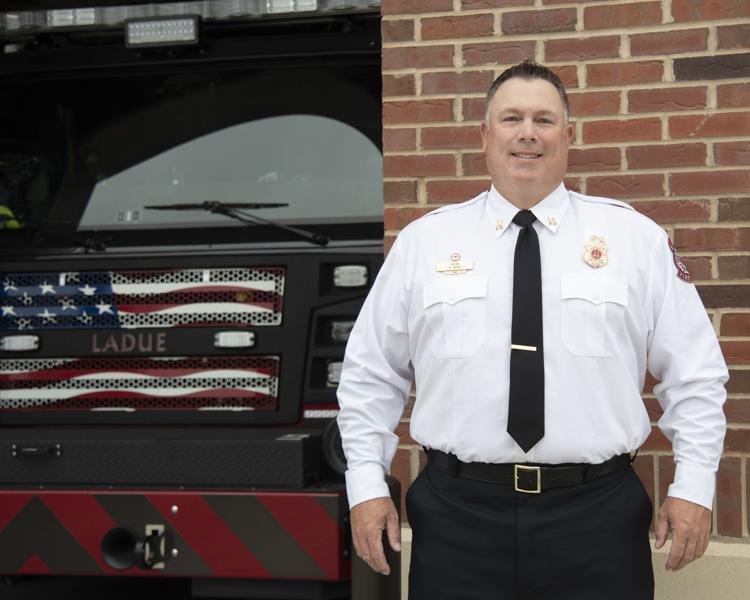 Roux has been with Ladue for 17 years, each day committing to this mentality. He's also expanded his expertise elsewhere, as the trained EMT recently completed a degree in paramedicine and will earn his master's degree in the near future.
For true commitment, Roux remembers Sept. 11, 2001. "They knew that dying while doing their absolute best was better than living the rest of their lives knowing they didn't try to save the people trapped," he says of first responders on that day.
The business news you need
With a weekly newsletter looking back at local history.