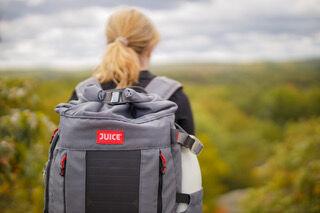 JUICE is so much more than a backpack.
The carryall – designed by St. Louis-based Melio – operates as an on-the-go charging station thanks to a built-in solar panel that's connected to a power bank, which is compatible with all mobile devices. It's an ingenious solution that company founder and CEO Bob Miller sees as an opportunity for locals to decrease their environmental impact.
"If you look at that minimalistic view and decreasing personal waste, what if you just had one product that could solve those solutions?" says Miller, who founded Melio in 2018. "This kind of meets that need."
The backpack's design is versatile and understated, making it perfect for anything from hiking excursions to business trips. And like any good idea, JUICE first filled a need for its creator.
"Back before COVID, I did a lot of traveling, and if I'm overseas, it's really tough to keep things going," says Miller, whose background is in engineering. "I thought to myself that there's got to be a better way."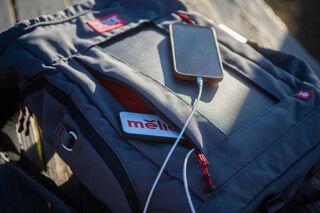 JUICE was Miller's answer. He designed the backpack as the first of many potential hard goods that focus on sustainability. The product, which debuted in 2020, is light gray with a navy solar panel centered under an orange logo. It comes with plenty of pockets (including dedicated space for mobile charging), padded laptop and tablet sleeves (it fits most 15-inch computers), an expandable water pocket and an adjustable hip belt.
The bag retails for $399.99, which Miller admits might seem higher than the prices of other backpacks. But he also points out that his solar-powered product is built to last and that it's designed and constructed in the area. JUICE also almost entirely comprises materials found in the U.S. – all factors that support local manufacturing.
"If you're helping support this small business organization, you're also helping manufacturers here in town – the money stays in the community and is invested here and is used by people here," he says. "There's more of a snowball effect to working with someone here in the community."
Miller's plans for Melio go far beyond JUICE. In addition to other bags, he's working on developing cable organizing kits and possibly even apparel and emergency preparedness services.
Ultimately, he says, it all comes back to reinvigorating the local community: "I want to try and rebuild that manufacturing base that we've lost here in the St. Louis area."
Melio, 911 Washington Ave., Suite 501, St. Louis, 888-379-0272, meliodesign.com