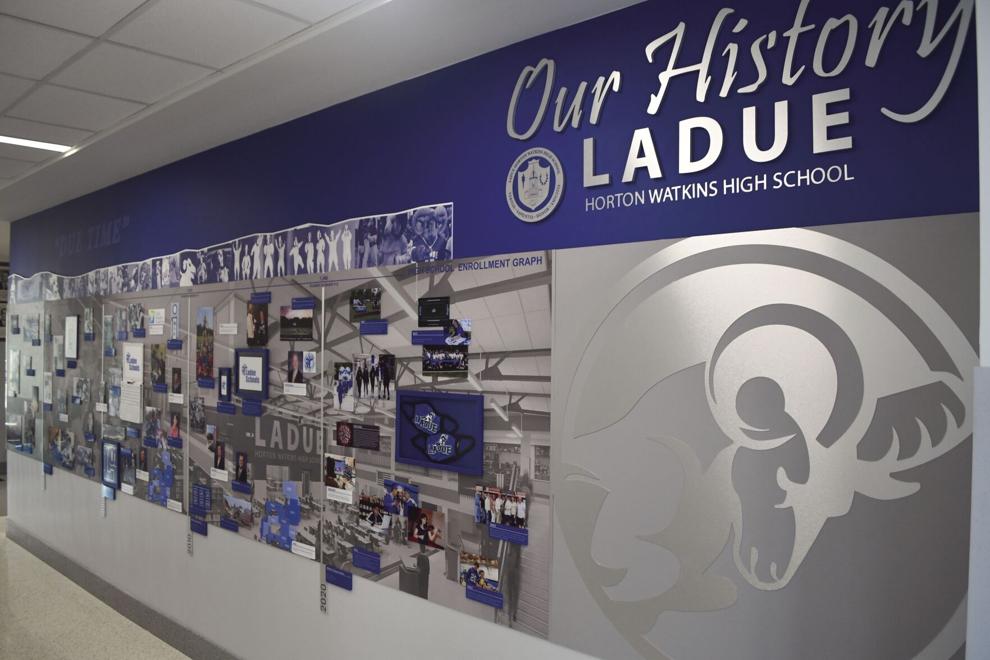 In 1952, Ladue Horton Watkins High School opened with 550 students in seventh through 12th grades. The original school, built on land donated by Horton Watkins' widow, Ruth, at 1201 S. Warson Road, now has 1,347 students in ninth through 12th grades and recently underwent a complete renovation.
"Over the last 70 years, there have been many significant accomplishments of the Ladue School District," Superintendent Jim Wipke says. "These accomplishments extend far and wide as we see firsthand what our graduates go and accomplish in the world. Our academic excellence and successes have remained consistent through the guidance of our wonderful faculty and the amazing support of the Ladue Schools community."
Brad Griffith, the high school's sixth principal, is a St. Louis native and graduate of Kirkwood High School. He's witnessed significant change and innovation at Ladue Horton Watkins High School over the past decade and says the biggest and most visible was the $85.1 million, three-year renovation that began in 2016 after Proposition R passed.
The project retained the school's historic façade but reconfigured the interior spaces, creating new facilities for everything from culinary arts to a broadcast studio to a working veterinary clinic for comparative anatomy students. While the academic spaces were updated, the school's athletic facilities also got makeovers, including lighting that allowed for Friday night football games beginning in September of 2019.
"There's a very strong sense of community here," Griffith says. "Over half our students participate in some sort of extracurricular activity or sport. We have strong speech and debate and robotics teams, and our girls' tennis team won the state tournament this year. And we still have that focus on academics, with more National Merit semifinalists in the last three school years than any other high school – public or private – in the state."
As the community and school district demographics changed over the past 70 years, the student population also became more diverse. Jennifer Riesenmy has worked in Ladue Schools for 24 years; she served as a teacher before being named Diversity Equity and Inclusion coordinator four years ago, filling the district's first full-time DEI position.
"Decades ago, decisions weren't always made with all types of families and students in mind," she says. "The progress we have made is that we intentionally sought more ways in the recent past to ensure that everyone has a place at the table when we work with the community. … At present, we work with the community to ensure that all voices are heard in the major decision-making process. We're not perfect, but we've come a long way and are making tremendous progress."
The district's student population is more diverse than many people would guess, she says: "Our population is comprised of 55 percent white, 17 percent Asian, 15 percent Black, 8 percent multiracial, 5 percent Hispanic and 0.14 percent American Indian or Alaska Native." In students' homes, 65 languages are spoken, with Chinese, Spanish and Telugu as the three most prominent after English. Students and staff can join affinity groups for members and allies of various demographics, including the LGBT community.
"Ladue Horton Watkins High School has been foundational in this community for 70 years, and we invite everyone to come see what we do here – come to a game, take a tour," Griffith says. "We welcome everyone to connect with us."