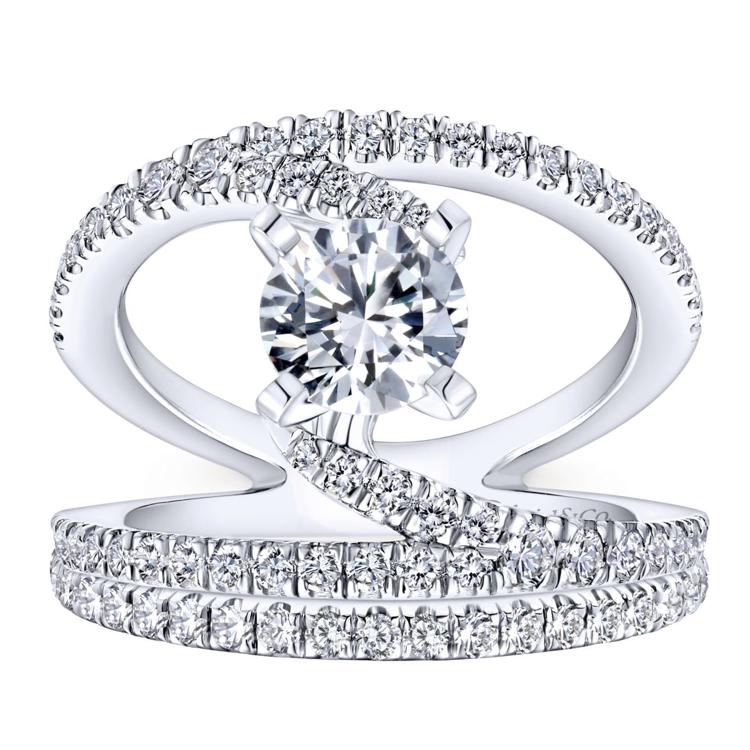 Wedding bells fill the air! With summer fast approaching, wedding season is mere weeks away. Are your rings ready? Whether you're finalizing details for your own upcoming nuptials, navigating the early stages of planning your dream wedding or thinking of upgrading your existing wedding ring, LN has compiled the latest wedding ring trends from local jewelry experts to make sure your ring is as stylish as it is sparkly.
Stackable Rings
Why wear one or two rings when you can wear an entire stack? "We are seeing brides wear simple solitaire engagement rings paired with a narrow diamond wedding band, adding a variety of unique bands to be collected throughout life together," says Anne M. Pokoski, certified gemologist appraiser and personal jeweler with Elleard Heffern Fine Jewelers in Clayton, listing anniversaries, significant birthdays or the birth of a child as examples.
The stacking-bands trend is echoed by Julie Ettinger, owner of YLANG YLANG in Ladue, who explains this can be a great time to add in new metals for a trendier look. Yellow gold is here to stay, and rose gold may be having its moment, but in lieu of getting an entire engagement ring in one color, brides can test the trendy waters with thin stacking bands in different metals. Not only is it a popular pick, but also it creates a one-of-a-kind look for the wearer – an important option for modern brides. "People love that we have engagement rings nobody else has," Ettinger says, noting the store's exclusives with lines Erica Courtney and Single Stone. "I think our bridal [offerings are] really building because we offer those exclusive, can't-find-them-anywhere-else settings." She also mentions oval diamonds as recently increasing in popularity.
Simple Is Key
For those less interested in the multi-ring look, something simpler may be a better fit. "The current trends in engagement rings are more simple styles," says Joe Genovese, president of Genovese Jewelers in St. Louis, "from the basic plain solitaire setting to very thin rings with small diamonds down each side. The halo settings are still very strong – but not the really elaborate ones."
Genovese explains he isn't a huge fan of trendy designs, noting that in his experience, women tend to replace their settings in about 10 years; resetting can make things more modern and current. "It is a shame to spend the money on a ring that can go out of style in a year or two," he says. "When it comes to trendy, stick with the more fun, everyday fashion pieces."
Groom Options
Brides aren't the only ones looking for rings – each groom needs something special, as well. By and large, the experts say the look for grooms is classic and simple. "The classic plain platinum or 18-karat yellow gold band is still the most popular request at our store, but we are recently finding that men aren't afraid to be a little more fashion-forward and are looking at rings with contemporary details or finishes," Pokoski says.
Ettinger says that grooms today are looking for "simple and elegant [rings] with a little twist," noting a Single Stone design that is simple from the top with a bit of pizazz hidden on the side. Details like engraving can add a hint of flair without being overly decorative.
Creative and Custom
When the right details cannot be found, it might be time to turn to custom. All three jewelers note custom rings as being one of the most exciting options available to brides and grooms, allowing lovebirds the chance to create rings that are unique to them.
"Custom wedding jewelry today ranges from vintage styles that can incorporate family diamonds or gemstones to contemporary pieces that exude the look of the most fashion-forward pieces from Europe," Pokoski says. "That's the beauty of custom design – it gives the client complete freedom to create exactly what [he or] she wants." And after all, isn't that one of the most important features of a wedding?
Elleard Heffern Fine Jewelers, 101 S. Hanley Road, No. 110, Clayton, 314-863-8820, heffern.com
Genovese Jewelers, 12460 Olive Blvd., Creve Coeur, 314-878-6203, genovesejewelers.com
YLANG YLANG, 8845 Ladue Road, Ladue, 314-725-7464, ylangylang.com