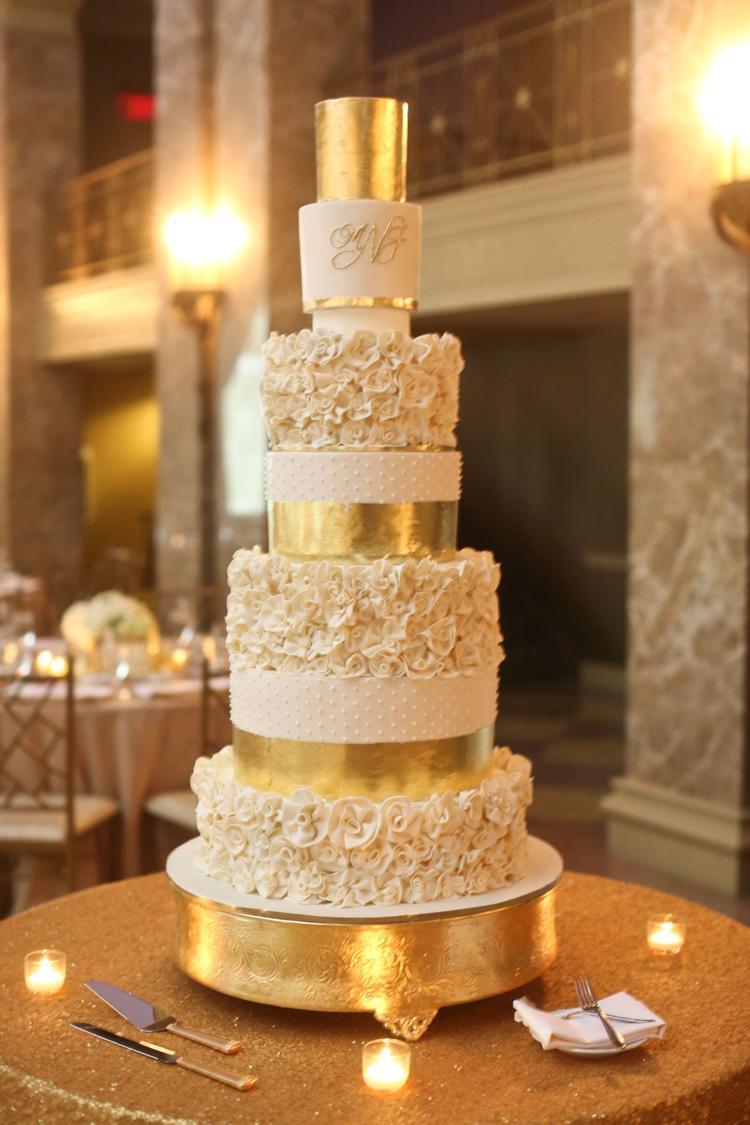 The discerning bride this season may want to be festooned with flowers, to be draped in gold and silver, to sport intricate patterns or simply to go naked – for her wedding cake. These are all current trends for the pastry centerpieces, and the designs are as diverse and individual as the wedding couples themselves.
"I think overall, people are getting more comfortable with stepping outside of the box," says Katie Veile, owner of Kaked by Katie. "I am seeing less traditional all-white wedding cakes, which will always remain timeless."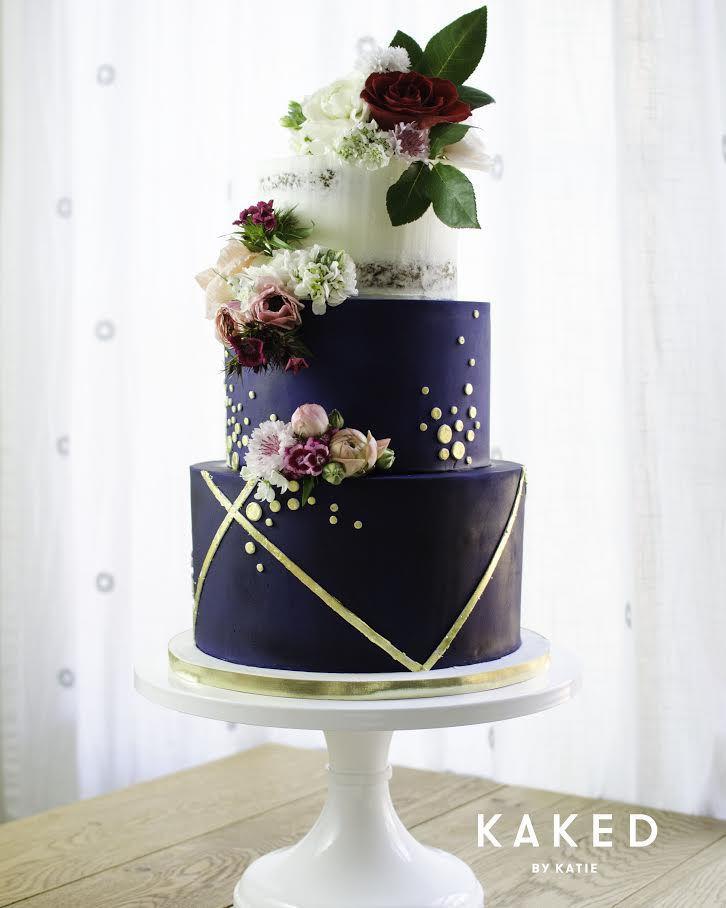 Couples working with Veile to plan their wedding cakes are requesting a number of creative options, she says. Cakes featuring metallics, detailed lace designs, ruffles, texturized surfaces, fresh flowers, sugar flowers and bold colors are among recent orders for the St. Louis-based company. "I hope to see more royal icing work and big floral designs in 2017," she adds.
The biggest trend seen by Lia Weber, owner of Made. By Lia and winner of TLC's Next Great Baker Season 4, is the "naked cake." Weber began designing and making naked cakes in 2015, and the response has been phenomenal. "Brides are starting to want something more simple, classy and elegant, and that's exactly what a naked cake is," she says. "You can dress it up or dress it down to fit in with any theme or venue." Naked cakes feature layers of cake with a thin layer of icing. "My signature is to have more of a sheer look, with just some cake peeping through, which adds a little more uniqueness to the design."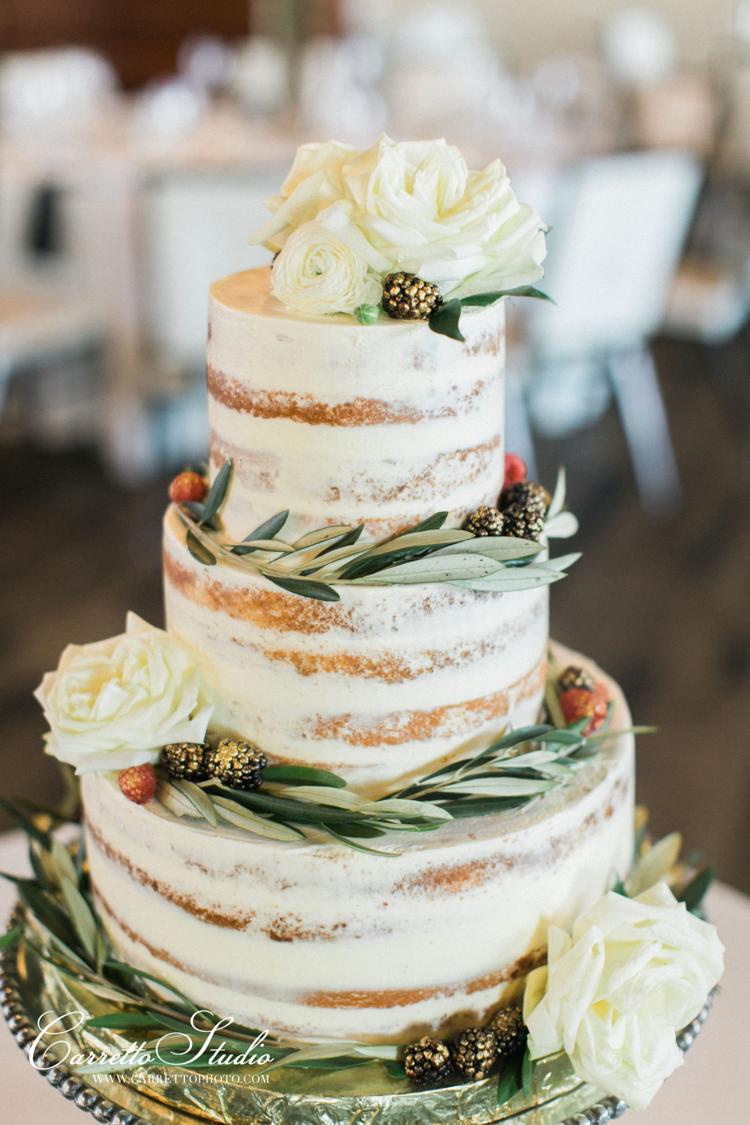 Executive pastry chef Eric Phillips at The Chase Park Plaza agrees that simplicity is a current trend among soon-to-wed couples. "I don't see as much fondant and royal icing as I did in the past," he says. "I think flavor is more of a concern than the appearance now." Phillips enjoys creating chocolate flowers or cake toppers for a unique presentation.
While wedding cakes are still the centerpiece of a wedding banquet, groom's cakes continue to appear on some dessert tables. "I honestly would say about 40 percent of my clients opt to have a groom's cake," Veile says. "Some have the cake for the rehearsal dinner, which I believe to be genius. Since most groom's cakes tend to not 'fit in' with the entire vibe of the wedding, having it at the rehearsal makes perfect sense."
She notes that groom's cakes represent the groom's interests and personality. They can include college mascot motifs, craft beer-infused flavors and sports themes. "Maybe he's a chocolate lover – drip cakes (where chocolate ganache covers the top and drips artfully down the sides) are beautiful and garnished with all his favorite candies," she says.
Whether you love traditional, unusual or naked designs, bakers and pastry chefs agree that the cake should reflect the wedding couple's style and preferences. "I think the most important thing when researching wedding-cake trends is to stay up on the current and future trends," Weber says. "Before going to a cake tasting, do some research and bring pictures of cakes and ideas you like. Then let the cake artist use their creativity to design a cake specifically for you."
Made. By Lia, 314-518-3565, madebylia.com
Kaked by Katie, kakedbykatie.com
The Chase Park Plaza, 212 N. Kingshighway Blvd., St. Louis, 314-633-1134, chaseparkplaza.com