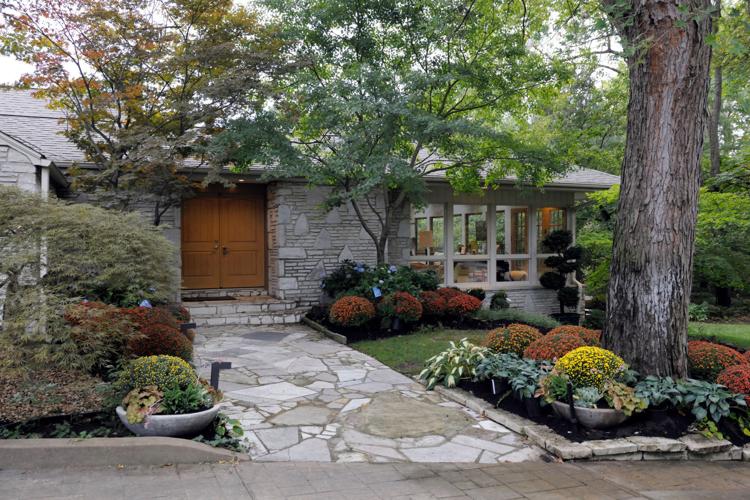 What's better than one architecturally significant home? One architecturally significant home quite literally inside a second house, of course! That's exactly what you'll find at one-of-a-kind 110 Dielman Road in Ladue, the 2017 Ladue News Show House.
Originally built in the 1930s, 110 Dielman Road started out as a charming stone cottage featuring a pattern of triangles and horizontal lines in light gray. Decades later, a massive contemporary addition was added, but unlike modern additions built onto the back of a home, this one engulfed the property, leaving the cottage and its stonework as the nucleus for the extensive estate.
Samantha Goldenhersh grew up in the home from 1987 to 1998, when the majority of the major renovations took place. Her mother and father, Jennifer and Mark Goldenhersh, bought it from Mark's childhood friends' parents, the Broida family. They made substantial improvements to the home, including adding the great room, movie theater, additional bathrooms and upstairs loft. Her father even had a tennis court built on the property, although it was later removed by a subsequent owner.
Today, 110 Dielman Road features four bedrooms, four bathrooms and a half-bathroom throughout its 5,175-square-foot interior. The new exterior features oversize windows framing the view of 2-plus acres of property. Inside, the original stonework abounds, as well as other show-stopping design details like multiple vaulted wood-beam ceilings and a cobbled stone-and-marble floor.
Ted Wight of Dielmann Sotheby's International Realty, the Realtor on the $1.549 million residence, says the home is a great fit for the Show House because of its variety of aesthetic and design elements. "There's a wide assortment of traditional and nontraditional rooms [that] will appeal to all people's tastes – and it gives designers the ability to be contemporary or traditional," he says, adding that it features "a lot to look at" and "all sorts of exciting design choices to experience" for visitors. "It's not just a standard center-hall colonial home."
Rooms featured in the 2017 Show House involve both the main floor and the stately lower level. Downstairs, the abode features a variety of modern luxuries, including a family room, wet bar, sauna, wine cellar and bedroom suite. "It has contemporary flair but [a] wonderful traditional feel to it," Wight says of the estate.
Outside, 110 Dielman Road features an attached two-car garage, as well as a detached one-car garage with workspace. A large patio nestles into the manicured yet organic-feeling landscaping, but in case that isn't enough outdoor entertaining space, the home also features an enclosed, open-air courtyard at its center off the great room. This unique space features ample stonework and endless design possibilities.
When asked what space he's most excited to see transformed, Wight says: "My favorite room is the great room, with the timbered ceilings, skylights and windows that look out onto the courtyard and backyard – it's a very dramatic, large space." He also mentions the adjoining open-air courtyard, saying, "It's very unique, and I'm sure it's going to be exciting."
---
Click the links below to learn more about
each aspect of the Show House.
---