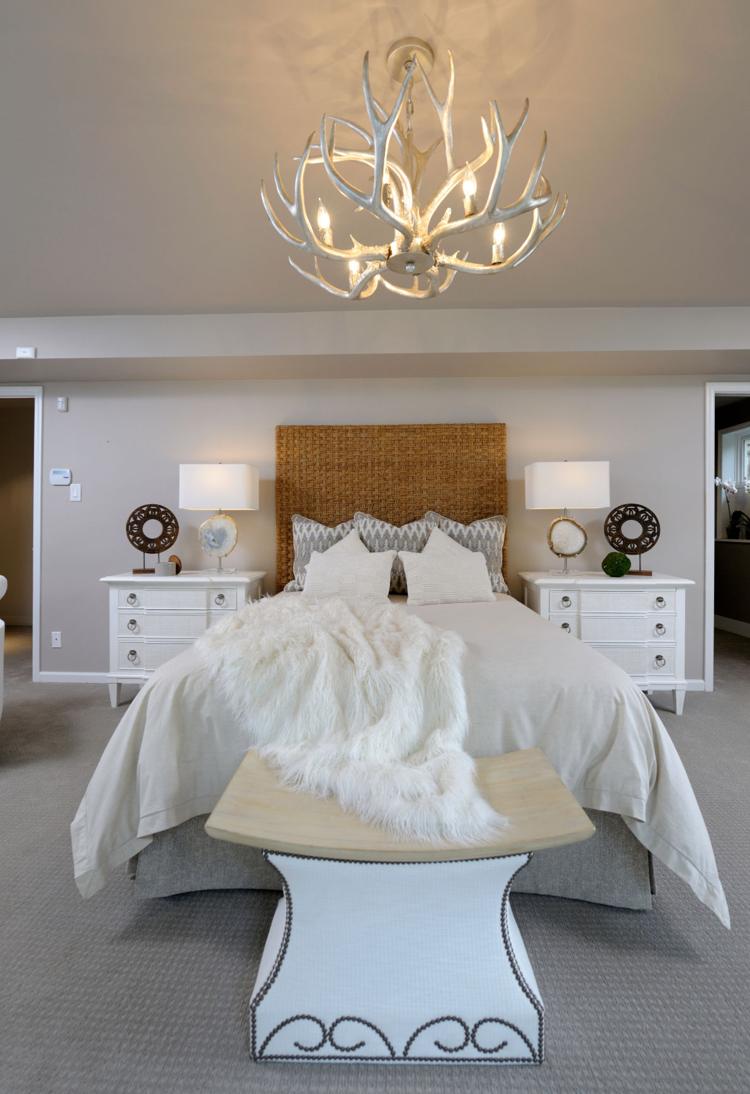 Anne Smith and Liz McGovern of June Roesslein Interiors turned a window-filled room into a green and lush guest suite. Two taupe hues color the walls (North Hampton Beige and Ashley Grey, both by Benjamin Moore) and are paired with airy upholstery throughout. "Architecturally, the room is stunning," Smith says.
Changes to the original design included selecting a new chandelier and sham fabric. "The fabric reselection required revisiting the finish selected on the headboard – a domino effect," Smith explains.
"Our favorite portion of the room has to be the 'living wall,' with the two chairs strategically placed next to a round wrapped rattan table," Smith says. "The tablescape is reflective of a romantic celebration with champagne flutes and a strawberry-chocolate cake. We're excited to share the entire space with our guests."
The natural details don't stop with the plants. From woven baskets to the knotted table base, elements of the outdoors are seen throughout. The room features few pieces of wall art, instead focusing on framing the lovely view through the oversize picture window. The tranquility of the bedroom extends to the adjoining bathroom. Dark woven baskets add a touch of nature and extra storage, and a fur-covered vanity stool in a light hue brings a bit of glam without going overboard.
June Roesslein Interiors, 10411 Clayton Road, No. 206, Frontenac, 636-394-1465, juneroesslein.com