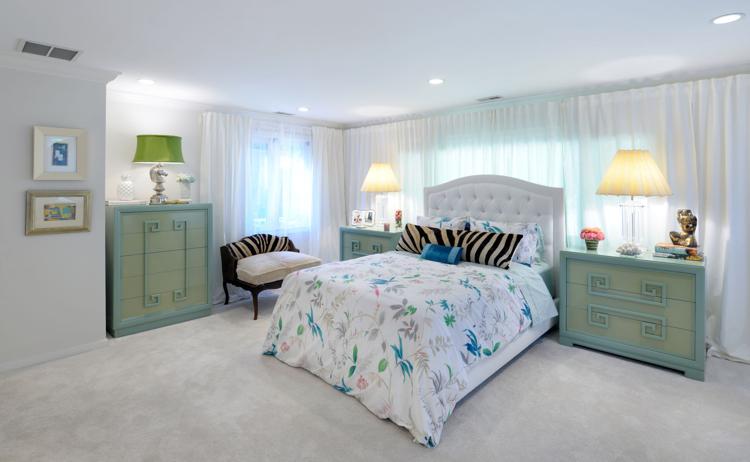 The guest bedroom, designed by David Deatherage of David Deatherage Design, changed significantly from its first-draft plan. "I originally was looking at a vintage bed frame that I would have had lacquered, but I instead found an in-stock upholstered bed that works quite nicely in the room," Deatherage says. "A Louise Grey quilt I liked for the room didn't come in queen size, so I opted for a floral duvet from Kate Spade instead."
Behind the bed and throughout the room, sheer curtains add privacy while still flooding the guest bedroom with light. Flanking the bed are matching vintage sea-foam chests with Greek key detailing. "With today's beds often having higher mattresses, a pair of chests worked nicely as nightstands and add a lot of storage to the room," says Deatherage.
The Kate Spade duvet features not only the main hues of the room – white and sea-foam – but also hints of hot pink. Deatherage continued this color palette by adding complementary throw pillows and flowers.
Deatherage says he is excited for people to see the space, which features ample elegance without feeling austere. "It's a balancing act to dial in the right amount of formal attributes while still making it inviting," he says.
David Deatherage Design, 314-495-3719, daviddeatheragedesign.com