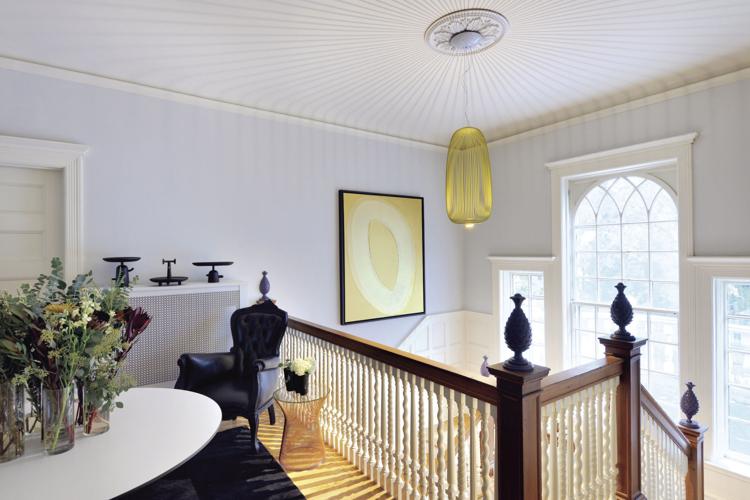 Designed by Channing Glover and Maria Lesko of C&M Interiors, the wide-entry foyer, grand staircase and second-floor sitting area bring the duo's signature contemporary and minimal design aesthetic to uniquely freshen up heavy-handed built-in design elements. "We love how the home had such charm and an antique feel to it," Lesko says, "but as our firm is, we love contemporary design and thought it would be interesting to incorporate contemporary design into antique and timeless design … A fresh and lively touch to the historic bones of the home."
A focal point upon entering the home, an original floor-to-ceiling mirror with an antique carved-wood frame reflects the grand staircase on the opposite wall – its wide handrails, thick spindles and newel posts topped with whimsical carved wood pineapples leading to a landing with a set of huge, stunning front-facing windows, flooding light into the staircase and second-floor seating area.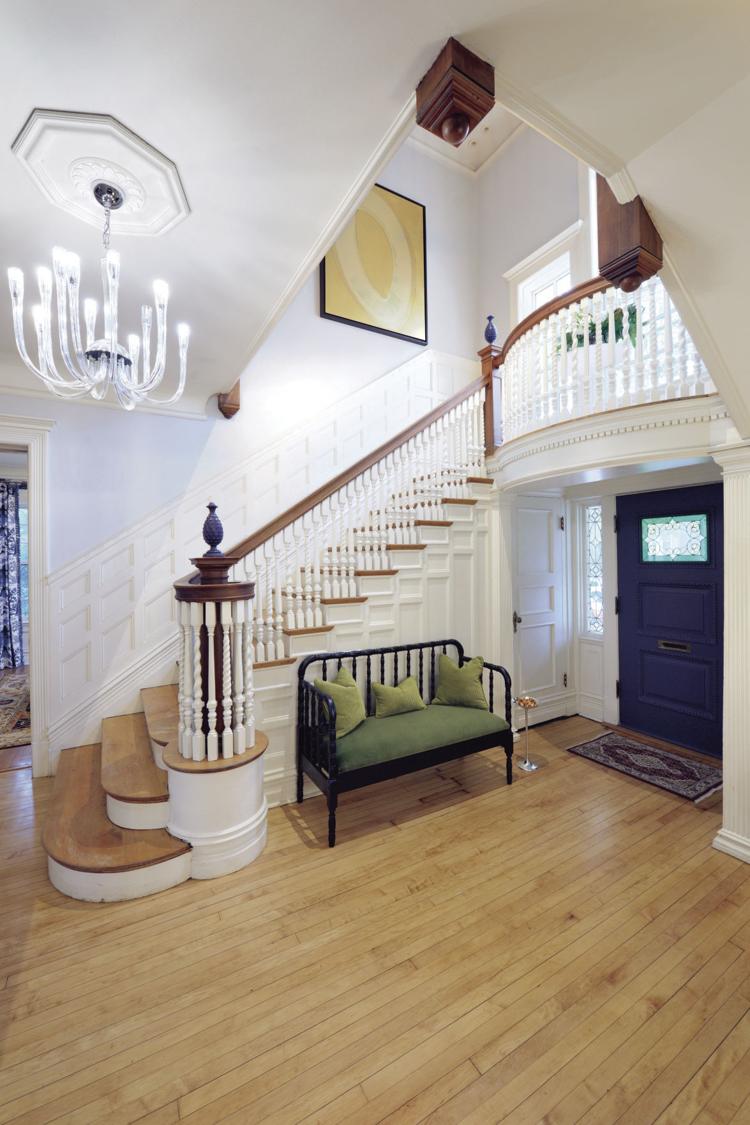 To the foyer, Glover and Lesko added an antique settee, a typical foyer feature in traditional homes for family members and guests to remove their shoes. The piece is reupholstered with green velvet accent pillows, tying in the classic aesthetic with the designers' modern palette. A clear-glass chandelier by Wilson Lighting lightens up the expansive entry space, making a modern statement upon entering the home. Walls on both levels and the staircase are painted in Porter Paints' Umber Cloud, a light neutral background to give the bold accent colors a brighter pop.
The staircase winds up to an open area that connects to different rooms in the home, with a dramatic Chiang Mai Dragon wall covering by Schumacher adding texture and depth to the wall opposite the second-story railing. A central table, lounge chair and side table furnish the space, and hovering overhead is a favorite of the design pair, the sleek Spokes pendant by Foscarini, which catches both sunlight by day and the electric glow by night to cast unique shadows over the staircase and seating area.
C&M Interiors, 314-920-3020, candmstudio.com