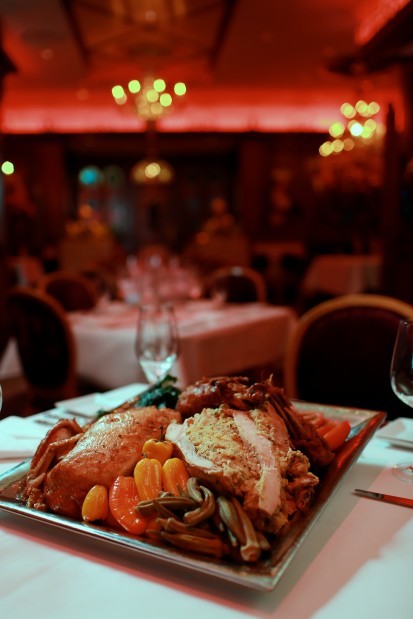 Q: Chef, with the holidays around the corner what to cook is the center of conversation at my house. It always comes down to deep-fried turkey or a Louisiana-style turducken. A family divided. Please help me, what do you think?
A: What a dilemma! Deep-fried turkey is popular in St. Louis; and the turducken, which was reintroduced by Chef Paul Prudhomme, involves the process of stuffing a bird within a bird. In this case, a chicken within a duck within a turkey. These roasted creations are found from Iceland to Persia, where the largest stuffed item on record is eggs in a fish in a chicken in a lamb in a camel. The delicacy is served at wedding dinners of sheiks and other VIPs, and holds a Guinness record.
Both of your choices are great, and I don't think I can decide which I like better. So here is a recipe that I think will settle—once and for all—the battle of the birds. It takes time but the wait is well worth it.
Confit Turduken Deep-Fried
Ingredients
3 lb. whole chicken
6 lb. whole duck
12 lb. whole turkey
For The Brine
2 gallons water
2 c kosher salt
2 T fresh rosemary
8 leaves fresh sage
3 T fresh thyme
3 garlic cloves
1 yellow onion, quartered
Directions:
Bring water to a boil in large, deep pot. Add ingredients for the brine. Boil 10 minutes. Refrigerate overnight. The next day, add the chicken, duck and turkey to the brine. Make sure the meat is completely submerged. Cover and refrigerate for two days.
The Build
Debone and shin the chicken and the duck. For the turkey, remove the breast cavity and thigh bones, leaving the wings and leg bones for presentation. If you do not know how to do this, most butchers will do it for you at no extra charge.
Lay the turkey skin side down on your cutting board, season with salt and pepper and spread your favorite stuffing (mine is an andouille corn bread) thinly over the meat. Next, lay the boneless and skinless duck meat down and repeat the seasoning and stuffing process. Finally, do the same with the chicken.
Roll the birds together; and using butcher twine and a trussing needle (this is a large sewing needle that is used to stitch the meat and skin back together), sew the two ends back together tightly. If you do not have a trussing needle, you can tie the bird together in consecutive knots about every inch down the length of the bird. Be sure to tie the wings and legs close to the body.
The Rub
2 T kosher salt
2 T black pepper
1 T dried sage
2 T garlic powder
Now that your birds are tightly trussed, rub the entire bird skin of the turducken with the rub and let rest for about 4 hours.
The Confit
6 bunches fresh thyme
2 sprigs fresh rosemary
10 garlic cloves
4 bunches fresh oregano
Fresh ginger root (approx. 5 inches), peeled and split
1 fresh jalapeno, split
1 orange, quartered
1 onion, quartered
12 strips bacon
2 gallons vegetable oil
4 cups bacon fat
2 lb. butter, diced
In large roasting pan, place all dry ingredients on the bottom of pan, layering the bacon on top. Place the turducken on top of herbs and bacon. Add bacon fat and butter; and then fill enough oil to cover the entire bird. Cover and place in 275-degree oven for approximately 3 1/2 hours. Use a thermometer to make sure the internal temperature is at 160 degrees.
Have your fryer ready when the turducken is done. Carefully remove turducken from oil, and let rest for 15 minutes before deep-frying. Deep-fry for about 7 to 10 minutes until golden brown, and remove.
Note: As an added touch, I made a peach and pecan butter and rubbed it over the skin before serving.
Editor's Note: Chef John made his first-ever deep-fried turducken last month and gave LN staffers the honor of being the first ones to taste-test his creation. The triple-bird masterpiece was a huge hit…in fact, we're still talking about it…