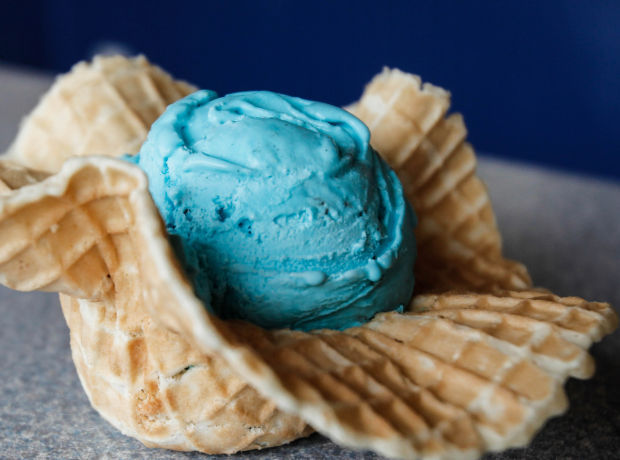 A wonderful thing about road trips is that the experience can yield so many sweet rewards. Aside from the chance to get away from it all, there's the beautiful scenery outside the car window, and the many antique and art shops along the way with treasures to discover and bring home. And there are wineries, micro-breweries, charming cafes and eclectic eateries that might even inspire a fruitful and appetizing journey…
Well, author Lindsay Clendaniel has found another motivation for taking a road trip—and she has written an entire book filled with at least 50 possibilities: Scoop Adventures: The Best Ice Cream of the 50 States, an evolution from her blog of five years: Scoop Adventures: The Journey to Find the Perfect Scoop.
"I've always loved ice cream, and at the time I started the book, I was living in Columbus, Ohio, which has a lot of great ice cream—and there was lots of inspiration around," Clendaniel recalls. "I found an ice-cream maker on sale, and I just happened to decide to share my adventures with the world." Clendaniel explains that her idea took off as she searched for the best scoop in each state. "I was really looking for ice-cream shops that focused on using local and seasonal ingredients, and that were really creative with their ice cream and cared about supporting their community," she notes.
Of course, much to Clendaniel's delight, a lot of research and tasting was involved to write this comprehensive directive on her Scoop Adventures. Not only are 50 ice-cream shops featured in the book, but so are the recipes for each of the shops' most popular flavor. And the road to what she describes in her book as 'The Mouthwatering Midwest' and the state of Missouri led her to St. Louis and Serendipity Homemade Ice Cream, where Cookie Monster Ice Cream rules.
"The owner (Beckie Jacobs) told me that kids often order by the color of the ice cream, and the blue color of this ice cream reminded her of Sesame Street's Cookie Monster," Clendaniel says. "When developing the recipe, she started with a cotton-candy flavor; and when the gummy bears she first mixed in froze and were too hard to eat, she decided to substitute cookies instead."
Although choosing was somewhat challenging for Clendaniel, among her favorite road trip suggestions were the Raspberry and Red Currant from Susanna's Ice Cream and Sorbet, Sweet Berry Farm in Middletown, Rhode Island.; the Peach Honey Habanero from Amy's Ice Creams in Austin; the Dark Chocolate Zen from Izzy's Ice Cream in Minneapolis; and the Lavender Caramel Swirl from Loblolly Creamery in Little Rock.
From collaborating with the ice cream shop owners, Clendaniel was stirred to add Chapter 7: Inspirations From My Ice Cream Travels to her book. "Ice cream is really a blank slate, and once you understand the basics of making the base, you can experiment with any kind of flavor or flavors that you want," she explains. "I really would like to encourage people to make ice cream with what you like and use ingredients that are in season. When you make your own ice cream, you have the opportunity to use fresh ingredients, local ingredients and the best ingredients you can find."
---
How to Make Ice Cream Without an Ice-Cream Maker (from Lindsay Clendaniel's blog, Scoop Adventures: The Journey to Find the Perfect Scoop)
According to Lindsay Clendaniel, "an ice-cream maker whips air into the ice cream, which gives it a creamier texture. So when making ice cream without an ice-cream maker, you have to figure out some other way to whip air into it."
Here's Clendaniel's suggested method, which can be used with any of the recipes in her book, Scoop Adventures: The Best Ice Cream of the 50 States:
Mix the ice-cream base and thoroughly chill it. A starter recipe could be a simple vanilla bean or chocolate ice cream.
Pour the ice-cream base into a shallow freezer-safe dish, like a small Pyrex dish.
Place the ice-cream base in the freezer for approximately 45 minutes. Remove from the freezer, and use a spatula to pull ice cream away from the sides of the dish. At this point, there are two options: 1) Whisk the ice cream vigorously, or 2) Use a hand mixer or stick/immersion blender. Mixing is essential for breaking up ice crystals and adding air to the mixture, which will make the ice cream fluffy and creamy. It's important to note that bases higher in fat will result in a creamier ice cream.
Return the ice cream base to freezer again for 45 minutes. Remove from freezer and mix again. Continue freezing at 30 to 45 minute intervals until ice cream base is thick and becomes difficult to mix (about the consistency of soft serve ice cream). The entire process takes two to three hours to complete.
At this point, 'mix-ins' (like chocolate chips or pieces of cookie or fruit) can be gently folded into the base. Or for recipes that include a swirl or layers (like caramel), alternate layers of the base with the desired ingredient(s).
Freeze completed ice-cream mixture for 2 to 4 hours, or until firm. Enjoy!