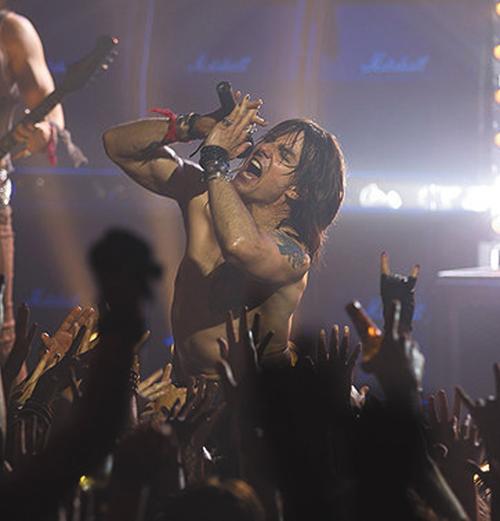 I blame Mamma Mia for this. If you're currently in Hollywood, you're shooting a movie based on a fairy tale; if you're on Broadway, you're writing a musical based on some type of '80s music theme. Here, we have Rock of Ages, a musical love story about two small-town kids looking for love and fame on the Sunset Strip.
Fresh off the bus from Oklahoma, Sherrie (Julianne Hough) meets Drew (Diego Boneta) outside the Strip's legendary Bourbon Room. The attraction is instant, and Drew convinces club owner Dennis Dupree (Alec Baldwin) to hire Sherrie. The club is preparing for the triumphant final concert by the band Arsenal as its erratic lead singer, Stacee Jaxx (Tom Cruise), prepares to launch his solo career.
I don't want to peel the onion too far here because in many ways, the plot is irrelevant. If you love '80s rock ballads, you will probably really enjoy this movie. Otherwise, here's what went wrong: In my mind, the most compelling relationship in the film is the one between Stacee Jaxx and a naïve Rolling Stone reporter, Constance (Malin Akerman). Cruise's character—he's brilliant, by the way—is searching for salvation and Constance can provide it, but the filmmakers don't have enough faith in the material to give their interaction any real heft and instead, turn it into a joke. It's too bad, because this movie could have been great. As it is, it's only OK.
It's a 6.