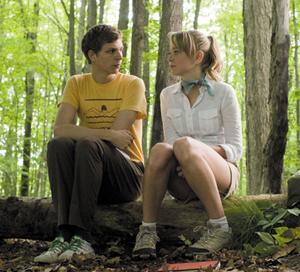 There are a lot of great movies about the crushing pain of unrequited teen love. It's palpable in scores of movies, from Sixteen Candles to New Moon. This film, however, is so flawed and so painfully misguided it is impossible to relate to the story or the characters.
    Nick Twisp (Michael Cera) is the archetypal high school nerd. He is a sweet, obedient virgin that no one seems to know exists. That is until one day when his codependent mother, (Jean Smart), and her pathological beau, Jerry (Zach Galifianakis), feel the urgent need to get out of town and spend some time away from Berkeley and the three angry men Jerry conned in a car sale. In a peaceful lakeside community, Nick meets Sheeni (Portia Doubleday). Sheeni finds Nick interesting and Nick is head over heels in love.
        In order to make sure he is always near Sheeni, Nick needs to get himself kicked out of his mother's home and sent to live with his father (Steve Buscemi).
    To accomplish this Nick creates an alternate persona for himself, Francois Dillinger, the bad boy who is willing to do anything and everything, including burn down half of Berkeley, in order to be with Sheeni. Nick heeds his imaginary alter-ego, which gets him to his love and up to his neck in hot water.
    As likeable as the two lovers are—and as incredibly strong as the cast is—the film just goes too far. I don't know about other people, but if a boyfriend of mine *spoiler alert* was drugging me in order to get me expelled from boarding school so I would return home, I'm not sure how forgiving I would be. All in all, Youth in Revolt is quite simply an unremarkable film.  It's a 5.