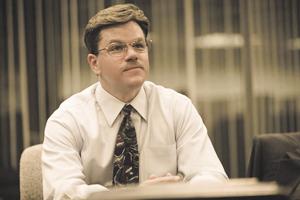 Steven Soderbergh is my kind of director. He first wowed us in 1989 with the unforgettable Sex, Lies, and Videotape. From there he explored his serious side with films like Traffic and The Limey, but he is never self-indulgent. He doesn't forget his audience and he knows what makes a movie fun to watch. From the Ocean's Eleven series to the Clooney-Lopez action romance Out of Sight, Soderbergh knows how to entertain, and The Informant is no exception.
    Mark Whitacre (Matt Damon) is an executive at agri-giant Archer Daniels Midland. He is ambitious, bumbling and possibly delusional. He is also a whistle-blower. (Damon all but channels Russell Crowe's character Jeffrey Wiggand from The Insider, gaining 30 pounds and donning oversized glasses.) After the F.B.I. Suspects ADM is price fixing, they pressure Whitacre into working as an informant, tape-recording meetings and building a case against his company. Meanwhile, the hapless Whitacre develops two distinct and absurd fantasies: 1) that he actually is a secret agent and 2) that when all this is over he will return to his job with a big promotion and the gratitude of his grateful co-workers. Whitacre's bumbling and lying confound agents, who are never quite sure if he's a hero or a criminal.
    This movie doesn't know what genre it belongs to. Is it a funny thriller? Is it a suspenseful comedy? Is it slapstick or satire? Normally that bothers me, but here it didn't. Soderbergh is so adept behind the camera that the film transitions easily from Erin Brockovich to The Insider to Get Smart. St. Louisans will also spot some familiar sites and maybe even some familiar faces.