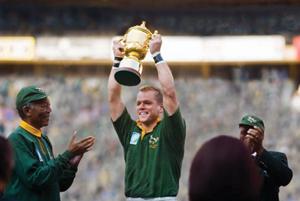 If you already saw The Blind Side and are still looking for inspiration, this is your film. Clint Eastwood has been acting for nearly 55 years and directing for almost 40. With the possible exception of Blood Work, his last decade of directorial efforts has been outstanding. From Million Dollar Baby to Changeling, his films have a certain elegance that I love. Invictus, again, is no exception. Here Eastwood, with the help of two outstanding leading men, takes on the intense world of post-apartheid South Africa.
    In 1995, after 22 years in prison, Nelson Mandela (Morgan Freeman) prepares to lead South Africa. Tensions are running high in this intensely divided country and Mandela needs something to unite the newly liberated blacks and the skeptical Afrikaners. His solution: the 1995 rugby world cup. Mandela calls on the white team captain Francois Pienaar (Matt Damon) to help him win the cup and change the direction of the country.
    Biopics can be difficult because we usually know how they turn out. This film, however, is a smashing success. Maybe the reason is that I didn't know much about the story, or maybe it's just an incredible tale. Freeman delivers an Oscar-worthy performance as the circumspect leader. Damon has less to work with, but he's lovely on screen and his accent was nearly flawless. I don't know what else to tell you. Invictus is a powerful and moving story. It's an 8.