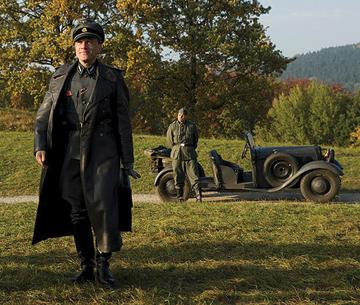 It has been a couple of years since Mr. Tarantino paid us a visit, and it was worth the wait. Here he brings us a Pulp Fiction-style Nazi revenge fantasy complete with the most violent footage I have seen since, well, Tarantino's last movie. From his masterful storytelling, to his fantastic soundtracks to his unique eye behind the camera it's a pleasure (occasionally a squirmy pleasure) to watch.
The story is told in five chapters set during the Nazi occupation of France in the early 1940s. Chapter one opens in the countryside, where a French dairy farmer, Perrier LaPadite (Denis Menochet), is visited by the ominous SS Colonel Landa (Christoph Waltz), who suspects LaPadite is harboring Jews. It is here we first meet Shoshona Dreyfus (Melanie Laurent), a beautiful Jewish girl hiding in the farmer's floor.
In chapter two we meet the 'basterds' [sic], a likeable group of Jewish American soldiers, some former Germans, who are headed to France to do one thing, in the colorful words of their leader Aldo Raine (Brad Pitt), they are going to kill Nazis. Actually they do other things as well, clearly enjoying their work. At one point Aldo tells an uncooperative German soldier he is 'tickled' that the man is not helping because watching his compatriot bash in a Nazi's head with a baseball bat is the closest thing they have to going to the movies.
And that's really all you need to know. It's funny. It's violent. It's funny and violent. The acting is unbelievable. Pitt is charming as the icy killer, and it's clear Tarantino has found his new muse in Laurent. Christoph Waltz is bone chilling as the ominous 'Jew hunter.' There are also some clever cameos, including Mike Myers. My only complaint, if I really have one, is that there are a lot of subtitles. Most of the movie is in German and French, so be prepared to read. It's a 9.