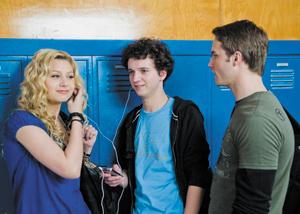 Yet another in a long line of B- high school angst films…This one at least has some, well a lot, of pretty good music.
Will Burton (Gaelan Connell) is a loser. Everything changes when he moves to a new town with his mother, Karen (Lisa Kudrow), and starts over. He immediately is befriended by Sa5m (Vanessa Hudgens), the 5 is silent. And one of the most beautiful, popular girls in school, Charlotte (Aly Michalka), inexplicably taps him to manage her newly formed band, in hopes of competing at Bandslam. Together with Charlotte and a group of ragtag musicians, Will creates the band 'I Can't Go On I'll Go On,' which spawns a string of can't/can jokes throughout the film.
I didn't think the film was horrible. My main problem was Gaelan Connell. His character sulks through the film like an abused pet, rarely mustering up any sort of likeability or charm. Surprisingly, it's Vanessa Hudgens who brings the film to life, creating an original and believable brooding teen. Unfortunately, she's not enough to save the movie. It's a 6.