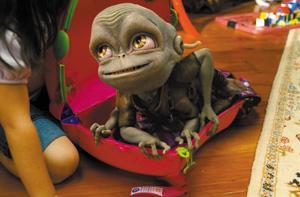 I don't really know what I was expecting when I brought my kids to this film. I think because it had the word 'aliens' in the title I thought it was going to be thoughtless and derivative. So with some trepidation I entered the theater, but I have to say I was pleasantly surprised. I mean, don't get me wrong, it's no E.T., but I found this film to be a charming little family comedy.
The Pearson family is headed to a lake house vacation. Tom (Carter Jenkins) is a brooding math whiz unhappy about being labeled a geek. Sister Bethany (Ashley Tisdale) is a hormonal teen preoccupied with her skeevy boyfriend Ricky (Robert Hoffman). Little sister Ashley (Ashley Boettcher), cousin Jake (Austin Butler) and twins Art (Henri Young) and Lee (Regan Young) are also along for the ride. When heading up to the roof to check on a satellite dish, you will never guess what they find. That's right. Tiny evil aliens have landed in the attic and are preparing to invade Earth. So it's up to the normally bickering children to join forces and save the world.
OK, it is a little derivative, but the young actors are all very convincing and Robert Hoffman does some terrific physical comedy after his body is commandeered by the alien leader. The always enjoyable Doris Roberts is also a treat as the plucky grandmother. My children loved it and I have to say I think I laughed more in this than in Funny People. It's a 6.