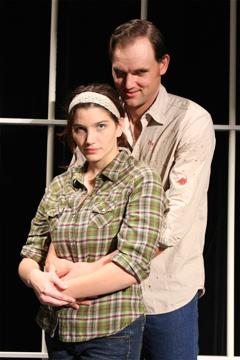 Play:        Love Kills
Group:        New Line Theatre
Venue:        Washington University South Campus Theatre, 6501 Clayton Road
Dates:        October 15, 16, 17, 22, 23, 24
Tickets:    From $10 to $20; contact 314-534-1111 or www.metrotix.com
Story:    Caril Ann Fugate was barely a teenager when she met high school dropout Charles Starkweather in Lincoln, Nebraska in 1956.  Less than two years later, Starkweather and Fugate fled Lincoln after killing her mother, stepfather and half-sister, eventually killing eight other people.  They were caught, tried and convicted, with Starkweather executed in the electric chair in 1959.  While he insisted that Fugate committed several of the murders herself, she eventually was released from prison in 1976.
Highlights:    Kyle Jarrow already has carved out an impressive career at the tender age of 30 as a writer and rock musician, whose numerous efforts include collaboration with Duncan Sheik of Spring Awakening fame.  To open its 19th season New Line Theatre has the good fortune to host the world premiere of Jarrow's rock musical, Love Kills, which tells the grisly story of the multiple spree killings of Starkweather and Fugate in one act and a tidy 95 minutes.
    New Line's effort, under the expert guidance of artistic director Scott Miller, features a quartet of terrific performances by Miller's carefully chosen cast and excellent singing by Taylor Pietz and Alison Helmer as Fugate and sheriff's wife Gertrude Karnopp, respectively.  Miller keeps a tight focus on the gritty story throughout, demonstrating a precise ability to handle such sobering drama.
Other Info:    Given the subject matter, Love Kills is surprisingly fresh and provocative material that immediately grabs audience interest with the show's best number, the rough rock number Concrete Walls that follows the opening Love Will Never Die.  Jarrow carefully introduces the four characters in this bit, including troubled loner Starkweather, the impressionable Fugate, stoic sheriff Merle Karnopp and his patient wife Gertrude.
The austere set designed by Frank Bradley incorporates two sets of steel bars at either end to represent the cells where the apprehended killers are being held overnight, complemented by a pair of cots, a table, some chairs and a blood-spattered floor.  Kenneth Zinkl's stark lighting emphasizes the brooding, desperate tone of the work, while Darren Hansen's costumes capture the rebellious and staid approaches of the killers and their captors, respectively.  Matthew Koch's sound design adds an unsettling touch to the proceedings, while the New Line band led by conductor Mike Renard provides outstanding accompaniment by percussionist Mike Schurk, Dave Hall on bass and guitarist Renard.
Pietz demonstrates a wonderfully remarkable voice, with soaring clarity and sweet power on tunes such as the title number and a beautiful duet with Helmer titled Float.  Helmer provides her own excellent vocal ability throughout the show, including the pensive ballad, Don't Falter, while Zachary Allen Farmer adds credible vocal effort as Merle in his quiet, understated style.  Only Philip Leveling as Starkweather has consistent trouble with Jarrow's tough musical stylings.
Acting performances by all of the players is top-notch.  Leveling effectively careens between ruthless, maniacal behavior as the bloodthirsty killer with oddly effective tender moments with Pietz as his lover and a surprising conversation with the emotionally repressed sheriff.  Pietz is solidly convincing as the disturbed Fugate, while Farmer and Helmer offer quietly moving portrayals of the sturdy sheriff and his loyal wife, each with their own history of problems.
The show's biggest weakness is how it fizzles to a conclusion, running out of steam about two-thirds of the way into the work.  The power, energy and raw creativity so prevalent in the musical's early numbers gives way to some truly insipid ballads that dilute the show's vitality unnecessarily.
Still, New Line's world premiere offering of Love Kills provides a memorable evening of pathos and pulsating music that will give you reason to ponder the varying effects of love and violence in surprising fashion.
Rating:        A 4 on a scale of 1-to-5.