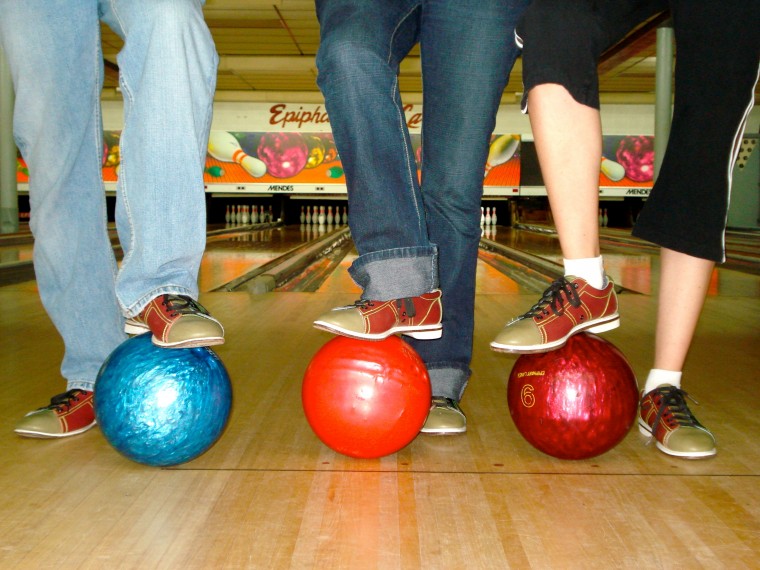 Story: To celebrate its fifth anniversary of providing site-specific plays, On-Site Theatre is reviving its original presentation, Bowling Epiphany. Consisting of three short skits, the show is performed at Epiphany Lanes, which adjoins Epiphany Catholic Church in south St. Louis and is one of the few remaining Catholic Church bowling alleys.
In between the vignettes, patrons are invited to test their kegling prowess on lanes that are not used as part of the play. The three skits, written by Dan Rubin and Carter Lewis, mix comic and poignant moments in relaying tales of love explored, love lost and love challenged.
Highlights: Director Joe Hanrahan, who coincidentally attended Epiphany grade school a few years back, ably guides Donna Weinsting, Antonio Rodriguez and Elizabeth Birkenmeier in these always amusing and occasionally poignant skits. Lewis' work, Anarchy of a Pin Boy, is the middle act, sandwiched between Rubin's Just Bowl and What Would Jesus Bowl? vignettes.
In Just Bowl, a well-meaning but timid young man takes an apprehensive young woman to a bowling alley on their first date. Rodriguez and Birkenmeier shine as the amusingly awkward pair, with Rodriguez pure delight in his hitched-up pants that look like they came from the wardrobe of Martin Short's Ed Grimley character, his hands awkwardly pressed onto his legs as he summons the nerve to converse with his pretty date.
He meets his match in Birkenmeier, who is alternately offended and intrigued by her gangly accomplice as they struggle to make their lonely lives a little more meaningful. Weinsting also appears as a kind of tour guide who comments above the distractions of the goings-on at the lanes.
Anarchy of a Pin Boy is a time-traveling exercise whereby a bookish young woman (Birkenmeier), who is regularly browbeaten by her tough-talking, rough-hewn mother (Weinsting in a fitfully funny red wig), inadvertently summons her late father (Rodriguez) from a time when he was a pinsetter on the alleys.
After an uneasy moment early in their meeting, they slowly realize who they are in relation to each other, swapping comparisons about what were or are the 'hip' catch phrases of their various generations. It's also a relief to the pin boy when he learns whom he didn't marry as well as seeing how his daughter, a young woman who dearly misses her father, turned out. It's a sweet little story that receives the comic care and nurturing it deserves.
The finale, Rubin's trippy What Would Jesus Bowl?, sets up a kegler showdown between God (Weinsting in another frightfully bad wig) and Satan (Birkenmeier, complete with tiny red horns), with Job somehow planted in the middle, trying to comprehend this latest divine assault on his senses as well as a ridiculously goofy beard he sports. God seems a bit perplexed about the setting, while Satan figures it's all in the divine scheme somehow, regardless of reason.
Each of the skits is just long enough to provide its share of humor and pathos without bogging down or being too inconsequential. The trio of players, led by Hanrahan's careful focus on tiny details, consistently hits their performance marks, resulting in strikes aplenty within the cozy confines of Epiphany Lanes.
Keep score if you'd like, but you can be assured that Bowling Epiphany is a 'clean' game, with nothing but strikes and spares on the abbreviated scorecard.
Play: Bowling Epiphany – The Revival
Group: On-Site Theatre Company
Venue: Epiphany Lanes, 3164 Ivanhoe Avenue
Dates: June 21, 22, 23, 28, 29, 30
Tickets: $25-$40; contact 686-0062 or OnSiteTheatre.org
Rating: A 4 on a scale of 1-to-5.
Photo courtesy of On-Site Theatre