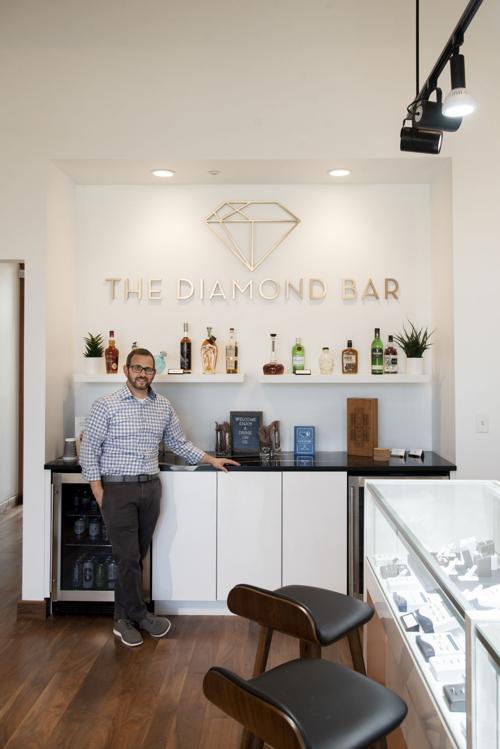 Although wedding ceremonies may be changing in appearance this year, wedding and engagement jewelry is as popular as ever. The Diamond Bar offers those looking to design custom pieces for their special day an exemplary experience at an unparalleled price.
With more than 16 years in the jewelry business, owner Chris Phillips knew that the diamond-buying experience could be re-imagined. That's what he set out to do, opening The Diamond Bar in Town and Country in 2019.
"I opened this store to show people that custom jewelry doesn't have to be outrageously expensive," he explains. "You can design for yourself or someone else, and there will be nothing else like it."
Aptly named, The Diamond Bar comes with a fully stocked wet bar available for customers – serving alcoholic and nonalcoholic beverages. "We have fun," Phillips says. "[For engagements] we get out a bottle of Champagne and provide an experience where customers can try on different ring styles with different shapes and qualities of diamonds to get a good sense of their style, before we begin focusing on creating the perfect piece for their price range."
The Diamond Bar strives to give shoppers a unique piece, whether they're spending $1,500 or $150,000. Every item is crafted in the United States, and all stones used are natural and hand-selected. "When it comes to value, we feel our quality and price, when compared, will exceed your expectations," Phillips says.
It's working well, and The Diamond Bar is staying busy in these complicated times. "We sell engagement rings and wedding jewelry for people who have had a smaller ceremony that they can wear again for a large wedding later," Phillips explains. "A lot of people are [also] using a grandparent's gemstones as their 'something old.' It's been fun to navigate the sentimental side of this."
Although The Diamond Bar can't guarantee any big events for the upcoming holidays, Phillips adds that The Diamond Bar consistently carries 500 to 750 custom pieces in its showroom, with multiple new pieces a month. There is always new inventory to explore, so stop in and experience a different way of jewelry.
The Diamond Bar, 13360 Clayton Road, Suite 103, Town and Country, 314-548-5100, thediamondbarstl.com
Be the first to know
Get local news delivered to your inbox!