While Stacey Hall grew up strolling the streets of St. Charles alongside her mother, little did she know that one day she would open a small shop of her own, Happy Camper Clothing & Co., which would showcase her city through screen-printing.
"St. Charles is such a huge tourist destination down here, and growing up, I just took it for granted," says Hall, who owns and operates Happy Camper Clothing with her husband, Andy. "As I got older, I just realized what a special place St. Charles was and that there was nothing that reflected a local brand, so we just started to design shirts."
The shirts in question are showcased on stunning seasonal displays inside a quaint and cozy storefront located at 510 S. Main St. Shirt designs range from sayings like "Midwest is Best" to seasonal favorites like "Leaves & Lattes" to more localized lines like "Support Your Local Everything" and more.
"The cool thing about making our stuff, for example, is during COVID, we are able to see whatever is going on with the world at the moment," Hall continues. "So we did 'Support Your Local Everything' and then the 'Spread Sunshine Not Shade' and then the 'Lunch Lady' shirt and all kinds of stuff like that. We are always changing during seasons, and then in between there, we probably throw in another two or three designs just based on whatever is going on."
To create their shirts, the couple uses what Hall refers to as an "old-school style" method of screen-printing in which plastisol – a thick, durable, versatile ink – is pushed through a screen designed by the husband-and-wife duo.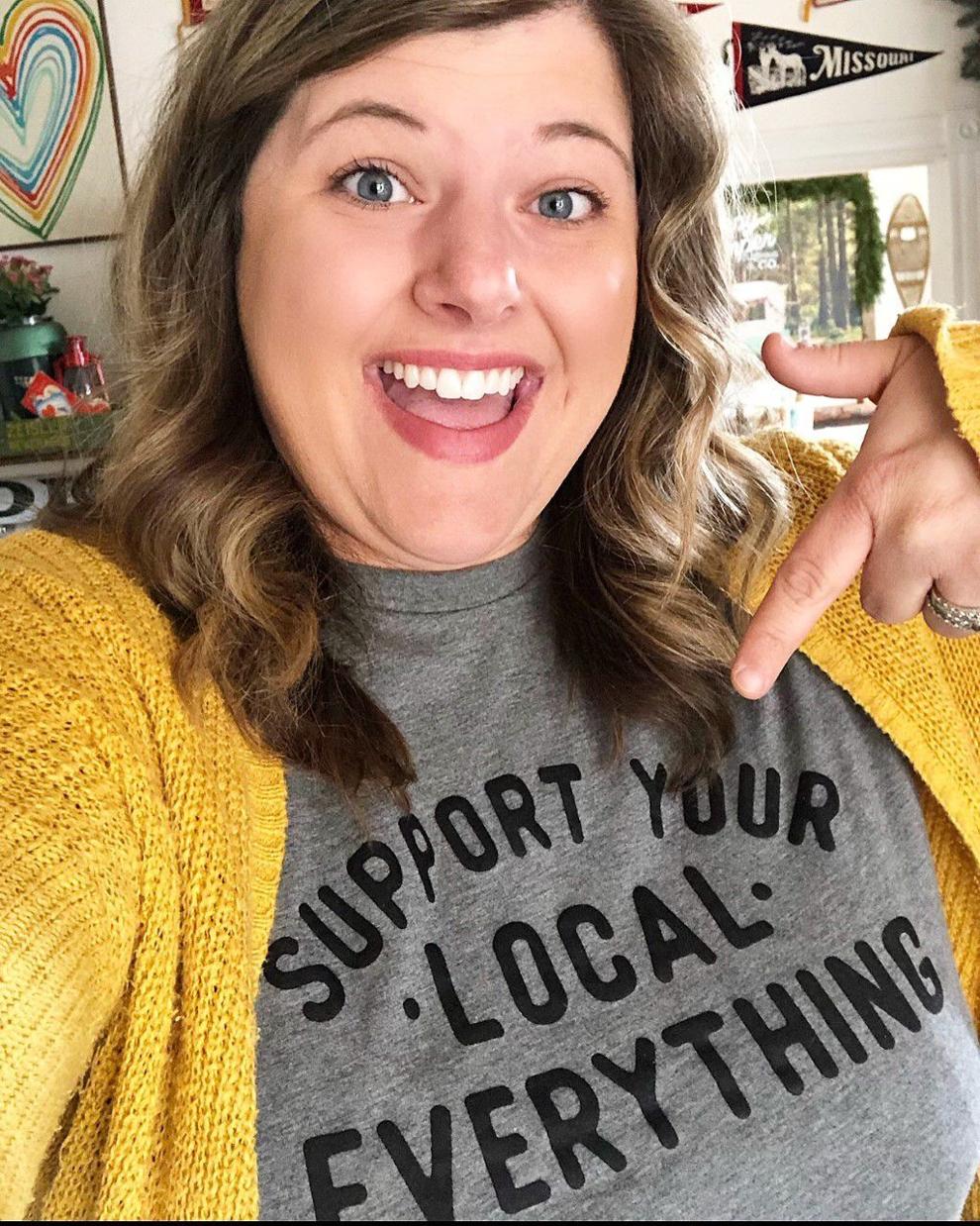 "We had no idea what we were doing but just kind of taught ourselves how to screen-print," recalls Hall with a laugh. "It's all made by us, all designed by us in our workspace at our house. The whole basement of our house is our shop; it's bigger than the store."
Once the ink is spread onto Bella+Canvas brand shirts and sweatshirts, which Hall describes as "crazy soft," it is heated at 360 degrees.
"It literally cures onto the shirt," she explains. "Screen-printing holds up incredibly."
In addition to shirts, shoppers can also find pillows, candles, hats, blankets and more at Happy Camper Clothing.
"I would say that we are a Midwest adventure brand," Hall says. "Eddie Bauer and Patagonia meets Pinterest and Etsy. Because the unique thing about our store is everything is mostly made by people that we know."
And the people they know are also who inspire the couple's designs.
"The people we meet and come in contact with, we try to identify what they want," Hall says. "A lot of our customers are local business owners – people who love teachers, going through coffee shops … "
Hall likewise says she designs based on shirts she wishes existed.
"I feel like when you go on Etsy, almost everything looks the same," she says. "We are kind of inspired by the adventure look, but a lot of that stuff tends to have mountains and things on it. And being from the Midwest, that isn't really representative of what it's like for us, and there are so many cool things and so much beauty – like the St. Louis area or in the Midwest in general – that represents farming or the Ozarks or hiking or the Katy Trail. There is so much adventure to be had just in the Midwest area where we live. We want ourselves to be reflective for people who live here or who have visited here, so they can have something they can remember."
And the Halls similarly want to remember the raison d'être for their creations.
"We could easily have our stuff contract printed, but I think that is the nostalgia of it for us and our customers," Hall says. "I just think because it keeps it local and handmade by us – that's hard for people to find – so I think it's the uniqueness of what we do. And the fact that we get to do it together. We want to keep it that way." 
Happy Camper Clothing & Co., 510 S. Main St., St. Charles, 636-493-1385, happycamperclothing.net