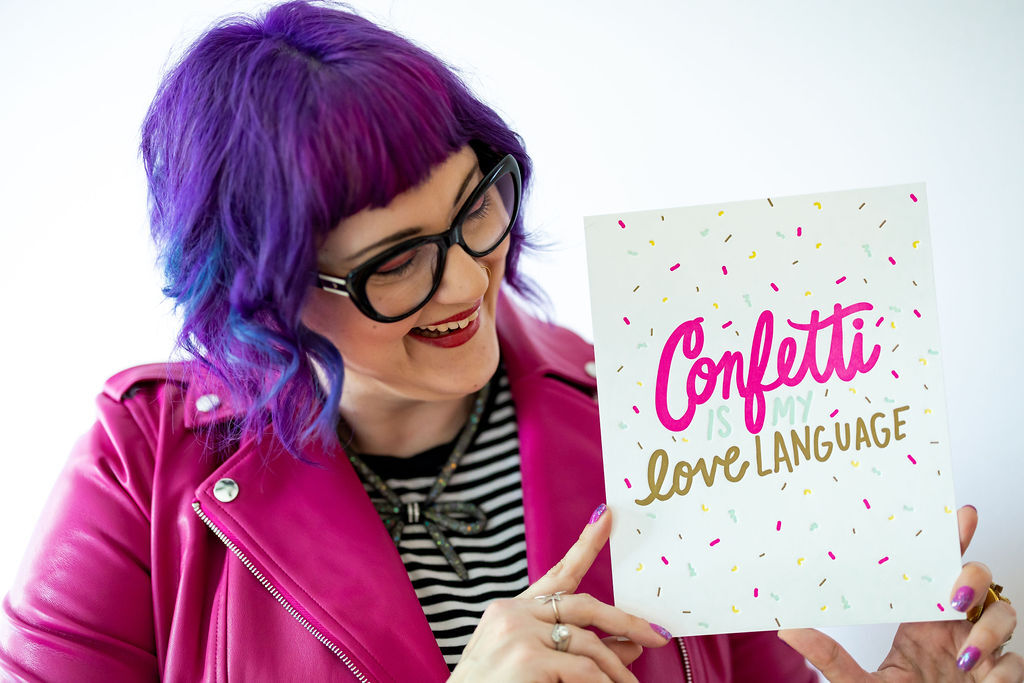 Less Bitter More Glitter launched as an online retailer in October to serve as a "one-stop happy shop" for a Lisa Frank fever dream of brightly colored jewelry, accessories, paper goods, desk supplies, home décor, party items and more – with plenty of tassels, baubles, beads, charms, confetti and glitter galore.
The brilliant mind and walking embodiment of Less Bitter More Glitter is Meg Smidt, the self-described "love child of Lisa Frank and Ted Lasso" who's also a certified life and business coach and mom of five adopted kids (plus a grandbaby and two deaf Great Danes). In her role as Your Coach Meg, she consults mainly female-led business owners and creatives in St. Louis, across the country and all over the world. In addition, she recently launched Confetti Club, a monthly VIP membership program and online platform for connecting with inspired, like-minded women that also offers discounts at Less Bitter More Glitter.
The whimsical nostalgia of Less Bitter More Glitter's offerings resonates with ages 5 to 95. "It just seems like everybody is looking for ways to celebrate even the tiniest of things and make themselves feel good," Smidt says. "You can find bright, happy and encouraging things for yourself and also for people in your life who need more of that right now. And who doesn't? That's why it's been embraced so well: Through everything with quarantine, people are looking for that bright spot of sunshine."
And Less Bitter More Glitter is just about the cheeriest corner of the internet. The happy gifts and goods are all an extension of Smidt's personal lifelong style: an advocate of wearing all the bright colors and bold patterns (at the same time, if possible) and being a pop – nay, a glitter bomb – of color in a sea of desert tones.
"People would ask me all the time where I get my clothes and accessories," Smidt relates, "so I thought, why not start a shop where I can share all the things I love with everyone? My audience tends to like the same things I do, and vice versa, so I basically curated this collection of items I loved and items I knew people would love as well."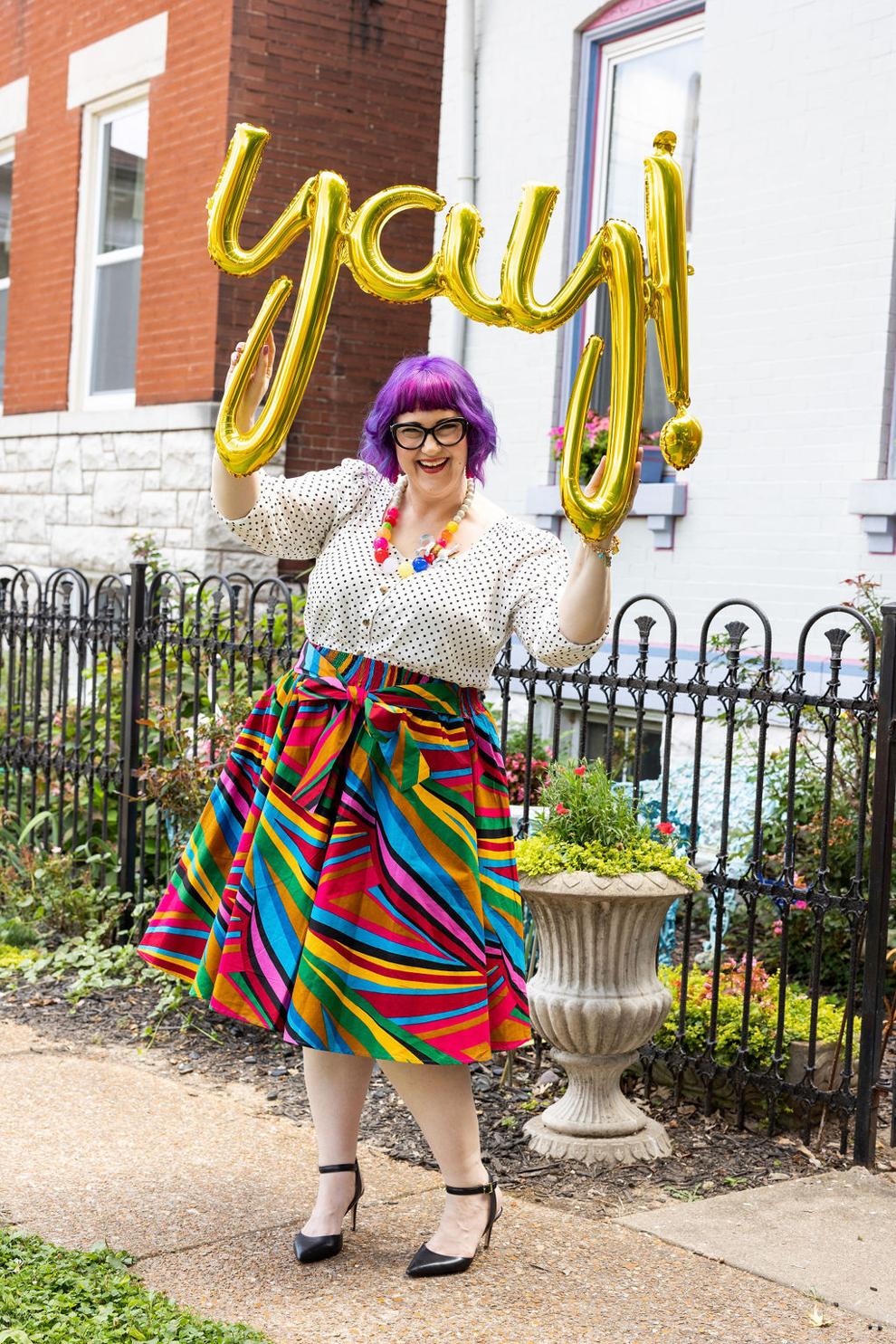 For example, Smidt is well-known for donning a unicorn statement necklace from Pennsylvania-based jewelry/accessories designer Lenora Dame that she's asked about all the time, which is sold on the site (as well as other popular dinosaur jewelry from the maker). Also, as an avid wearer of children's accessories, Smidt carries a line of kids' clip-on earrings, bracelets and necklaces from the dad-daughter team Gunner & Lux.
Other current bestsellers include Talking Out of Turn sassy glass mugs and home décor such as Letterfolk tile mats, inspirational art prints and cheerful hooked throw pillows. And, as a dedicated bullet journaler herself, Smidt has stocked the site with an array of paper goods, among them stationery, planners, journals, markers, pens, washi tape (a decorative tape made from traditional Japanese paper and used in crafts and journaling) and even a bullet-journal basics kit of favorites bundled by Smidt and team.
In sum, her business approach is, she says, "People are happy to find happy things."
Less Bitter More Glitter was a natural next endeavor for Smidt, though she still coaches full time and has no intention of slowing down in 2022. She has plans for pop-ups and collaborations with metro area makers and – as her glitterati followers have been clamoring to know since the online store launched – would love to put down physical roots with a bricks-and-mortar incarnation should the right space become available this year.
Smidt routinely helps her coaching clients navigate business ownership and e-commerce, so it was an easy transition, and before coaching, she worked in luxury retail for 15 years as a buyer, in training other store managers and associates and in running her own store. There's a seamless synergy to how she currently splits her time.
"I'm an extrovert and a people person, so getting to meet people and select products they love fulfills me in a different way than coaching," she says. "It's a fun outlet for me to be able to share my knowledge and share all the things I love with the world."
In the end, her efforts are and always have been about creating happiness that empowers. "Less Bitter More Glitter is all about celebrating the magic of both the everyday and special occasions – celebrating the most mundane things and making even the ordinary things extraordinary again in your life," Smidt says.
"Pick a planner you love, and fill it with color if that makes you happy. Wear jewelry that you feel great putting on. Decorate your home with things that make you warm inside, and use the mug that makes you giggle each morning. It's all about celebrating those little moments and the magic that happens every day that we just brush right past."
Less Bitter More Glitter, lessbittermoreglitter.shop