Stacie Kane has always felt called to create. However, it wasn't until she stumbled across a particular tenacious textile that she started sewing stunning and sustainable bags for her newfound business, dubbed i.e.
"I stumbled across this textile called washable paper, and I was like, 'Washable paper – what in the world is that?'" Kane recalls. "I researched it a little bit more, and I was like, 'Wow, this sounds pretty interesting.' You can sew on it; you can throw it in the washer. I got a couple yards, and as soon as it arrived, I fell in love."
Kane says the material immediately made her creative wheels start turning.
"As soon as I started making stuff with it, I was like, 'This is it – I'm totally starting a business with this,' because I knew I could make a whole product line out of it," Kane says. "I was superexcited. Being a creative, artsy person my entire life, I knew I had an avenue that just wasn't being fulfilled for me. I was like, 'There is something out there for me; I know there is.' I had this drive in me, and this was it. I found it, so that's what started [i.e.]."
Kane creates a variety of beach, market and lunch bags, in addition to backpacks and clutches – what she dubs as eco-friendly for the everyday.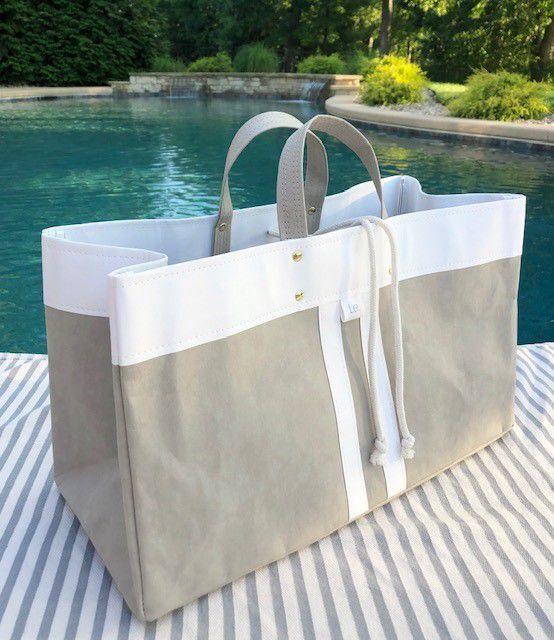 "They are all sustainable, all eco-friendly, but they are made out of a highly durable natural wood pulp cellulous fiber," Kane says. "It is actually certified by the Forest Stewardship Council and, of course, OEKO-TEX … So it's made ethically, and it's not doing any damage to the environment."
And the environment is, of course, where Kane specifically sites her inspiration.
"I love being outside, and I just love nature," Kane says. "I love the textile of it because it is made of wood pulp. That is super, super cool, and it does inspire my color scheme because I want to keep it really earthy and natural."
Kane's i.e. bags are available in white, gray, black and brown with classic, clean-lined accents and brass hardware that make for simple yet stunning functional bags.
"I love the earthiness of them," Kane says. "The classic, clean lines of it just to me stand the test of time. Stripes are always going to be in, so it's just a classic look. … And they age beautifully. The more you use them and the more you wash them, the material relaxes a bit, yet always has some durability to it. It's such a cool fabric."
Kane envisions outsourcing in her future, in order to create more for customers.
"It all takes time to design," Kane says. "It's fun stuff, and that's where my creative wheels get spinning. I love the challenge, and I thrive on a new concept."
i.e., St. Louis, iethatis.com
Be the first to know
Get local news delivered to your inbox!